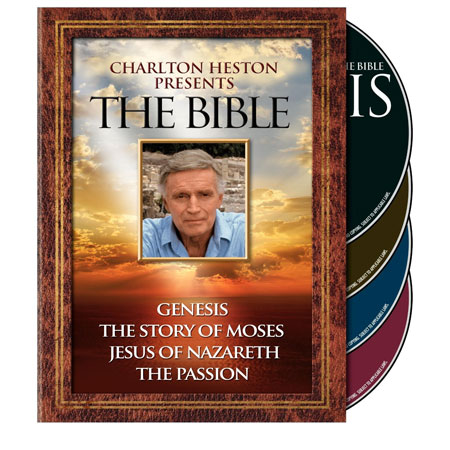 Warner Bros. has a couple of new video releases hitting stores this week, in time for next month's Easter holiday: Charlton Heston Presents the Bible, on DVD, and King of Kings, on Blu-ray. Warner sent us copies of both to check out.
Charlton Heston Presents the Bible
Long a staple of Biblical and historical productions, Charlton Heston goes back to the roots of his faith in this collection of videos originally produced in 1997. The bulk of this four volume series is comprised of Heston performing dramatic readings from The Bible on a stage in what appears to be ancient ruins. The series was shot entirely in the Middle East as Heston visited Jericho, Jerusalem, the Red Sea, and other notable Biblical locales. We only see brief moments of him away from the big desk from which he reads, though. Each of the four volumes comes on its own DVD, each accompanied by a behind the scenes featurette that runs about half an hour in length, making up nearly two hours of extra content.
The stories Heston reads include:
Genesis
The Story of Moses
Jesus of Nazareth
The Passion
Charlton Heston Presents the Bible released as a DVD box set on March 29, 2011.
King of Kings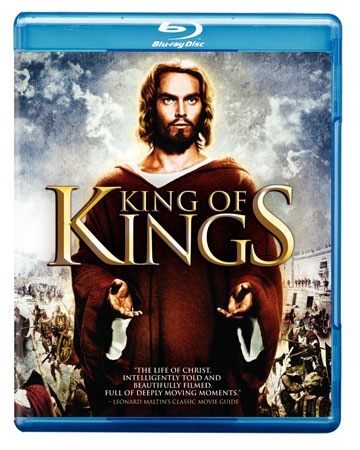 The second Biblical release from Warner this week goes back to bring a movie from 1961 onto Blu-ray. King of Kings is MGM's adaptation of the life of Christ, starring Jeffrey Hunter as Jesus. Rebel Without a Cause director Nicholas Ray helmed this massive project, turning in an epic film that runs nearly three hours in length. The movie definitely approaches the subject matter from a Christian viewpoint, but its production quality and adeptness with which it tells its story make it accessible even to non-Christian viewers. A lot of the movie deals with the politics of the time, and Jesus is presented more as a man than as a spiritual icon. Orson Welles provides some narrative voiceover with a script penned by science fiction author Ray Bradbury. In addition to the main feature, the King of Kings Blu-ray also offers a few special features:
The Camera's Window of the World – a short behind the scenes featurette
Premiere Newsreels – period footage from King of Kings' debut in New York and Los Angeles
Theatrical Trailer
King of Kings released on Blu-ray on March 29, 2011.