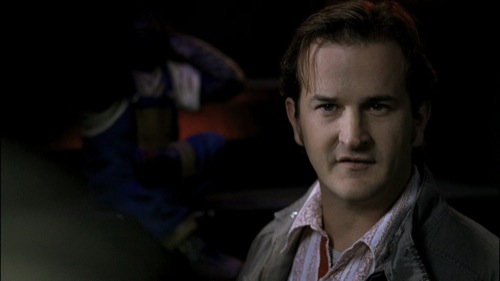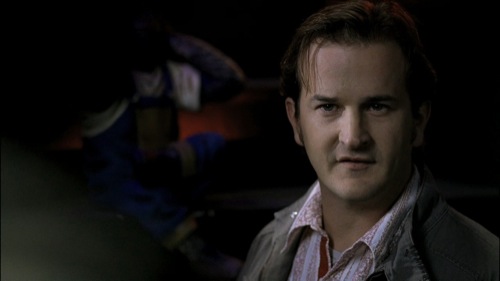 Episode: Supernatural 5.08 – "Changing Channels"
Original Air Date: November 5, 2009
Supernatural episode 5.08, "Changing Channels," is by far one of the best of the season to date. When Dean and Sam un into their old pal the Trickster (played by Richard Speight, Jr.) in a small town in Ohio, they are thrown into a dizzying and seemingly endless montage of television show parodies.
The parodies by far are the best in Supernatural history, and the following are a couple of my personal favorites: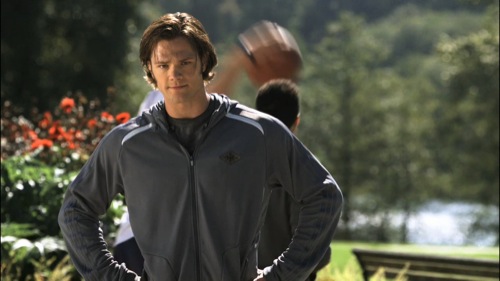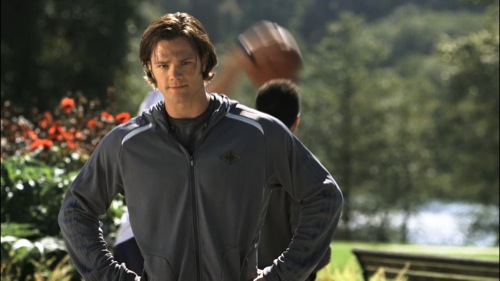 1. Valtrex commercial parody
When Sam Winchester finds himself in a pharmaceutical commercial for "twice-daily Herpexia," a prescription medication designed to minimize the chances of spreading genital herpes, it is an opportunity for Jared Padalecki's often twitchy, affected acting to really shine. While Dean is the off-screen voiceover announcer for the commercial, Sam is one of the overly happy, attractive and athletic individuals providing a personal plug for the medication. Sam not only is mortified by his role on the commercial, but also seems to have a problem with saying the phrase "genital herpes," perhaps a result of his recent run-in with the witch Patrick (Hal Ozsan), who gave the youngest Winchester gonorrhea as punishment for breaking into his hotel room. Apparently Supernatural's take on STDs is that they're funny (I'm not going to argue, but then again I've never had one). As we know from almost four and a half seasons of the show, when Sam gets uncomfortable he gets very twitchy, especially his face, and this instance is no exception. Although painful for Sam, the Herpexia commercial does provide Dean with something to laugh about in an otherwise dismal situation.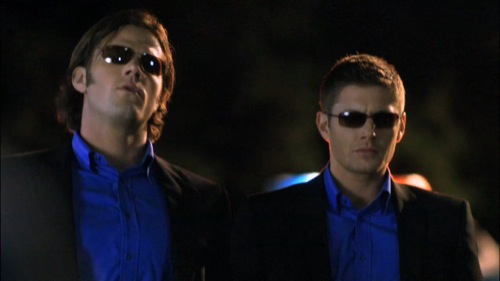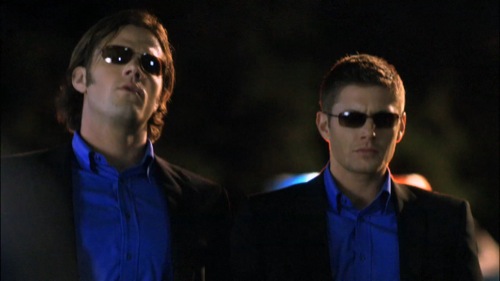 2. CSI: Miami parody
After Dean and Sam confront the Trickster to find out his motivation for trapping them in virtual TV land they find themselves in a parody of what Dean calls a "procedural cop show." Of course it is apparent to any viewer who has watched more than a couple episodes of CSI: Miami that it is a parody of that show in particular. In the Trickster's version of this CSI spinoff, both Sam and Dean are cast as the equivalent of Lt. Horatio Caine, played by David Caruso on CSI: Miami. If the boys' dark suits and sunglasses don't give it away, their reactions to the corpse at the crime scene they are investigating certainly do. Jared Padalecki takes first place for the most accurate impression of David Caruso's mannerisms and delivery, but both actors provide a hilarious rendition of the type of episode-opening one-liners that Lt. Horatio Caine is known for (and if you've never noticed this about David Caruso's character, then check out the YouTube video called "CSI: Miami – Horatio Caine One-Liners" and you'll understand immediately what I mean. Of course, I must warn avid CSI: Miami viewers that watching this mash-up of show intros might ruin the show for you, so beware before you click on the link above!).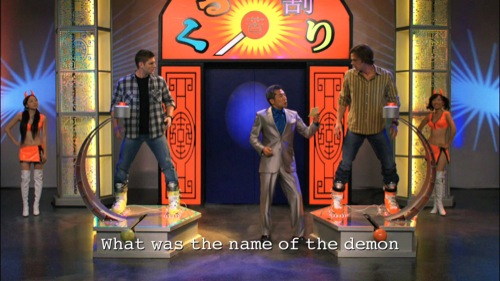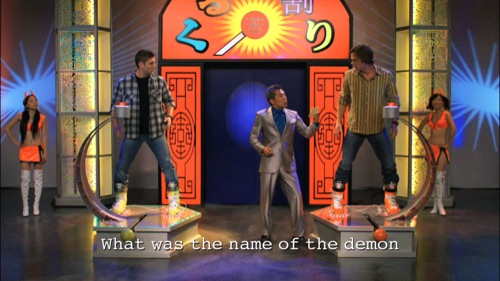 The CSI: Miami parody provides us with one of the most priceless quotes of the episode, and maybe even one of my favorite Dean Winchester quotes of all time. After Sam tells Dean to calm down, Dean retorts, "Calm down? I am wearing sunglasses at night. You know who does that? No-talent douchebags. I hate this game. I hate that we're in a procedural cop show. And you want to know why? Because I hate procedural cop shows. There's like 300 of them on television, they're all the freakin' same! It's 'Oooo, tsk tsk plane crashed here' — OH SHUT UP!"
Other television show parodies featured in this episode include Knight Rider (with Dean as David Hasselhoff's character, Michael Knight, and Sam as his indestructible, artificially intelligent supercar, K.I.T.T.), a medical drama parody called Dr. Sexy, M.D. in which Sam ends up having to perform real surgery on Dean, a Japanese game show parody that involves answering questions or being whacked in the family jewels, and a family sitcom parody complete with a hokey theme song.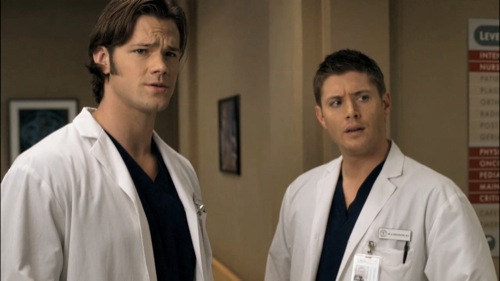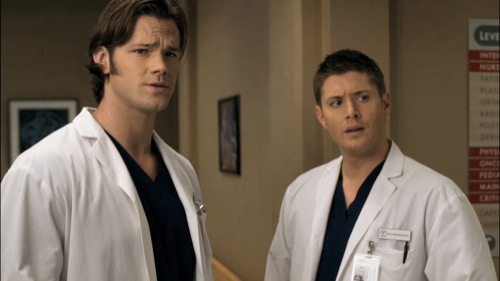 The parodies are great, but the best aspect of this episode is definitely a mind-bending reveal — one which will most likely have far-reaching consequences that span the remainder of the season. I am referring, of course, to the true identity of the Trickster, which is revealed towards the end of episode 5.08, "Changing Channels." Just in case readers are a couple episodes behind, I won't say who the Trickster really is, but if you haven't watched this episode yet then I highly recommend that you do so.
Rating: 4 / 5 Stars