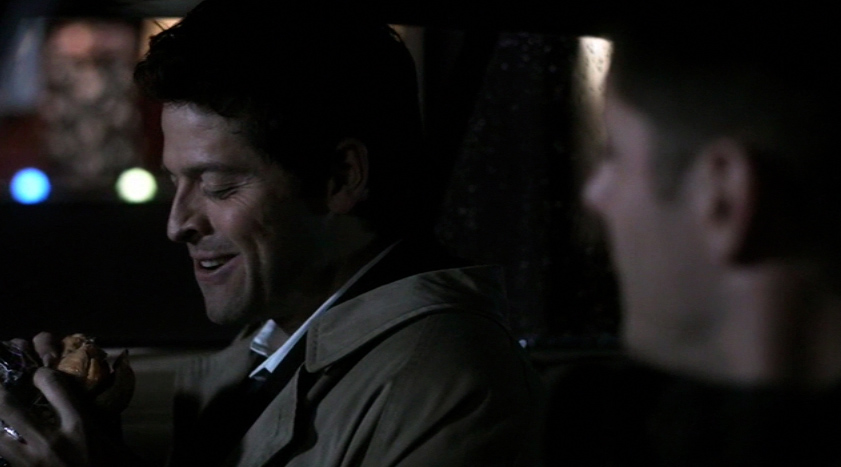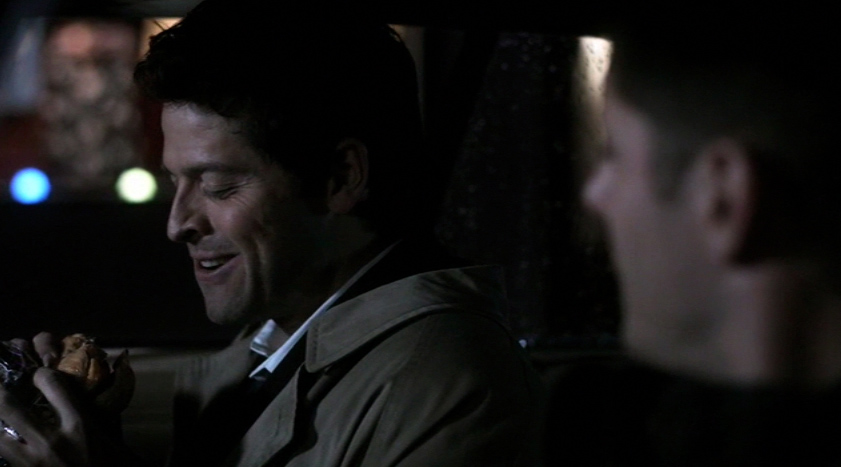 Episode: Supernatural 5.14 – "My Bloody Valentine"
Original Air Date: February 11, 2010
Episode 5.13 was a tough act to follow. While this ep faltered a bit for me in certain parts (specifically and perpetually at this point, the angel hierarchy), it gets major points for doing more than one mytharc ep before a huge hiatus. Word on the street is that this is the last hiatus for the rest of the season, so there's also that bit of awesomeness.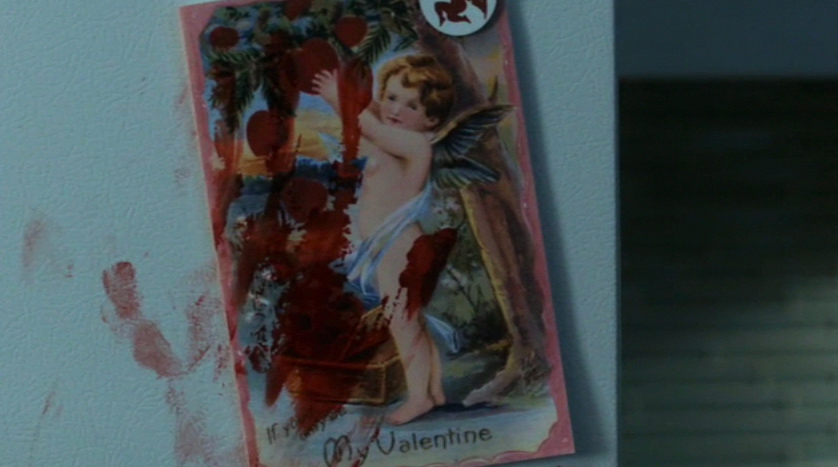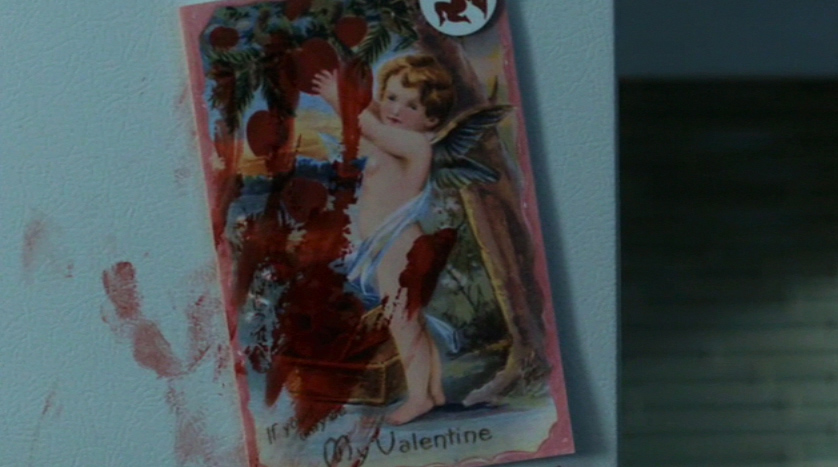 Usually, the scenes that make me gag right up front with this show have to do with teeth falling out or hands getting mangled in drain disposal systems (you know, my own personal neurotic fears). This scene took the cake, ladies and gents. I gagged so hard by the time the title showed up that I wasn't completely convinced that I was going to make it through this episode. It was so gross, I had to settle for this as the screencap. So gross. I'm never dating again.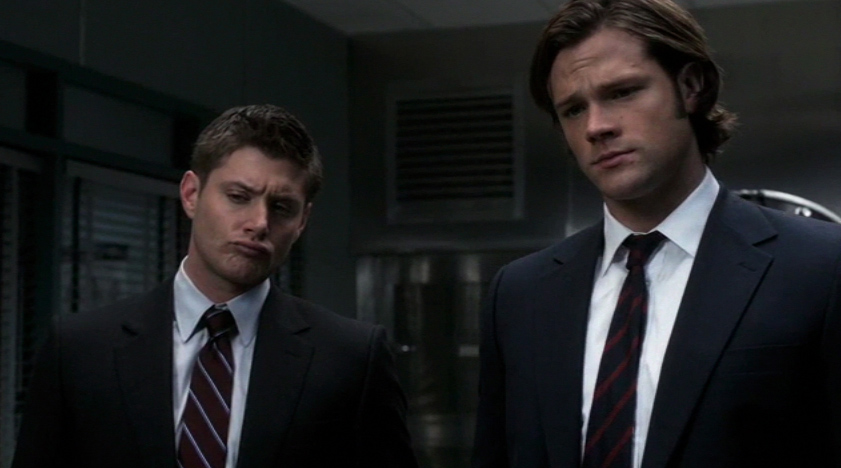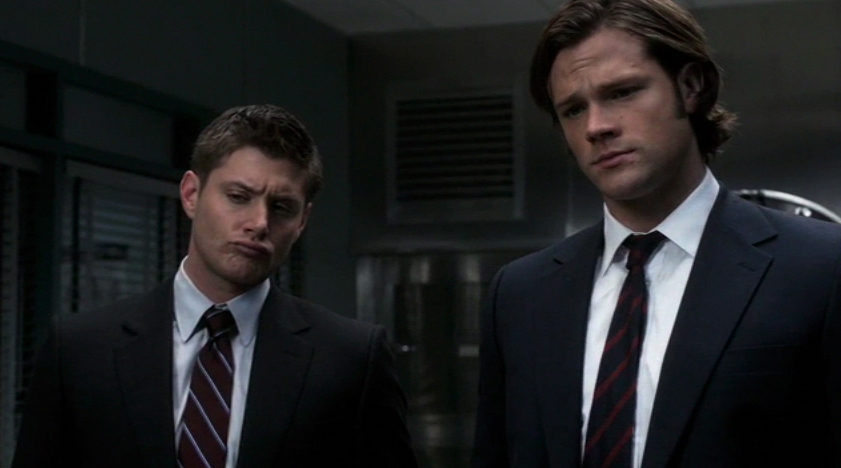 Strange, weird deaths? It's like catnip to the Winchester Boys. They come into town because that crazy "I'm so hot for you I have to actually eat your face off" couple weren't the only deaths that have happened in the town. They can't make a connection to demon activity or other supernatural causes that they're familiar with. Sam settles in for the night to do the research thing (Neptune's trident, when was the last time that happened?), telling Dean, "Go ahead. Unleash the kraken." Dean's just not into Valentine's Day and all the desperate, drunk single girls it has to offer him this year. This sets of major warning sirens for Sam. These two just know each other too damn well to still be skirting issues or flat out denying they exist at this point.
Sam: "It's when a dog doesn't eat. That's when you know something's wrong."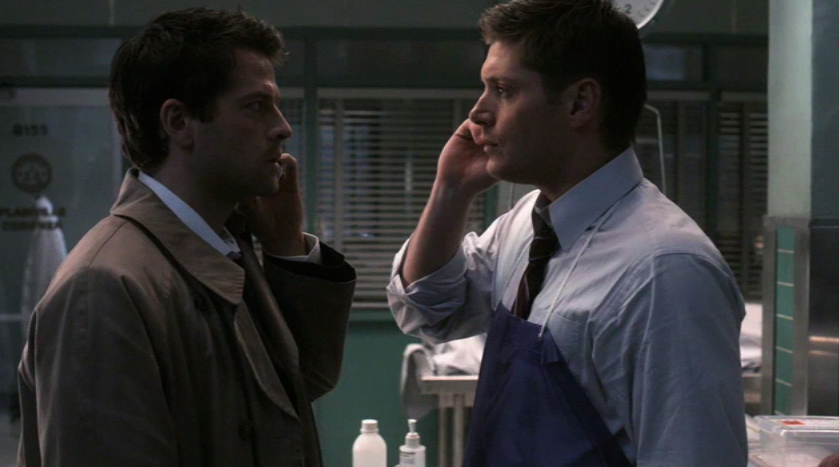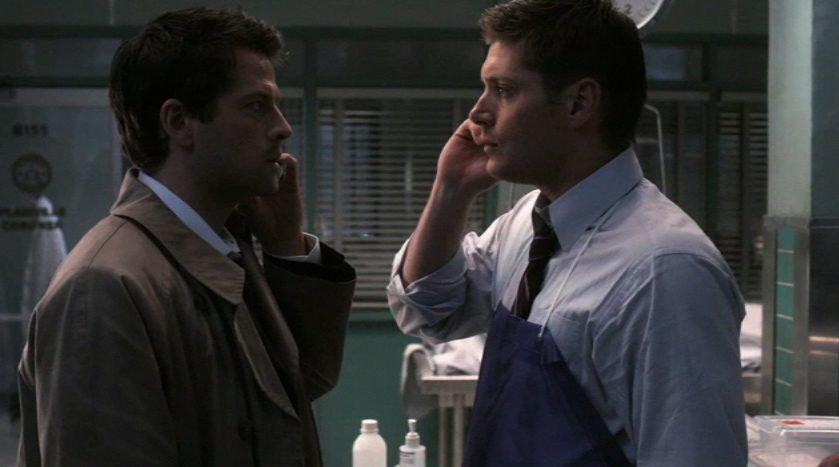 The next pair of lovers end up with faces that look like ground beef (gun shot, this time), and it gets the boys into the morgue (the M.E. was awesome and of course he and Dean were buddies) to check out the bodies. Or what's left of them since the M.E. had them parted out and tupperwared already. Sam does his CSI thing and finds that each heart has an Enochian symbol on it. That's some heavy duty angel stuff that neither brother is really "up" on, so they call in their resident ex-fallen-kinda-still-graced angel, Castiel. I will never get over his awkwardness with having to use human means of transportation and communication. Castiel confirms the symbol is Enochian, but it's not just any run of the mill angel that left it. Turns out, there's a Cupid working through this town.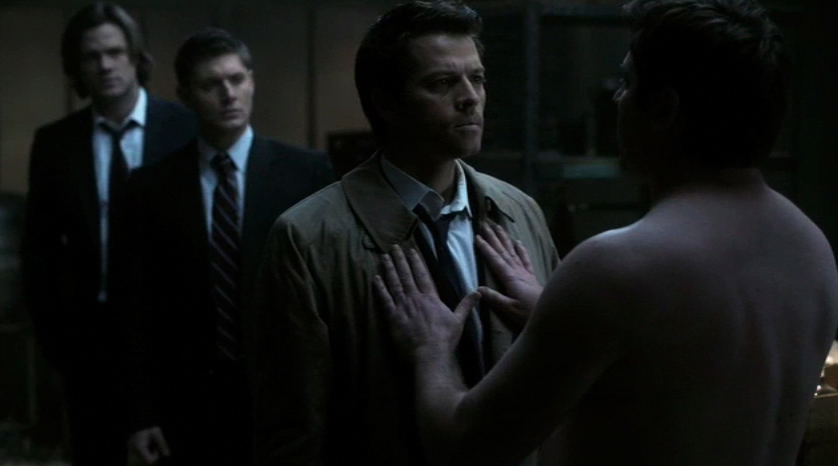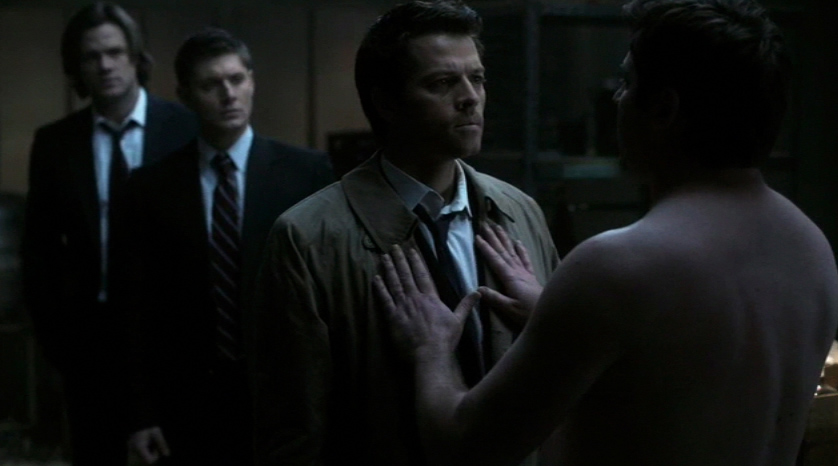 So, this is where my frustration with the handling of the angel hierarchy comes in. I know this is just me being a stickler on this one subject, like a hellhound with a mortal who's ten years is up, but this whole "cupids are cherub" really threw my into a tizzy. Instead of, oh, I don't know, correcting the ages-old misrepresentation of the cherubim as putti (that would be the fat baby/toddler angels that are found heavily in Italian Renaissance and Baroque artwork and what we today equate with cupids), they just combine the two separate entities. Cupids are not cherubim. Cupid is the Roman god of love and beauty and there's only one of him. Cherubim are a whole rank of angels that are described as having many faces (made up of animal and human), two sets of wings, and just not cute and cuddly. Granted, the cherub/cupid they do find isn't a fat winged baby, but that doesn't make up for the fact that they're mashing up these two beings. I mean, with the archangels not being that impressive so far (really, what's the difference at this point between Castiel and Michael?), introducing this choir of angels was an opportunity to get crazy with the design of the character. I know that they don't have a huge budget or anything, but I think making the angels a little more impressive in look, if not in the powers they wield, would make them more interesting as foils.
The cherub/cupid himself was hilarious (their handshake = me literally laughing out loud), but as soon as he showed up in all his naked, simple-minded, good-natured glory I figured out that this was really the Famine episode.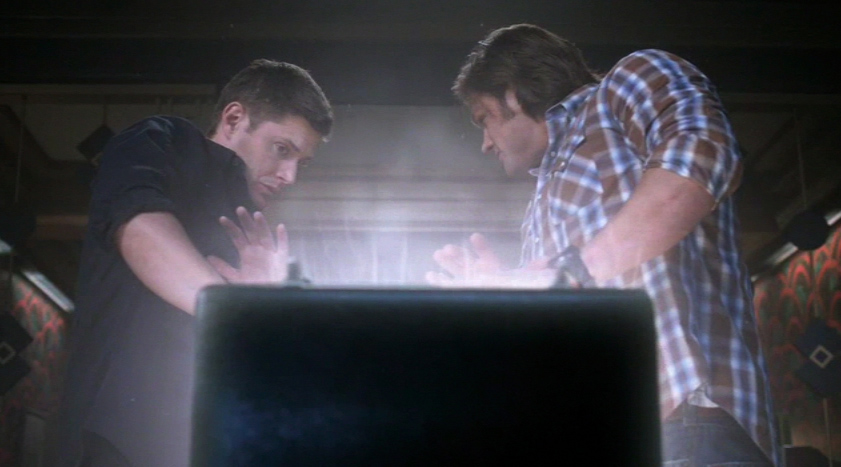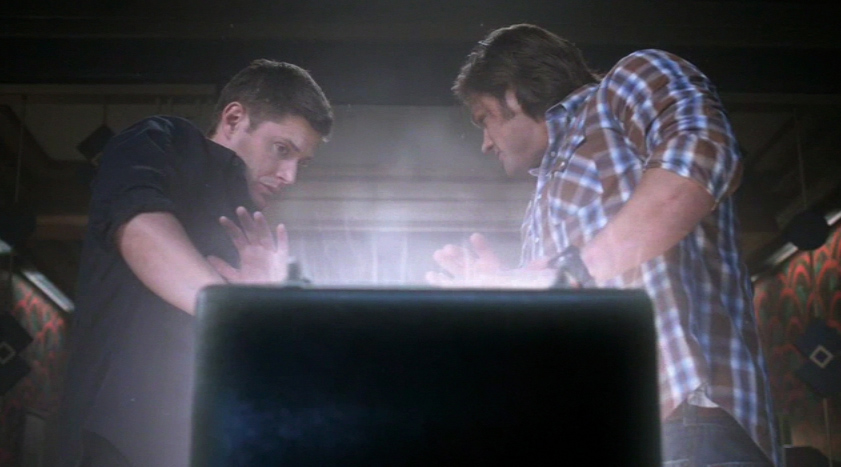 One of the awesome things that did come up in this episode was that we saw Sammy hasn't lost all his powers. He picks up on a weird vibe from one particular guy they keep walking by in the hospital and morgue. It's never clarified if this has something to do with Famine's influence or if Sam had just been blocked for some reason, but Sam is able to sense that this guy is a demon. After a little scuffle in an alley, Sam manages to make off with the briefcase the demon had on his person and send the demon running off to Mama. Back at the motel, the brothers have a Pulp Fiction moment when they open the briefcase to reveal what a human soul looks like. It surprisingly looks similar to an angel's grace. The CW really needs to give these guys a bigger budget. Castiel shows up at this point to inform them that's what a human soul looks like, that they're dealing with Famine, oh, and that Famine inspires hunger for whatever a person craves the most (not limited to food and being hungry).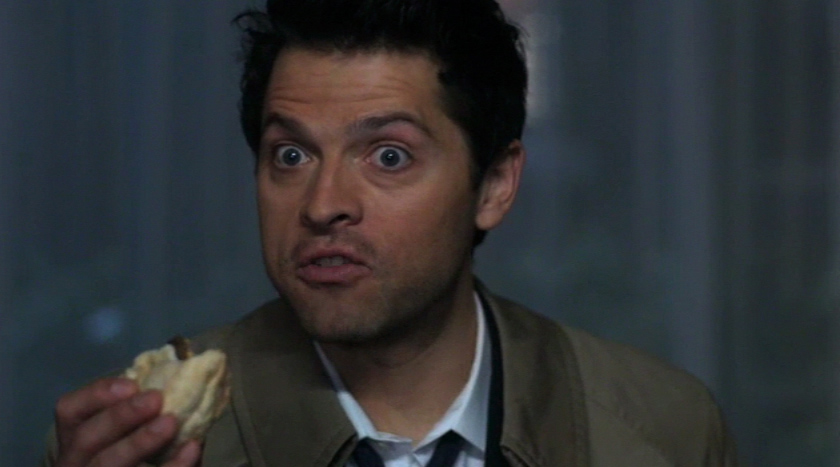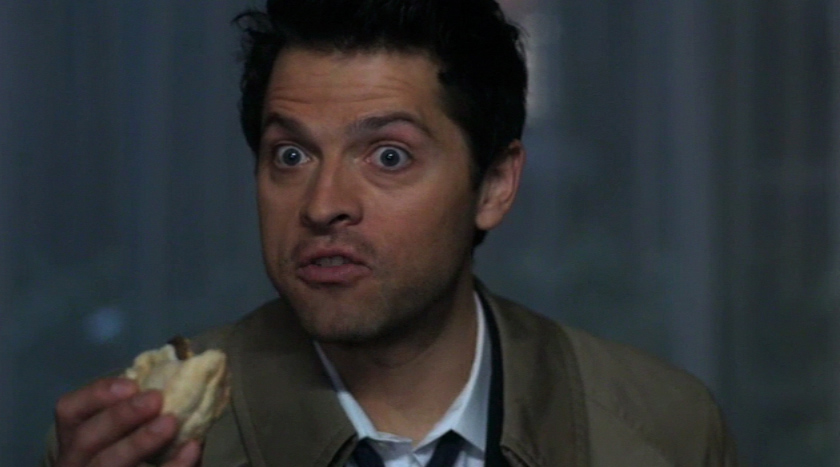 I think the most surprising thing that happened in this episode was finding out that Jimmy (Castiel's original vessel) is still around. Call me crazy, but I figured that when Castiel got blown up at the end of last season, that pretty much destroyed Jimmy (not to mention that he was already dead or dying at the end of "The Rapture"). I guess I just assumed that when whoever put Castiel back together at the beginning of this season just did a number similar to what happened after Anna's human form was destroyed. You know, just made it so he had a familiar body to walk around in, but he wasn't sharing it with its original owner. Furthering my hinky feeling of having Jimmy still riding shotgun in his own body is the fact that all Jimmy is really craving is red meat. Not being with his wife and daughter, but White Castle. Alrighty then.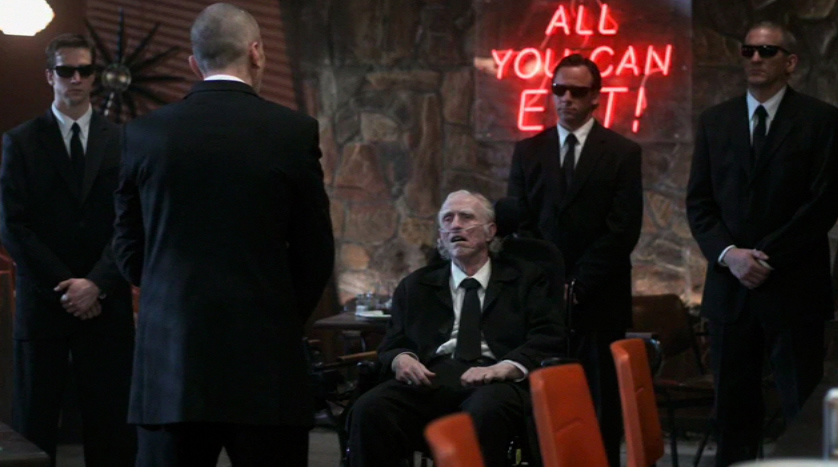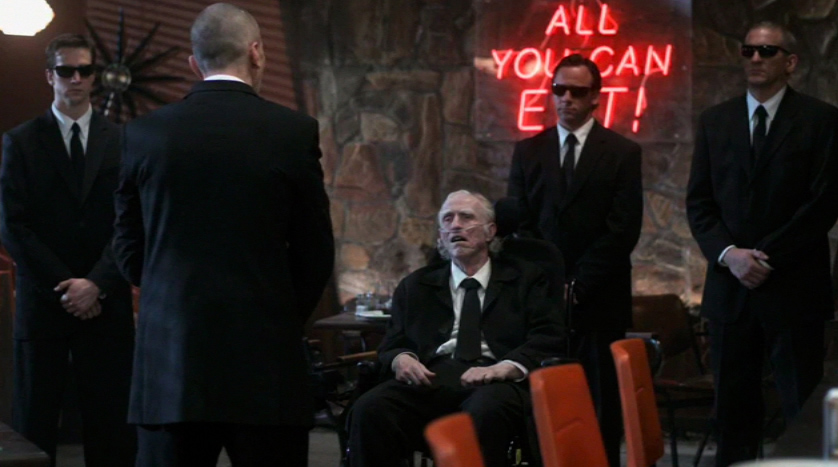 Famine was super creepy and really effective. However, am I the only person who's disappointed that another major player in the Apocalypse is a dude? I'm still holding out hope that Death will turn out to be played by a female actor. I did like that he was this frail looking old guy being wheeled around and hand fed by a group of demons. That was a very interesting take. I also liked that they didn't give this Horseman a classic muscle car and instead just stuck with the color of each "horse" being the same color as the vehicle.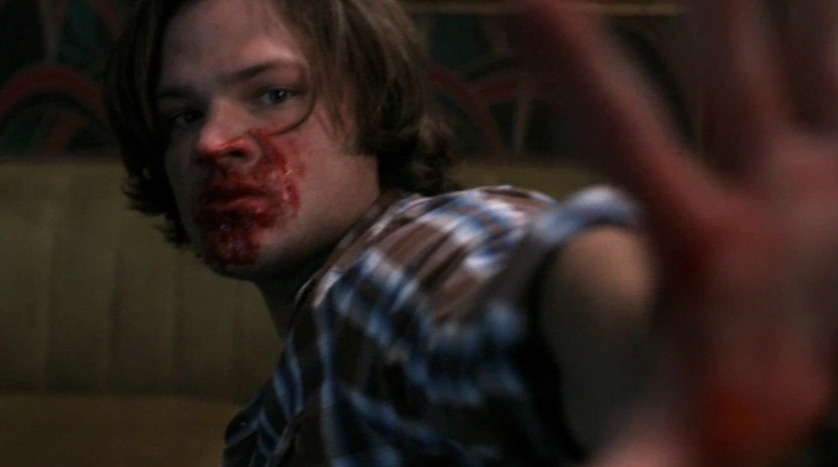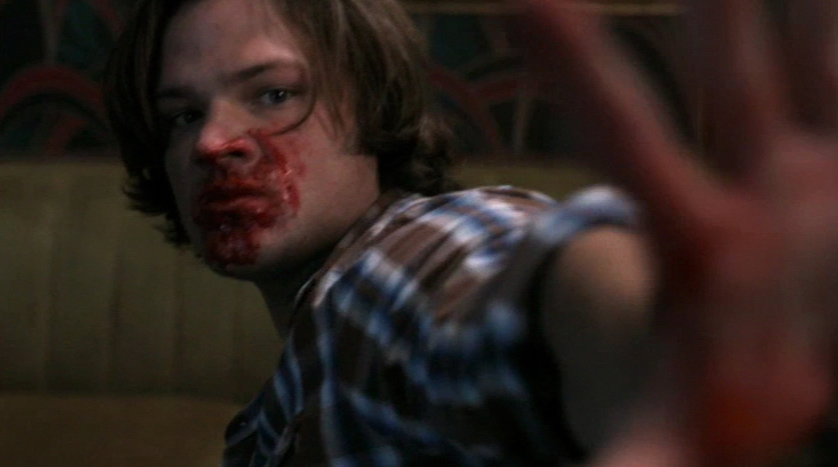 Bad news for Dean in this episode: Team Free Will is down to just him since Castiel can't stop stuffing his face with meats and Sam is jonesing for some demon blood. Out of the two, he takes Castiel with him to incapacitate Famine (since you can't kill a Horseman) and they leave Sam handcuffed to the drain of a sink that would take someone the size of Sammy about five minutes to break free from. Two demons show up, and Sam makes short work of them, and when he gets his powers back it's awesome. I know it shouldn't be awesome that he had to literally suck dry the human vessel of demon, but it was great to see him powerful and determined again. Sad Sack Sam was getting old hat. While that is going on, Castiel notices that Dean is the only one not showing signs of being infected by Famine. Dean says because when he wants something he goes and gets it, he doesn't deny himself it. Castiel asks him if he's saying he's well adjusted, and Dean answers that he's just well fed.
Dean knows this plan sucks, but he gives Castiel the Knife of Doom and lets him go in to cut the class ring off Famine's finger (hey, it worked with War, right?). Castiel goes in, but gets sidetracked with a huge tray of raw meat. Great plan, guys!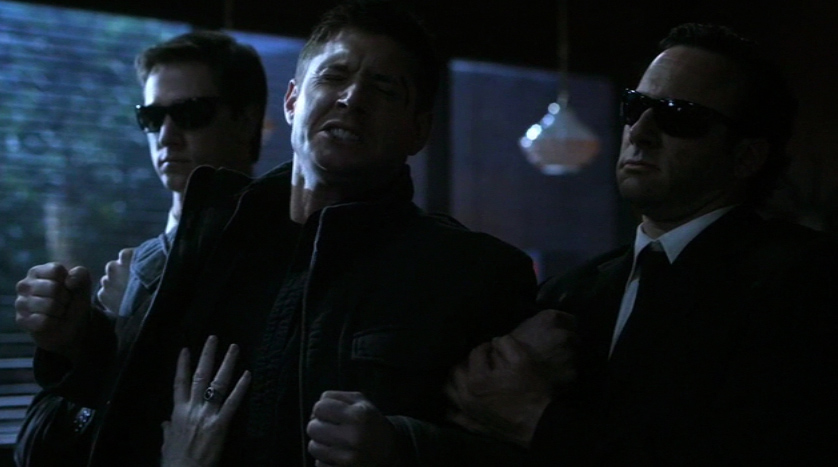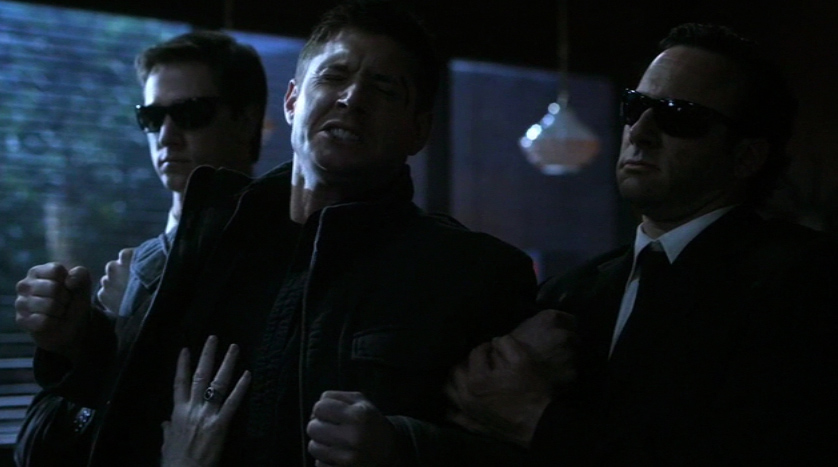 This forces a confrontation between Famine and Dean, where we find out the real reason Dean's not affected by Famine (after Famine makes a real original remark about America being full of disgusting, over-indulgent fatties). Famine tells him that he's already dead inside and there's nothing that can fill that hole growing wider inside him. That, I found very interesting and fitting for this character. Dean's kind of having a Buffy moment since being brought back from the dead last season, so it should only be fitting that there should be an emptiness inside of someone who was ready to be dead.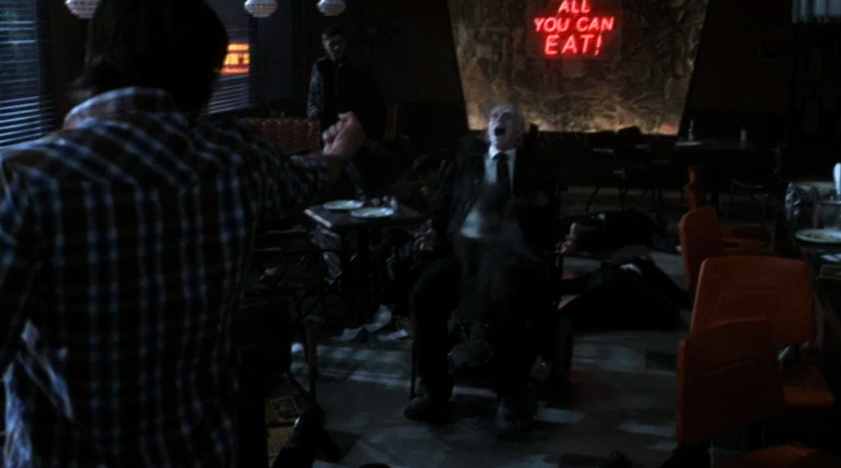 Juiced up Sam shows up and saves the day. Famine thinks he can goad Sam into "eating" the demons, but Sam exorcises them instead. So Famine eats them, which is a bad move because, while Sam can't exorcise Famine, he can exorcise the demons out of Famine. Afterwards, Castiel and Dean take Sam to detox at Uncle Bobby's bunker (where Papa Bear is mysteriously absent). Castiel seems very nervous and maybe ashamed about what happened, and keeps reassuring Dean that Sam will be okay and will be back to normal. Too bad that isn't really what's gnawing at Dean.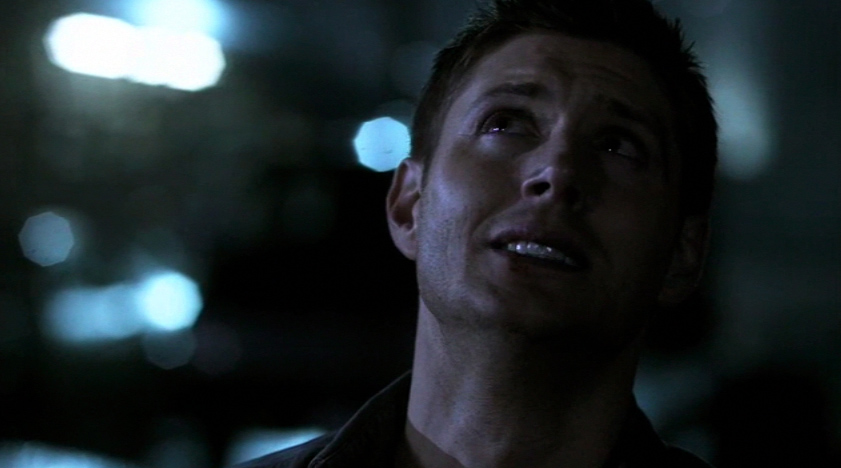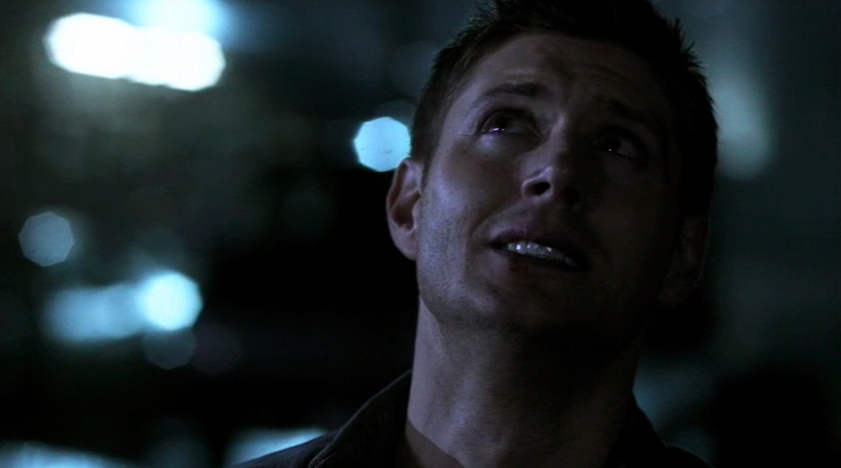 Outside the house, Dean finally breaks down and asks for help. Who will answer that and give him help? Michael? God? Gabriel? I have to admit, I kind of want it to be Death due to my own obsessions with The Four Horsemen. I kind of want The Four not to be so aligned with Lucifer since they seem to be entities that exists outside of the forces that brought the angels and demons into being. I want them to play both sides of the field, and it just makes sense that Death would be the one to come for Dean considering what Famine had to say about Dean's insides.
Supernatural returns with more new episodes on March 25.
Rating: 3.5 / 5 Stars