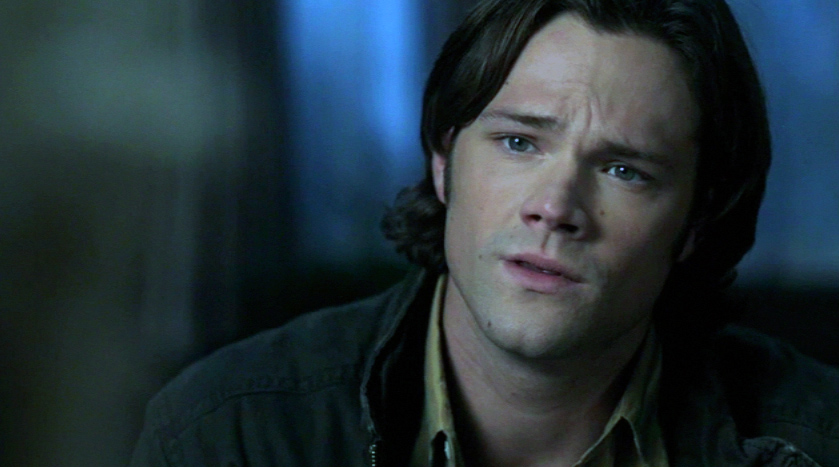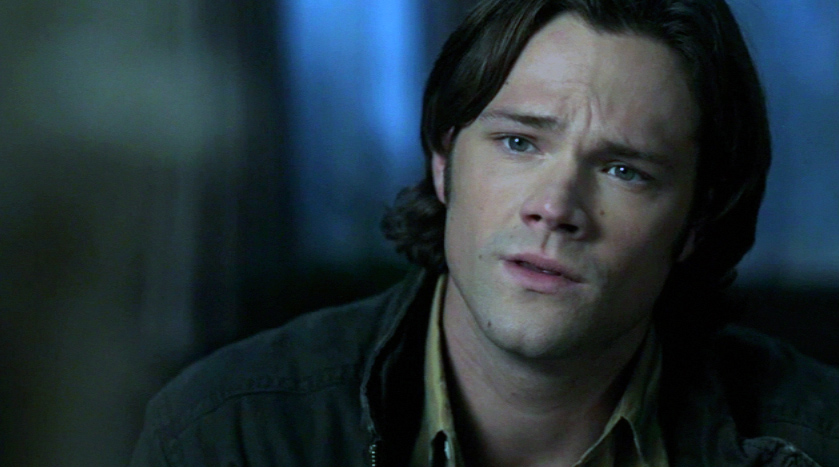 Episode: Supernatural 5.13 – "The Song Remains the Same"
Original Air Date: February 4, 2010
Whoa. This episode right here, this one, thirteen deep in a season that has not been my favorite in the past five years, somehow got me to proclaim it as my favorite of the entire series by the time the credits rolled. And it started with the only character I've ever actually wanted the show to get rid of! I wasn't prepared for the amount of gut-wrenching awesomeness I got while watching this episode.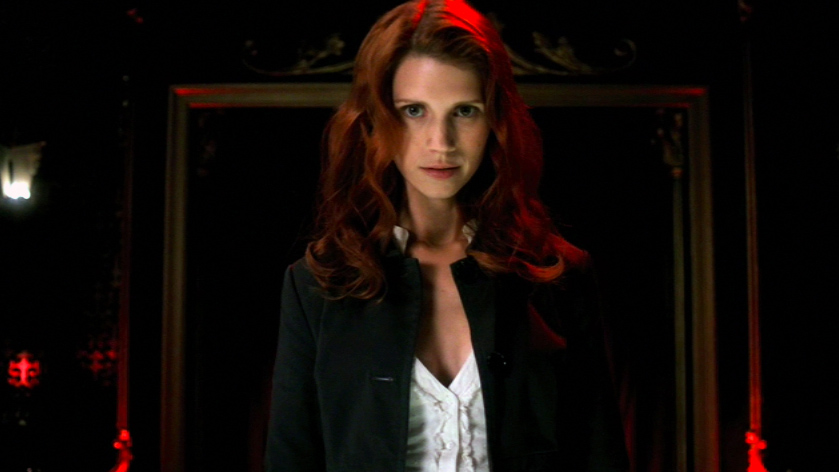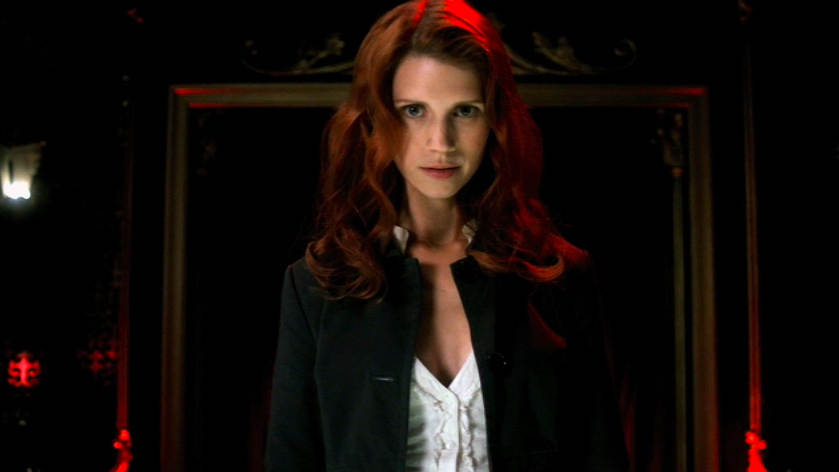 Anna. Dude, if ever there was a gripe I've had with this show that could actually trump my gripe about how all the strong female characters end up dead or the handling of the angel/demon hierarchy, it would be Anna. So she got a two-fer when she showed up in Dean's naughty time dream: not only did she kill his boner for the dancing girls, but she killed my (figurative) boner for the show again. She gives Dean a sob story about how she broke out of Heaven after Castiel turned her in and that she needs to meet Dean alone. Apparently, she didn't grow a brain while she was locked up because she actually expected Dean to meet her alone somewhere. Good thing there's at least one angel on this show that's developed as a character. Castiel isn't a little naïve thing anymore, and cuts through her BS faster than S1 Dean would have made his way through the Ole '96er steak for a free meal and some hats for the kids.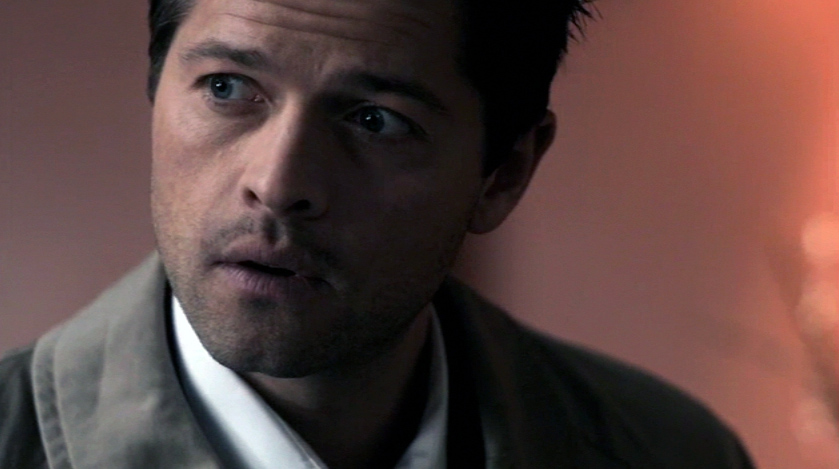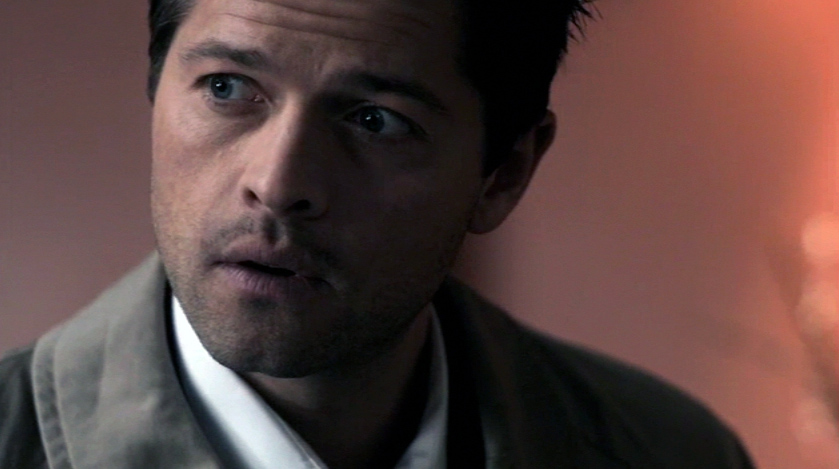 Now, I know I said this was my favorite episode of the entire series so far. That doesn't mean my brain didn't go, "HEY. Wait just a minute" a few times during this. Obviously, the first one was when Anna showed up on the screen (I'm trying to stay away from spoilers for this season). Then next would be when she tells Castiel she made a deal with the boys upstairs and is on a mission to kill Sam.
Wha-HUH?
Back that train up, Sister. Last time we saw you, you were all up in Dean's business and working with Sam and a demon to keep the Winchesters alive. You were trying to prevent all this from happening. I mean, I don't see how she was going to talk Dean into letting her kill his brother or where this suddenly came from. She had a knife on her — did she expect Dean to bring Sam when she said he needed to come alone? Was she going to kill them both? It quickly felt like she was going to be killed off and this was just another fast and dirty wrap up for another straggling female character (see: Jo and Ellen and Bella and Pam). Castiel isn't having it and tells her to pack it in ("The answer's still no. Because Sam is my friend" — how amazing was that line?). She disappears; he goes back to the motel where the Brothers are staying.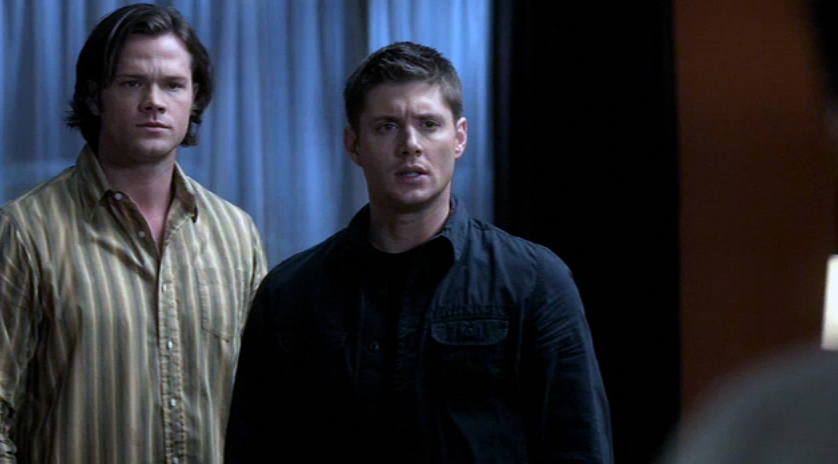 Because he's Castiel, he tells the Winchesters exactly what went down. Sam asks if Anna's right about how the only way to stop Lucifer is to kill him, and Castiel lies. He pauses for a beat, but he lies and says "no." This character has grown so much and is a great example of what these writers can do when they actually give the reoccurring characters a chance to develop. Castiel knows exactly where Anna's headed next (back in time to kill Young!John and Young!Mary) and plans on following her to stop her. Doesn't go over well with the boys; they want to help protect their parents. Castiel thinks this is a dicey move since his Angel Power isn't up to snuff anymore, but he finally agrees because I don't think he could ever say no to Dean or Sam at this point.
Dean: "So what? You're like a DeLorean without enough plutonium?"
The amount of pop culture references alone were enough to get my love here.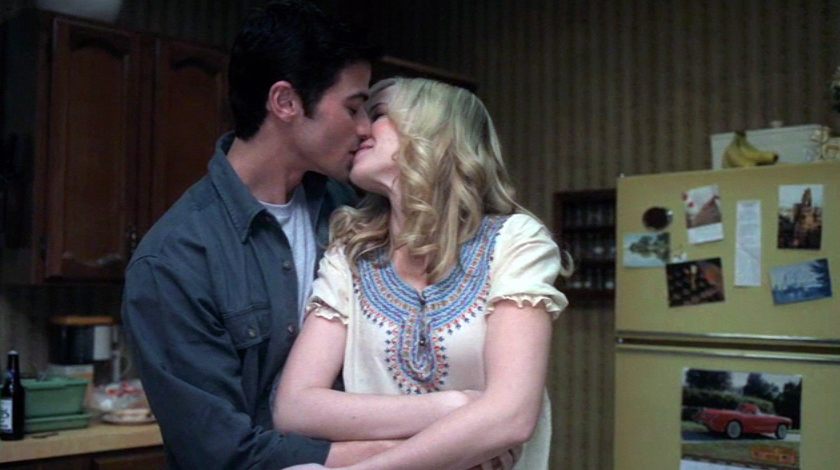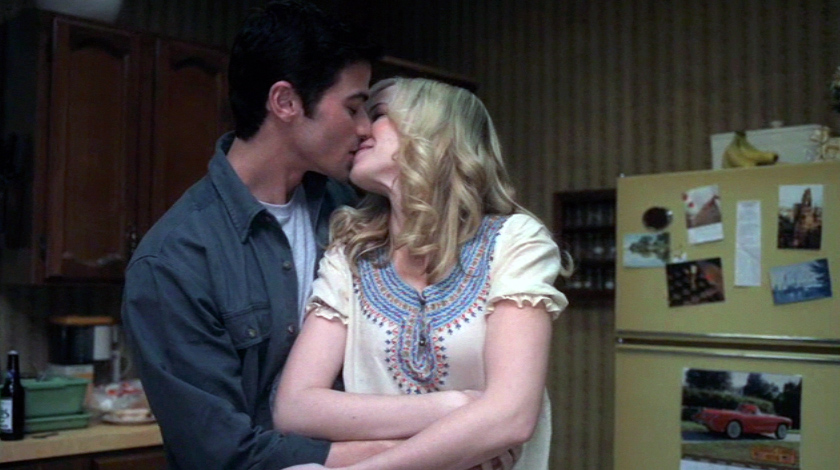 They make it back to the '70s, but Castiel is basically out for the rest of the episode (plus side, it also took a lot out of Anna to do the Time Warp again). They track down Young!John and Young!Mary to try and warn them (or Mary at the very least) that something bad is hunting them down. For the simple fact that Sam got to see his parents as they once were, this episode was worth it. These two actors (Amy Gumenick and Matt Cohen) are without a doubt some of the best casting this show has had. They are perfect together as Mary and John, it's just crazy. I am actually in love with these two as these characters. They make me feel all girly and "ahhhhh" and it's very weird for me.
Anyhow, that's evened out with how incredibly BAD ASS Young!Mary is! She goes to town on Anna when the angel with dirty wings cons Young!John into a trap. This is what I'm talking about when I say "strong, female character." She's amazing.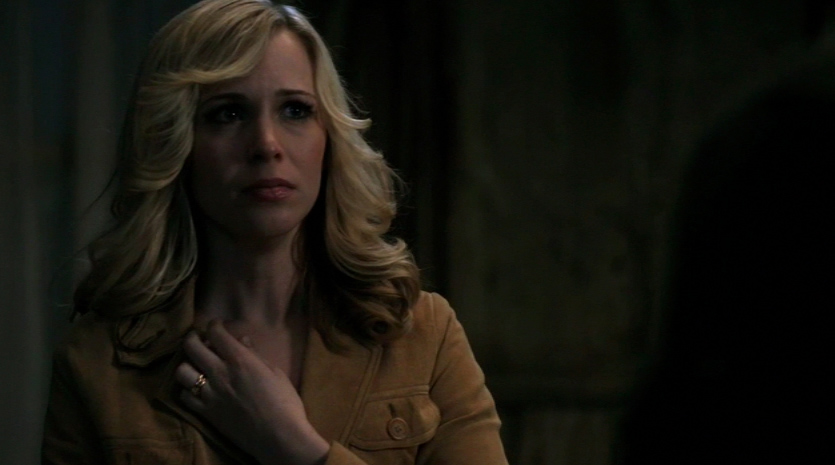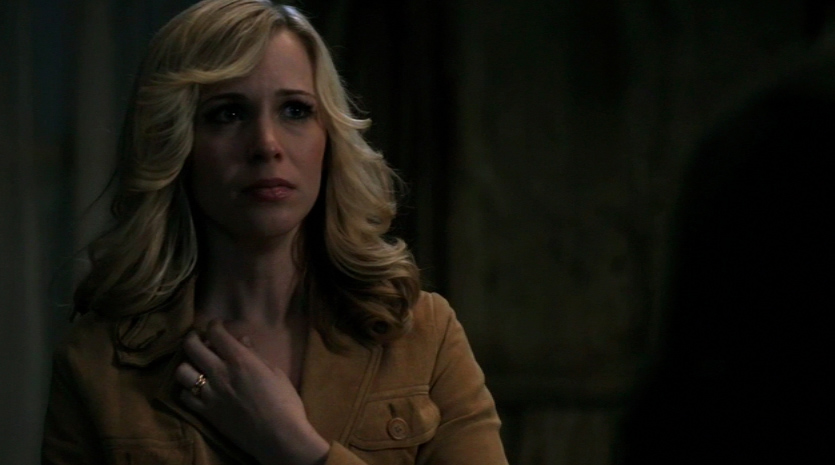 Once the Winchester family makes it to the Campbells' hunter shack (that looks an awful lot like Bobby's sans furnishing and reading materials), the old heartstrings get a workout on my ticker. Sam gets to tell John in a roundabout way that he loved him and knew the whole time that John was only doing the best he could as a father to the boys. That was some major closure for Sam, I think, and something that if done sooner might have changed the way things played out later (I don't buy the whole "you can't change your fate" deal going on all of a sudden in the show). We also see a bit the Papa Winchester we the viewers know showing up in Young!John — that was great, but it also showed how much he and Sam are alike.
On the other side of the shack, Dean and Mary turn out to be very much alike. But it's when Dean just flat out tells her the truth about why he and Sam are there and who they really are that was killer on the emotions. Again, he tries his best to change the past by telling her not to go into Sam's nursery on that fateful night. Sam shows up and tells her she could just leave John so neither of the boys will be born and Dean's very adamant that she should do this. They'd much rather never be born, but it's already too late because she's pregnant with Dean. What a trip that would be!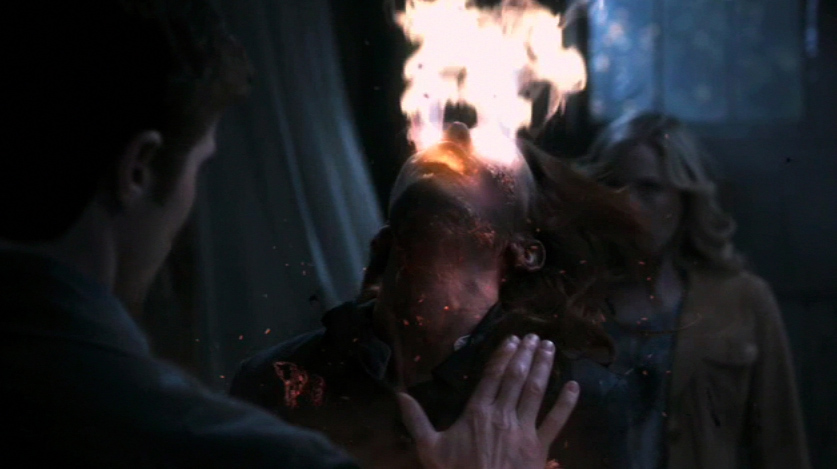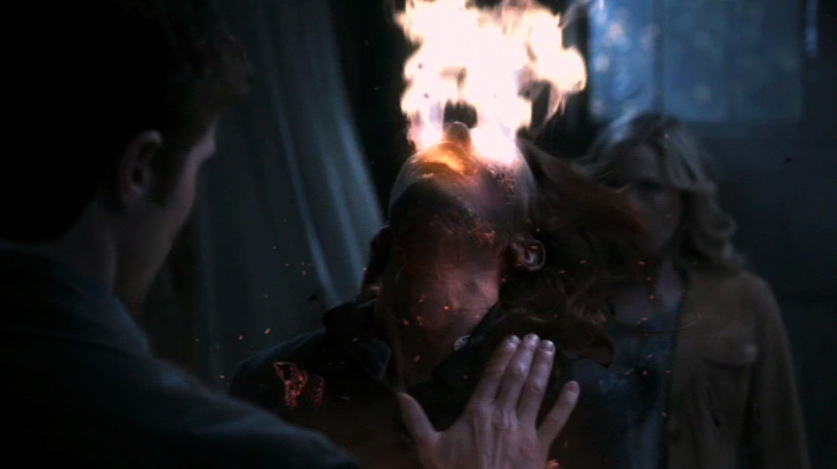 We also find out that angels, much like demons, see in linear time just like humans. Anna enlists the help of her former subordinate and her murder victim, Uriel, to help her take out the Winchesters. Past!Uriel can tell that Anna isn't the Anna of his time, but is so blinded by his lust for a good smiting that he does what she tells him to do. This was odd and kind of a plot hole for me, especially after Michael finally showed up (and in Young!John's body, no less) to put a stop to Anna's shenanigans.
The Uriel we know from last season knew who the boys were. It's presumed that anyone who's anyone in Heaven knows who the Winchesters are (gathered from the convo Michael and Dean have later). Uriel is a Lucifer sympathizer. Why would he agree to help Anna? Also, by Anna coming into contact with Past!Uriel, wouldn't that change S4 Uriel and how he reacts and interacts with the boys when he and Castiel finally show up?
Anna's death was both plus and minus for me. Plus Side: I didn't like the character and thought she was a waste of time and didn't serve a real purpose for the show. When Michael puts the Angelic Whammy on her, we get one of the better effects this show has had in a long while. Minus Side: I would have liked her to have come around in the end and have had a purpose, much like Ruby did by the time she died, instead of having her be killed off in a way that I guessed at the beginning of the episode.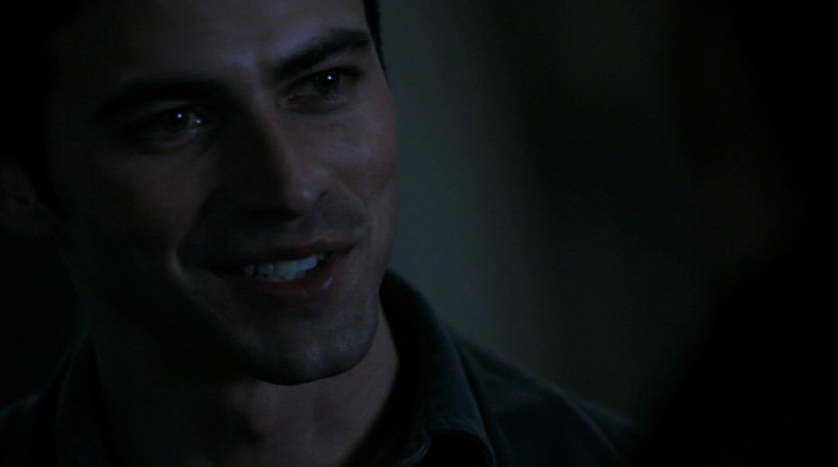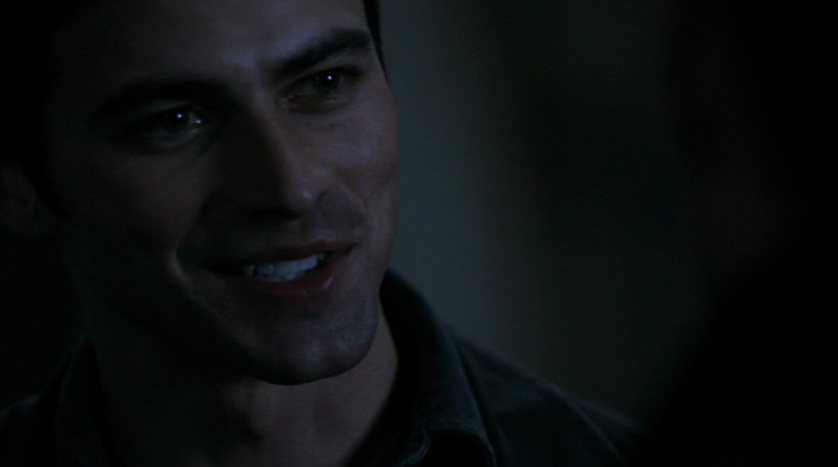 When Michael and Dean finally meet, it's pretty much as awesome as I hoped it would be. Michael himself is pretty much as awesome as I hoped he'd be, as far as mannerisms and attitude go. What he had to say was a little less awesome. Tracing Sam and Dean's bloodline all the way back to Cain and Abel, and setting them up over the millennia to be born, to always be the chosen vessels for Michael and Lucifer wasn't as epic for me as, say, there being something special about Sam and Dean themselves. Anyone in that bloodline could serve as a vessel for the two, but for some reason Lucifer and Michael are stuck on forcing it on Sam and Dean.
The other problem I have with this is the continued insistence that Michael is the "older brother" to Lucifer. I'm all for taking certain things from the source material and tweaking it for your story, but for some reason this rubs me the wrong way. Every time it's claimed that Michael was brought into being before Lucifer, it's like nails on a chalkboard for me.
I'd say the final problem I had was when Michael said, "Free will's an illusion, Dean." If their fate was so sealed, Heaven wouldn't be working over time to ensure it happens either by indirect or direct means.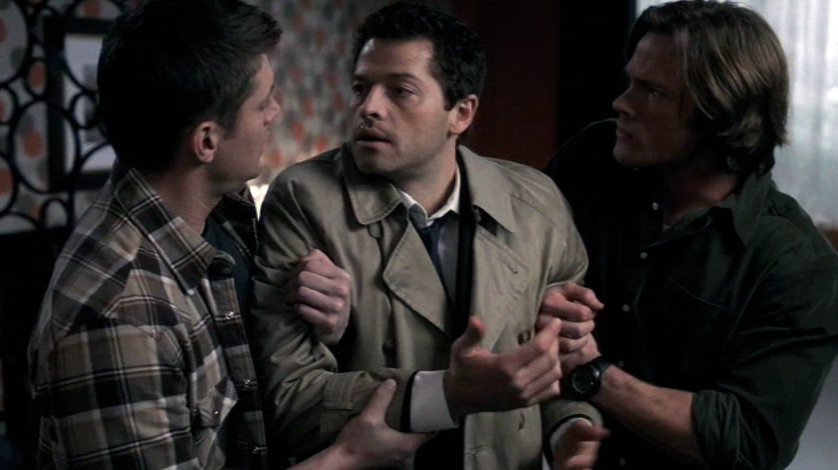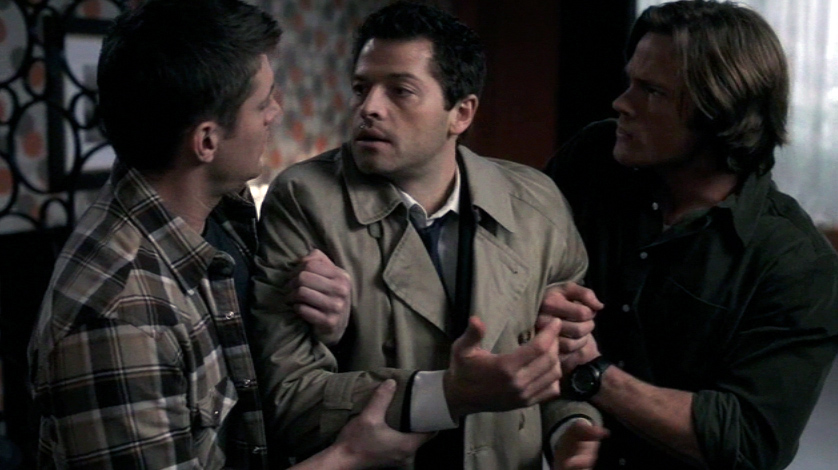 Michael brings Sam back to life after Anna kills him (how many times has that kid died now?) and sends him and Dean back to 2010. Castiel is forced to get himself back to the future, and that poor guy is going to kill himself if they don't get his Angel Mojo back at optimum levels. Team Free Will is reunited once again, but the boys discussing the convo between Dean and Michael brings up a good question: What if they do say "yes" — what then? What if Dean says "yes" to Michael under the condition that they take care of Lucifer while he's using Nick as a vessel? I'm wondering why that hasn't come up yet. Maybe you can only take Lucifer or Michael out while they're both in their chosen vessels? I'm curious why they can only have their showdown while riding inside their respective Winchester.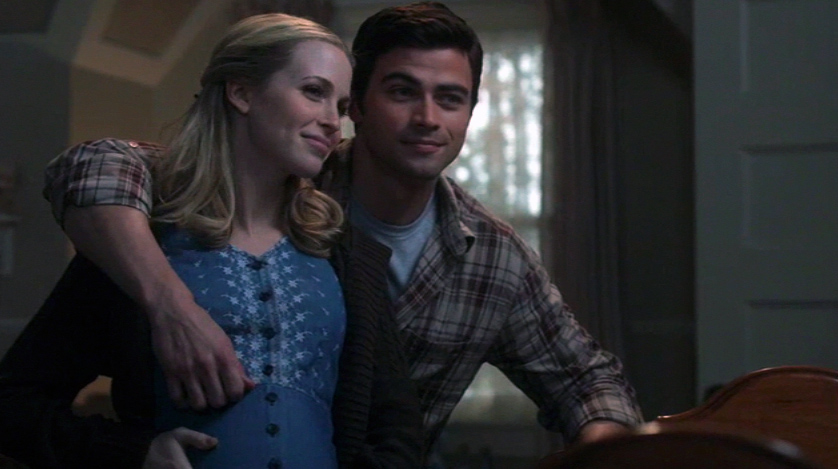 Michael scrubs Young!John's and Young!Mary's minds before setting everything back the way it should go, ensuring that as far as the Winchesters, everything plays out the way it did up until the present. There's still some kind of ghost of the incident in Young!Mary's mind, and that's where the line "angels are watching over you" in reference to Dean comes from. Intentionally left in there, or are our insignificant little minds a little more harder to control than the mighty Michael thinks?
Rating: 4.5 / 5 Stars