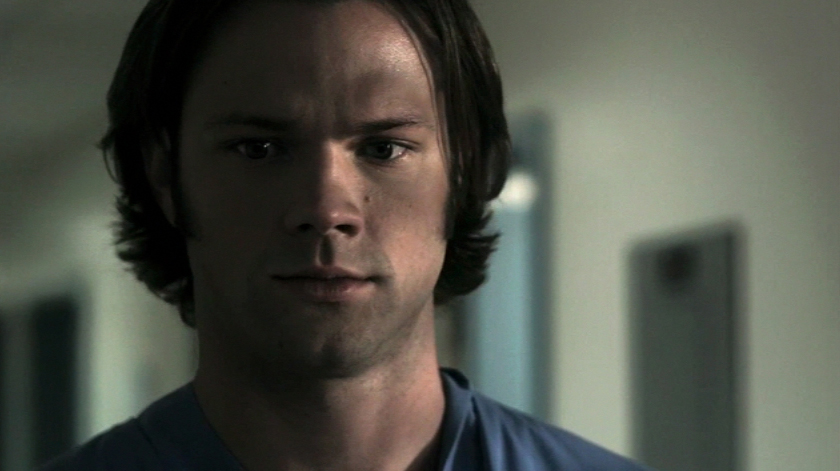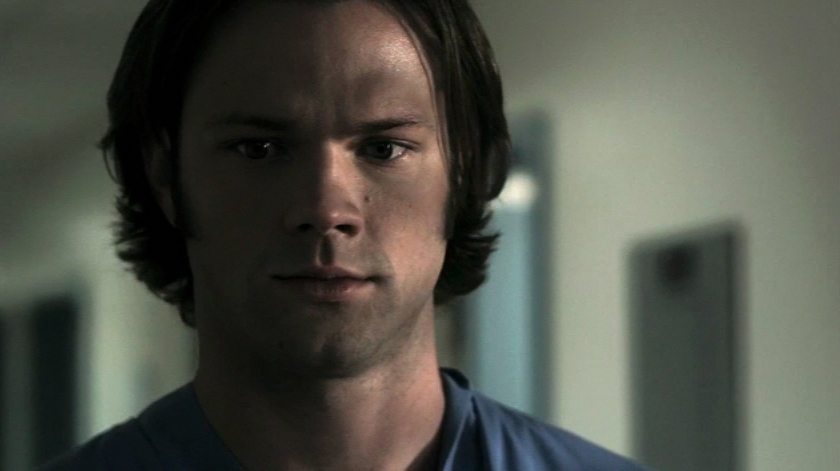 Episode: Supernatural 5.11 – "Sam, Interrupted"
Original Air Date: January 21, 2010
It might have been the winter hiatus (that felt like an eternity), but I really enjoyed this episode. It reminded me of some of the early episodes of the series: Monster of the Week, while still remaining connected to the main storyline (in dialogue, in nothing else). It had the humor and brotherly interaction we have come to know and love, and was a good ep to start the second half of the season with.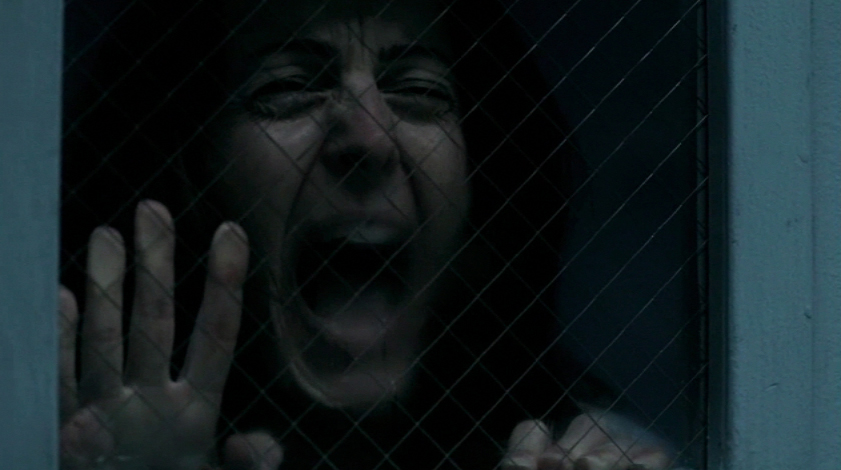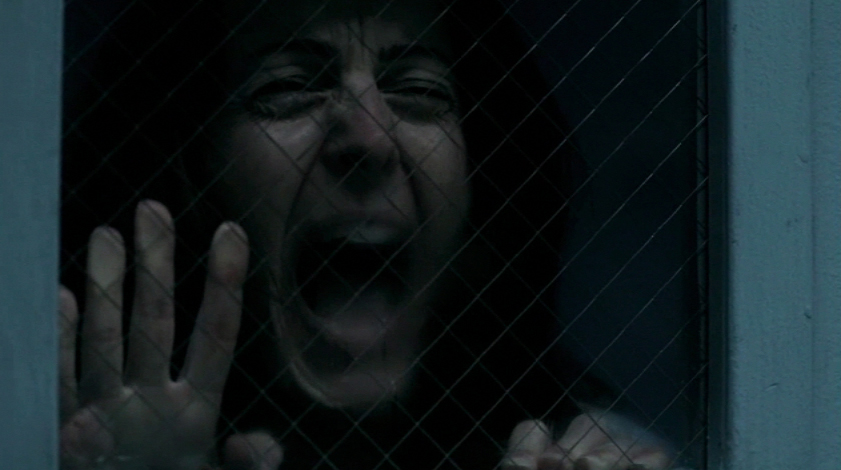 Don't you just love it when something takes place in a psych ward? Especially in this show since every crazy trait is cranked up to 11. The show starts with a patient talking to the main doctor. Seems there's a monster going around eating the inmates and making it look like they're killing themselves. Of course, she's crazy so Doc doesn't believe her. Which is too bad for her because she's the next meal for the monster later that night. I know they're working in a Nut House, but wouldn't it behoove the orderlies to at least go by the window and look in to see what the patient is screaming bloody murder about? If they had decided to do their job that night, they could have delayed her death since it took for-ev-er for the "monster" to Eugene Tooms its way out of the ventilation system. When they finally decide to go look at what all the screaming was about, they find the patient dead on the ground from apparent suicide.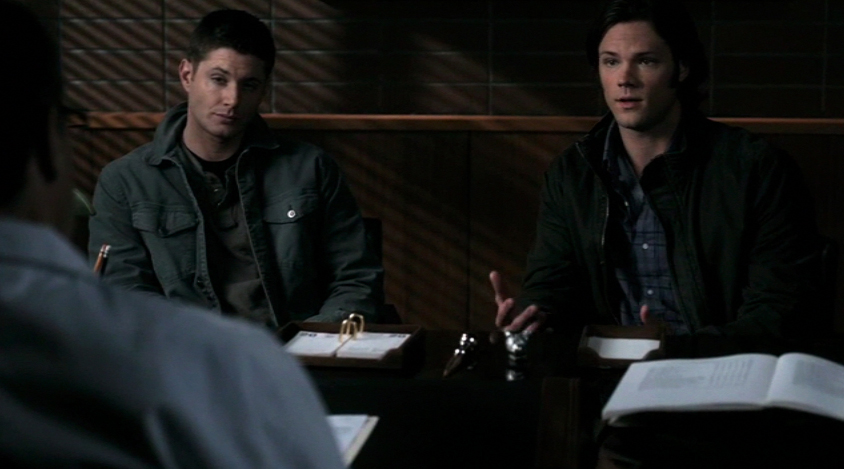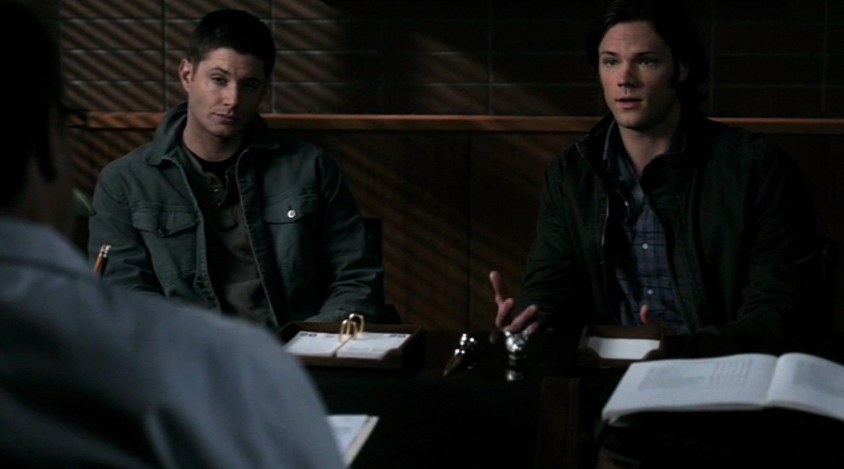 Enter the Winchester Boys! Oh, how I missed you during that ridiculously long break! Sam and Dean go undercover as the brothers Eddie and Alex (and I've missed your rock music references, too) because an old-timer hunter (Martin) called them in because of the monster business. Like with most of the the old-timers, Martin has ended up in the "sad" category since he had admitted himself into that psych ward after something really bad went down in Albuquerque. Part of their undercover story is that a Doctor "Babar" referred Sam to this psych ward, but them telling Doc the truth about the Apocalypse, their job, Castie, and everything is what gets them both admitted. They get a thorough check up by Nurse Pollyanna, get a set of PJs to live in for the duration of their stay, and are sent out to mingle with the natives.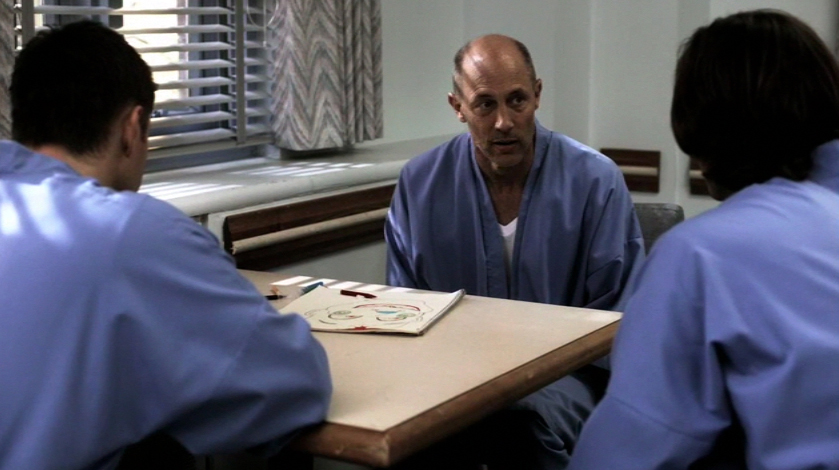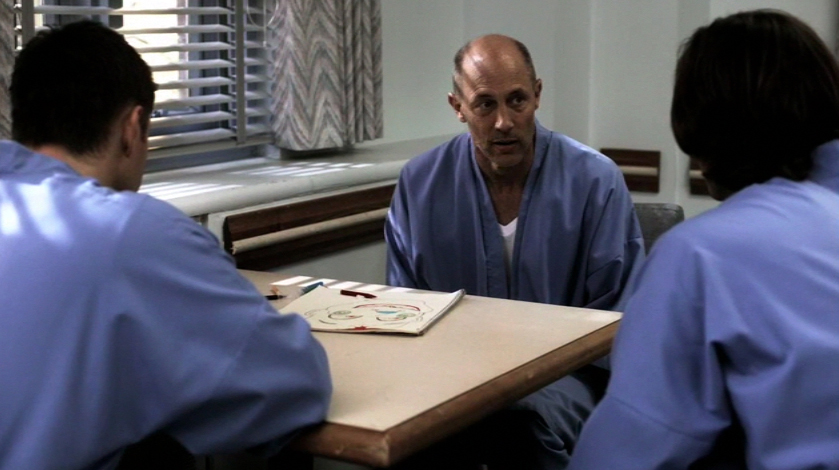 That's where they find Martin (who turns out to be Wolfman/Jon Gries from The Monster Squad!), and the dude is cracked out. Whatever happened in Albuquerque must have been seriously bad. He let's them know that there is something going on, despite all the witnesses being officially off the deep end, because he can feel it in his gut. He just can't handle the job anymore and so he called in the Winchesters to help. Martin tells them everything he knows (which isn't much at this point), when Doc shows up to take Martin and Sam to group therapy. Doc tells Dean that he can't attend afternoon group because he thinks the brothers' relationship is "dangerously co-dependent" and that they need some time apart from each other. We all know they do better when they stick together. So, Sam and Martin go to group and hear about the monster, and Dean plays checkers by himself (this doesn't diminish the glee he has when he wins) and has a chat with his supposed assigned shrink. They play Hannibal and Clarice, which naturally leads to Dean having to talk about John (Daddy issues, full steam ahead).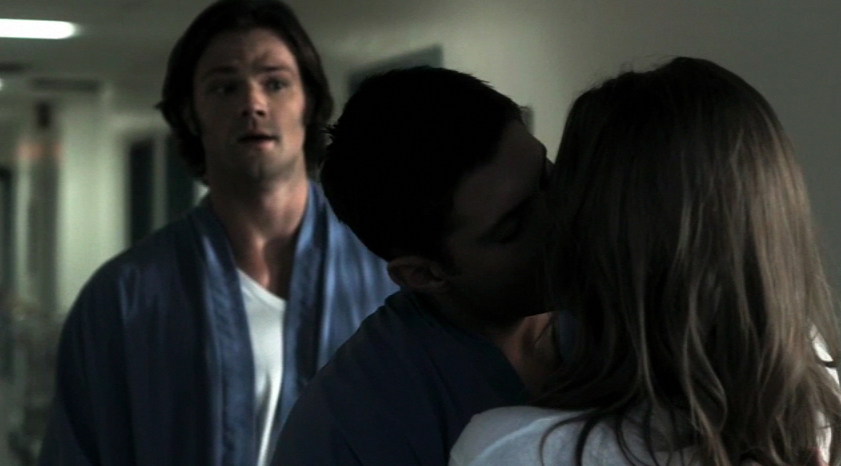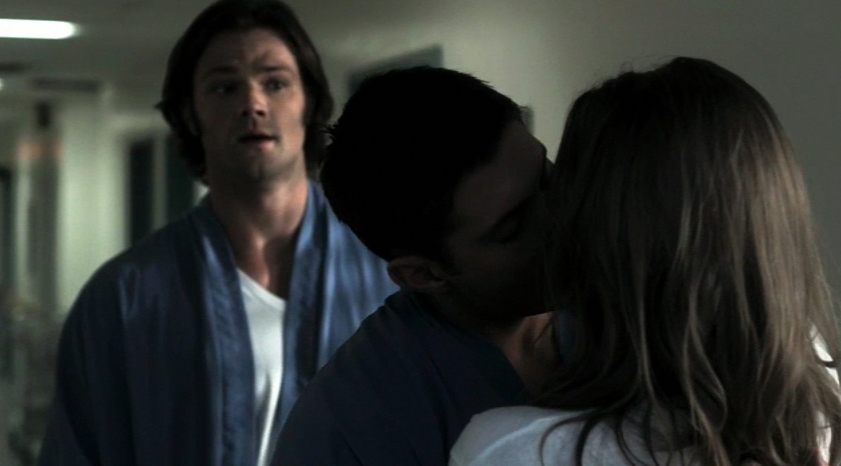 The brothers meet back up after these encounters and decide to talk with the crazy guy who witnessed the death at the beginning of the episode. Dean thinks they need to get it over with as soon as possible so they can get out of there, but the pre-requisite Crazy Nympho gives him a dental cleaning with her tongue and he's totally thinking of sticking around for a little more. Sometimes, the roles of women in this show are severely lacking and predictable. Anyway, Sam has to remind Dean that he "can't hit that" and they continue to make their way to the witness's room. They make it there just in time to see him swinging from the ceiling.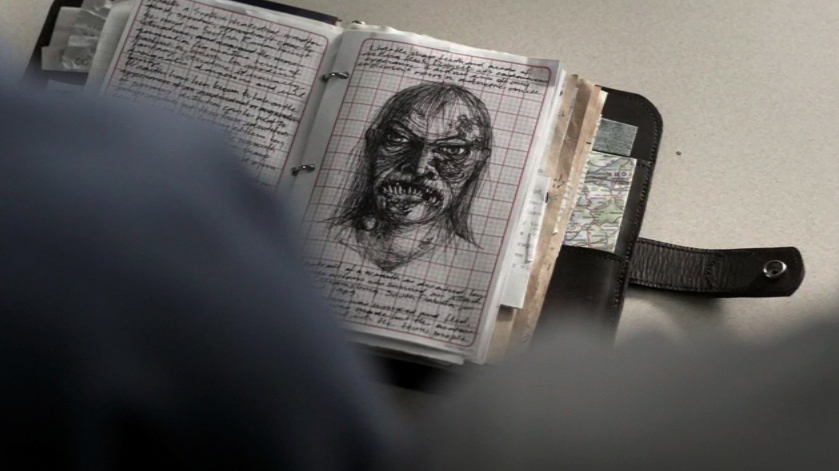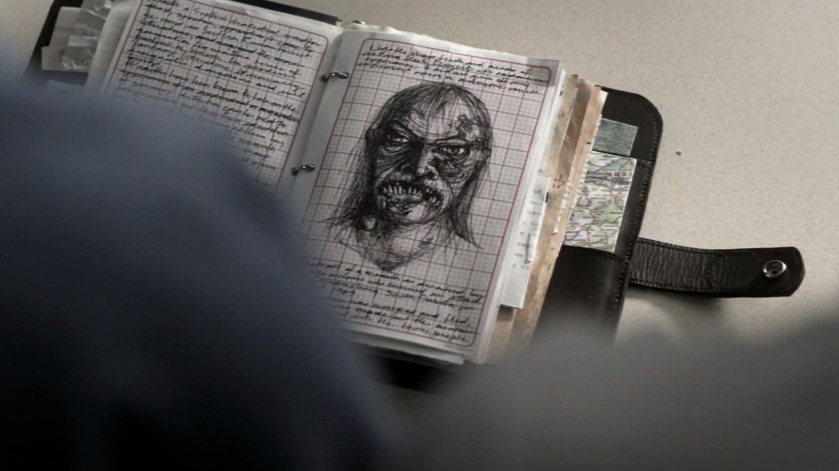 The next day, they break into the morgue to examine the body (Dean on watch, Sam doing the autopsy). Sam discovers that the brain has been sucked dry just before Dean rushes in to tell him that they're about to get caught. Nurse Pollyanna catches them, but Dean plays crazy to get them out and I will never think of pudding in the same way again. They report back to Martin about the brains, and they conclude they're dealing with a wraith. Good news: you can kill a wraith with silver (why can't you kill something with cotton candy or something? It's always silver). Bad news: they can pass for human, but their true form is revealed in mirrors.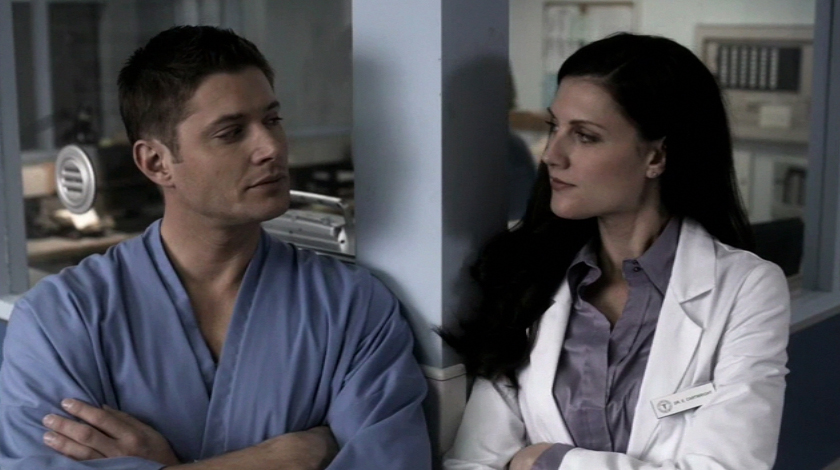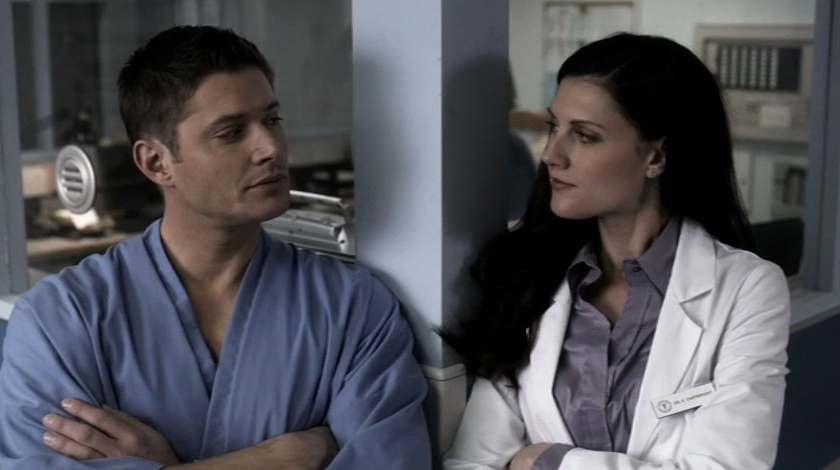 Dean takes up watching the security mirror when his shrink stops by to have another chat. She makes a good point that his responsibility must be crushing, but before he can really think about it Dean spots Doc in the mirror as a wraith. That night, they find a few letter openers that are silver plated and decide to find Doc and take him out. Before they continue with laying out a plan, Crazy Nympho goes up and gives Sam the same treatment she gave Dean (to which Dean comments that Sam has had worse). Martin backs out, saying he can't hack it anymore, leaving Sam and Dean to split up to cover more ground.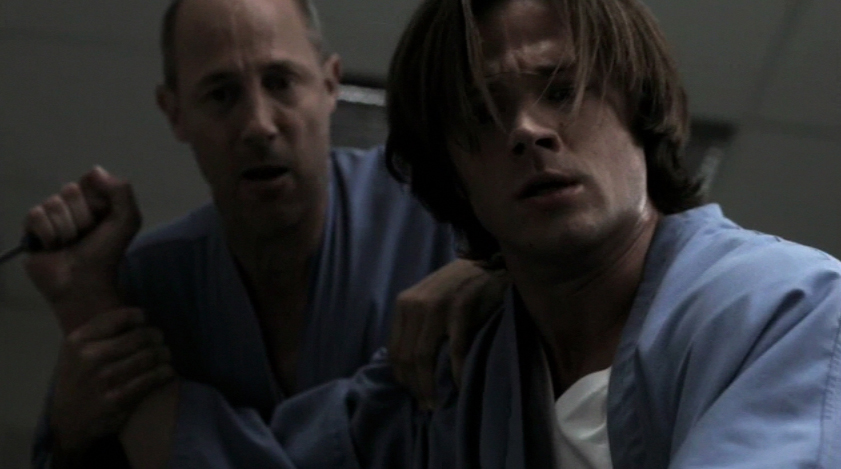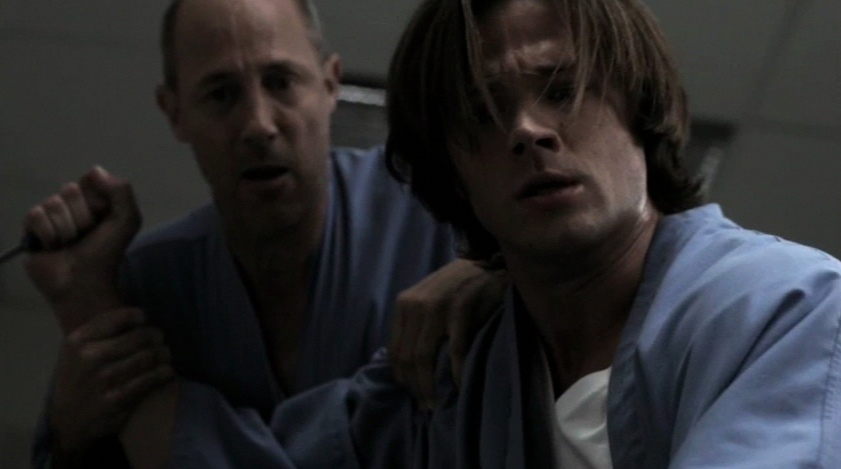 Sam finds Doc first, goes Berserker, and almost kills him before Martin gets a pressure point hold on Sam's shoulder and stops him. Doc turns out not to be the wraith. Either Dean is slipping up or wraiths are like shapeshifters and can look like anyone.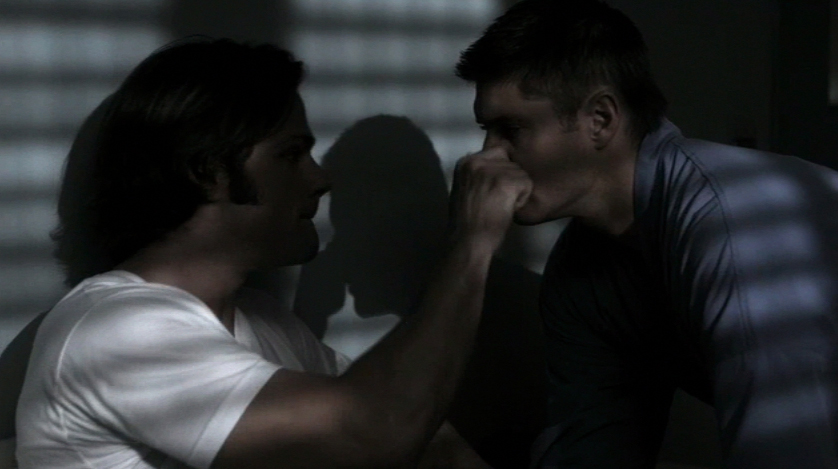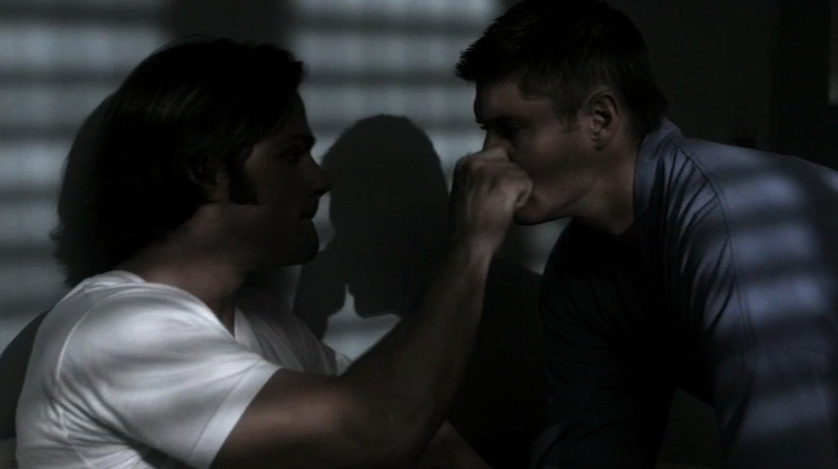 This leads to Stoned!Sam, who turns out to be just as hilarious and cute as Drunk!Sam. Stoned!Sam thinks Dean has finally, for reals this time, gone crazy and imagined Doc being the wraith. Dean is just irritated by this and leaves Sam to giggle himself to sleep.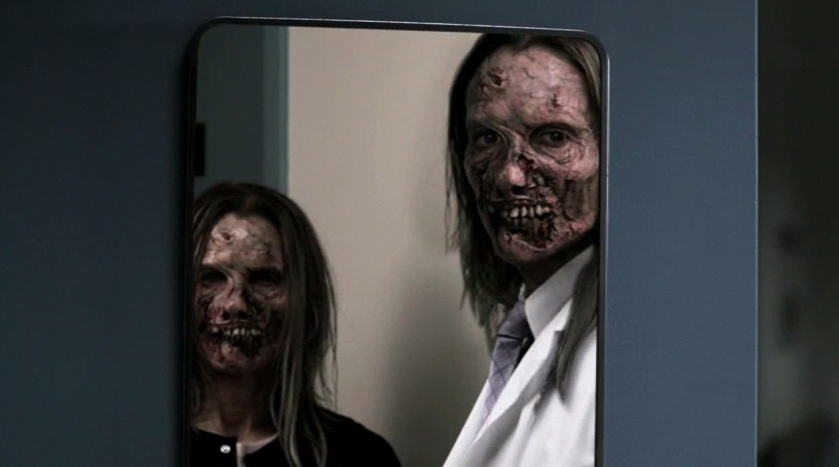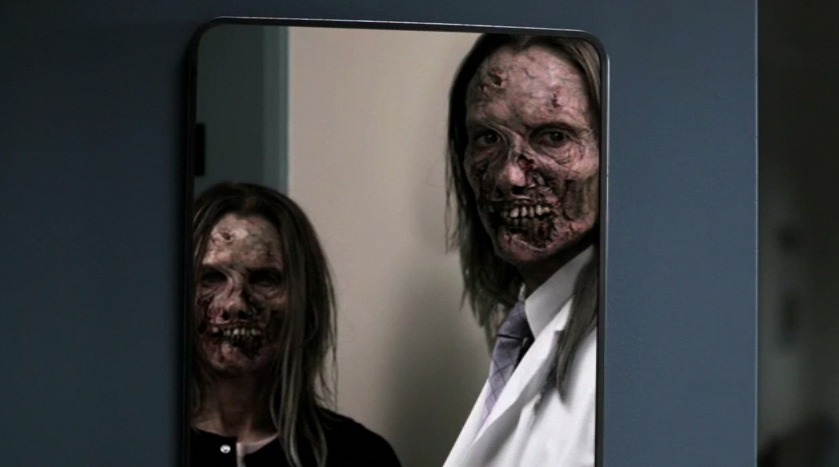 It turns out that Dean IS losing it. His shrink, totally figment of his imagination. Plus, everyone starts to look like a wraith to him and the show goes from funny to serious. The next day comes, and Sam apologizes to Doc for trying to kill him. Doc tells Sam that monsters are the least of his problems because the anger in him is seriously scary. Doc speaks the truth; Sam may be the smart one, but he is also the one with the direct route to the Anger Highway. He proves this again when they let him out of his room and into the main room where he gets into a fist fight with an imaginary mob (lead by an imaginary Dean — the real one is out of it in the corner), and gets put in lockdown.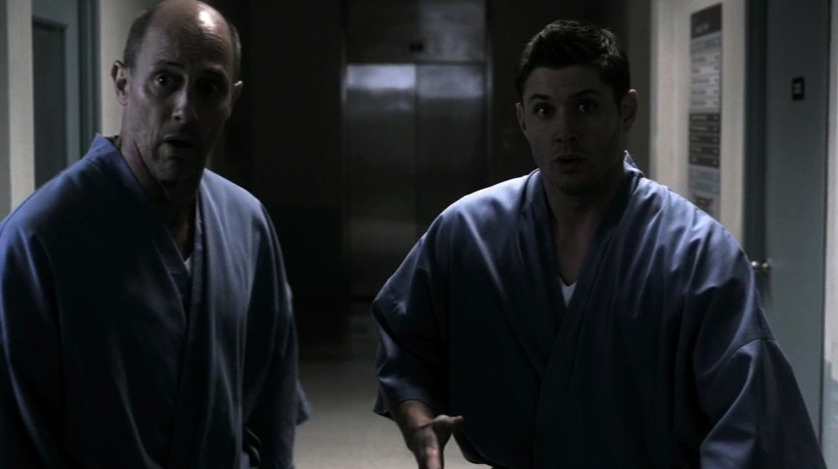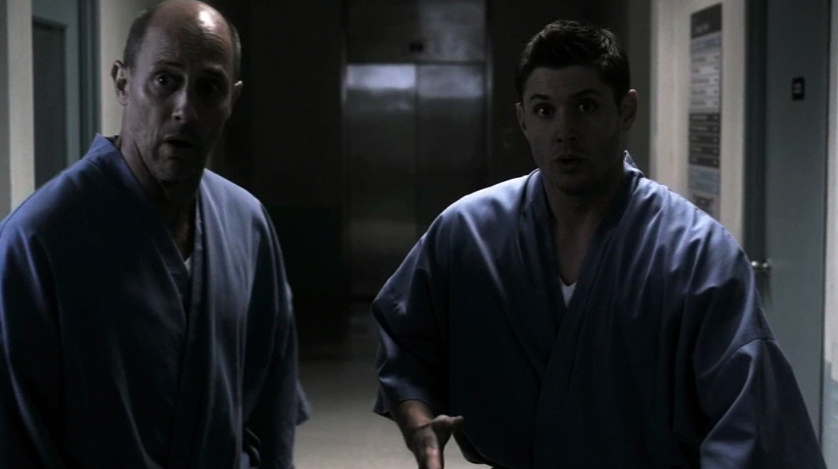 Dean is forced to join up with Martin to solve the case, and they figure that the brothers going crazy on the same day is the clue they were looking for. They must have had contact with the wraith early on, and that's what caused the crazy to kick into overdrive. They think it's Crazy Nympho (because of the whole sucking face thing), and make their way to her room. Dean can't step on the cracks and that kind of slows them down. When they do get to the room, it turns out Nurse Pollyanna is the wraith and is in the process of sucking the brain juice right out of Crazy Nympho! Scuffling ensues, Nurse Pollyanna escapes, Martin distracts the guards while Dean goes on the chase.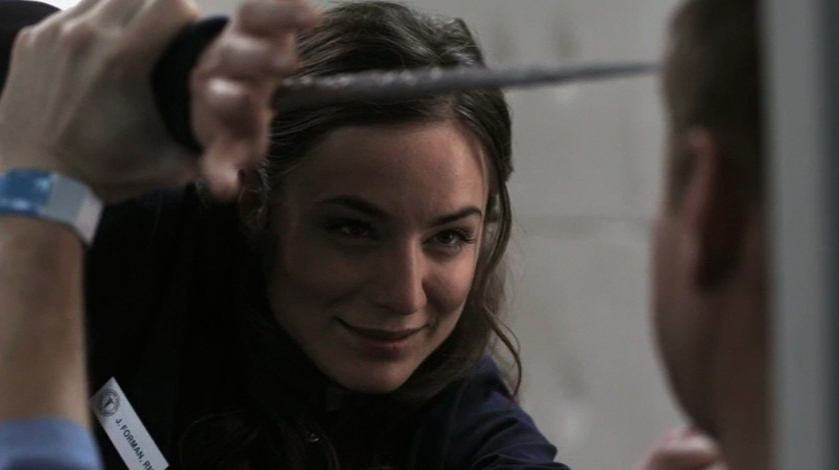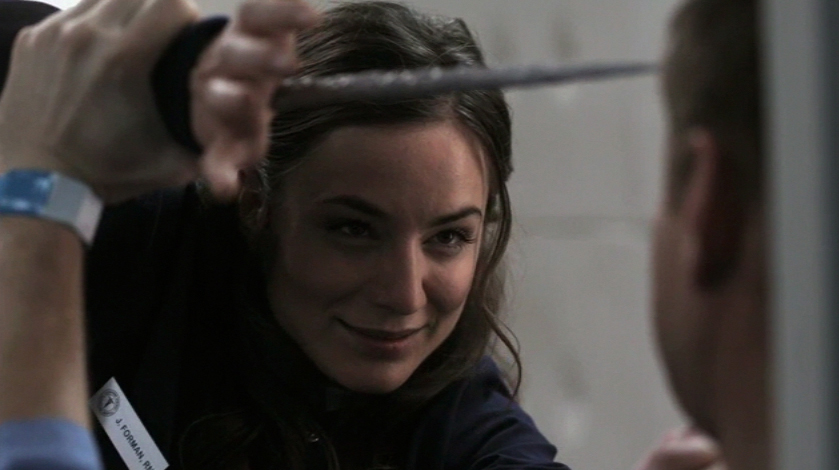 That leads to Sam's padded room. Because she's a baddie, Nurse Pollyanna tells Sam that she does cause the crazy in people to go into hyper drive because crazy brains are the best brains. Dean holds it together long enough to catch up with and kill her before she can have Sam for a midnight snack, and they go back to normal rather quickly. On to the hasty retreat!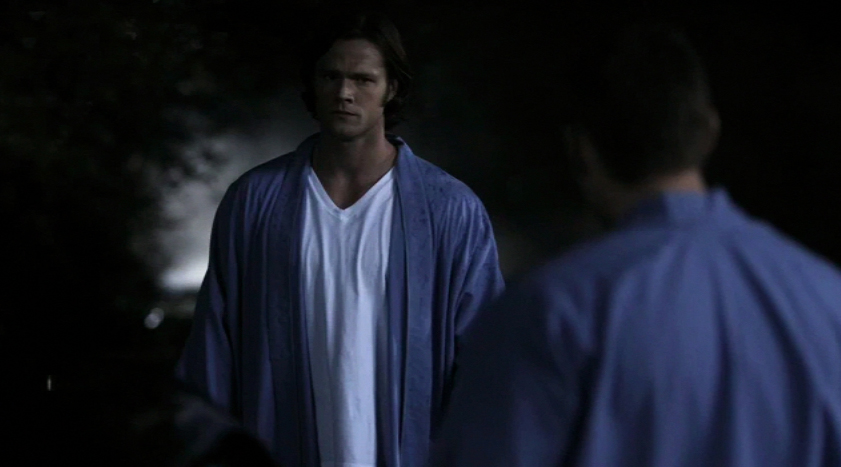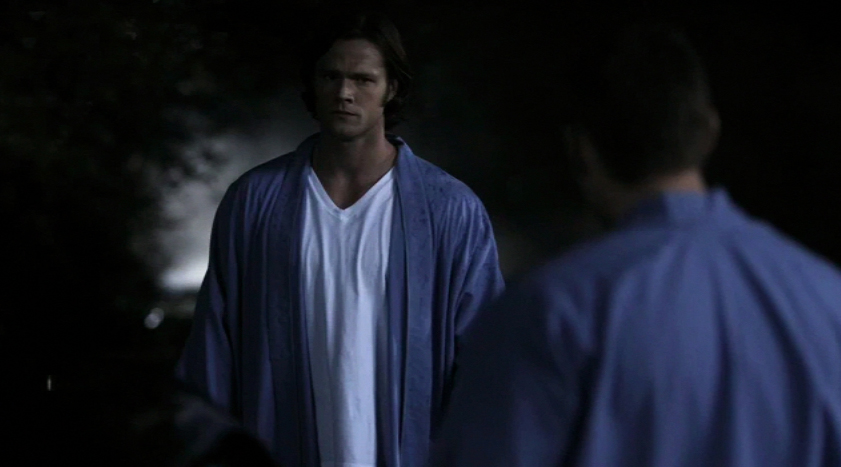 While I'm wondering why they left without their personal effects, Sam is more worried about how the wraith was right about his level of rage and anger. He points out that he is angry all the time; at John and Dean, at Lilith, at Lucifer — he's always got someone to blame. Dean talks him down, telling him to take all that crap and bury it so he doesn't end up like Martin. It's starting to look like Sam, despite his denial, might have a moment of weakness and consider giving into Lucifer pretty soon.
Rating: 4 / 5 Stars