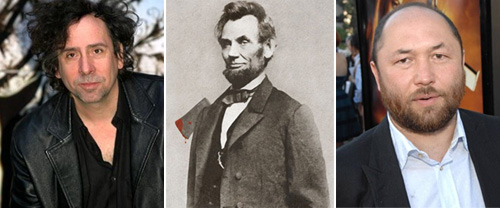 It's not enough to know that Abraham Lincoln freed the slaves — Tim Burton plans to tell us that Lincoln also killed vampires. What a guy!
Burton and Timur Bekmambetov (Wanted) will bring to the silver screen Seth Grahame-Smith's novel, Abraham Lincoln: Vampire Hunter, released today by Grand Central Publishing. Burton and Bekmambetov will produce the adaptation with Jim Lemley, after they successfully did the same with 9.
Grahame-Smith, who also wrote Pride and Prejudice and Zombies, will write the screenplay. Zombies is already set at Lionsgate with Natalie Portman both producing and directing.
It will be interesting to find out how Abe Lincoln kills vampires with the Civil War going on, but if anyone can help him find the time, it will be Tim Burton.