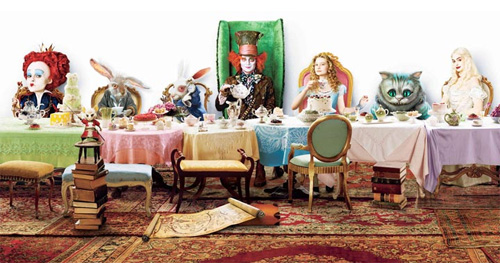 Alice in Wonderland's Hollywood Reporter advance screening review gives the Tim Burton film a bottom line of "Truly, madly, wonderful." That's enough to get me to the theater for the public opening on Friday, March 5th.
THR reviewer Rechtshaffen calls it "a fantastical romp that proves every bit as transporting as that movie about the blue people of Pandora, [Burton's] "Alice" is more than just a gorgeous 3D sight to behold."
Johnny Depp (Mad Hatter) and Burton (mad director) have evidently done it again, ably assisted by Mia Wasikowska (Alice), Anne Hathaway (White Queen), Crispin Glover (Stayne-Knave of Hearts), Michael Sheen (White Rabbit), Helena Bonham Carter ("an absolute scream of a Red Queen"), Matt Lucas (Tweedledee/Tweedledum), Stephen Fry (Cheshire Cat), Alan Rickman (Blue Caterpillar) and Christopher Lee (Jabberwocky).
This is one movie I won't mind standing in line for.