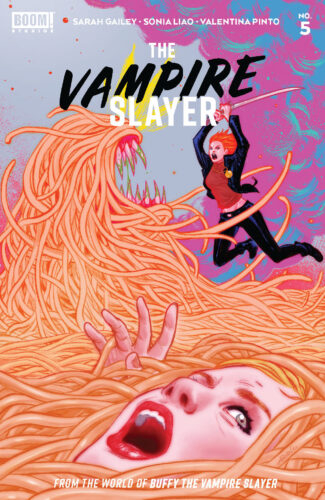 Buffy seems to become more lost as the secrets build around her. Why does it seem like everything's off and there's no way to fix it? Something's going to have to break soon. Just hope it's not Buffy.
Note: This recap may contain spoilers!
We pick up the issue where we last left our trio. The Papa monster is attacking the restaurant crowd while everyone tries to take cover. Buffy seems particularly freaked out, though you would think she's seen some strange stuff before, hanging out with Willow the Slayer. Or maybe the whole memory and life-swap spell has something to do with that.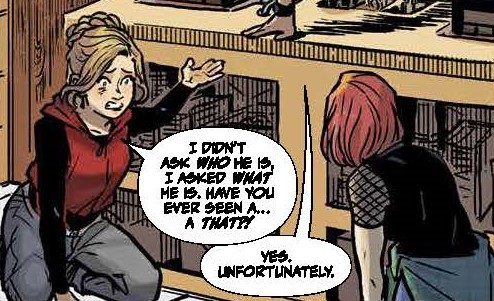 Faith is well-acquainted with the Papa monster, since she's seen one before over in Toledo. It's a macaroniphalus demon made of sentient bucatini. And the one in Toledo came to a tragic end, because Faith stole a cursed dagger from him, then killed him. We find out that the Papa monster is his uncle, ready to avenge his nephew's death.
We learn more about the monster, namely that they reproduce through incubation and planting eggs in people's stomach linings. Papa has surely done some spreading of his eggs through the tasty food he's been serving up. Gross all around. And now it's up to the three Slayers to take him on, even if one of them doesn't remember she is a Slayer at all.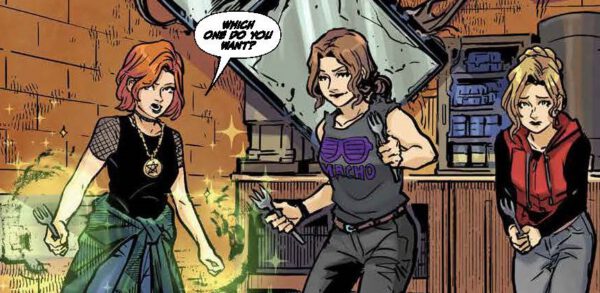 The trio fight a while, trying to take down the monster, but then Buffy gets tossed into Willow. That's when the witch becomes enraged. She goes dark and makes the monster explode with her powers. A quick end, but perhaps a little over the top? And it seems to take a lot out of Willow, too. Once the fight is over, Willow's still not in a good headspace. She brushes off Buffy's concern and says she needs to go do some grounding.
The whole brushing off thing seems to be a trend for Buffy. When she asks Faith for advice on how to help Willow, Buffy says it's because she can't understand what it's like being a Slayer. And Faith tries hard to not give away the secret, but that ends up with her brushing off Buffy's concern as well and then leaving to try to help Willow herself. If the witch doesn't pull herself together, the dark magic is going to drag her under and it's not going to be pretty.

The loneliness continues as Buffy seeks out Xander. She's still suspicious of the Spike character that seems to be buddying up to Xander. Buffy meets up with her friend at the hospital, getting some some anti-parasitic medication to take care of the eggs that may have been in the pasta sauce she ate. But her attempts at a heart-to-heart are cut short. Xander has to leave to meet up with the mysterious Spike. Strike three for Buffy. Everything's messed up and she has no idea how to fix it.
Rating: 4 / 5 Stars