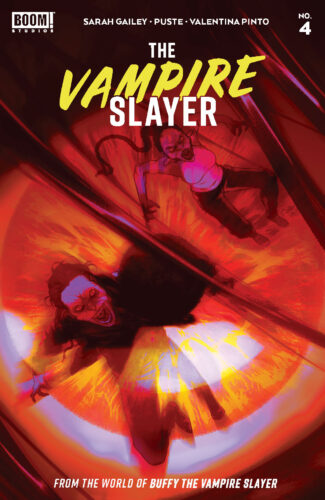 The trio of Faith, Willow, and Buffy have a lunch date out together. But preconceptions and secrets show that the whole spell situation cannot continue without incident.
Note: This recap may contain spoilers!
Papa Delle's Pasta Depot is having a grand opening, so Willow, Faith, and Buffy go out to lunch together. But the whole situation between Willow and Faith has Buffy curious. She's suspicious how Willow and Faith met in the first place, since Willow's not normally outgoing and participating in activities. Them meeting at a roller rink doesn't sound like something Willow would normally do.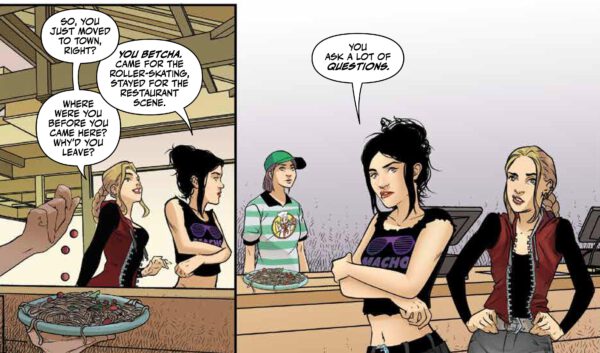 When Willow's not forthcoming, Buffy turns her questioning to Faith. But the other Slayer thinks Buffy asks too many questions. And that's true, but she's right to be suspicious. The situation is strange all-around.
Buffy thinks Willow needs more sleep, but Faith thinks the same of Buffy. And there is something going wrong with Buffy at night. She admits that while she sleeps great, she keeps having odd dreams where she's the Slayer. Willow tries to keep the conversation going, but Faith shuts it down and excuses herself to the bathroom.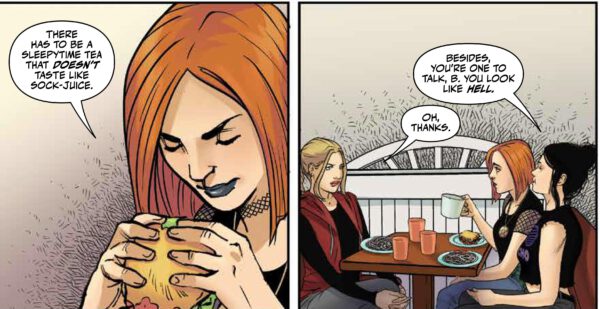 It's clear the spell is unraveling. Something must be done to either maintain the charade or admit the whole truth to Buffy. Faith is a fan of the latter, as we soon learn when she gets on the phone with Giles. When Buffy gets her powers back, she will need to be able to trust Giles and if he keeps lying she will not.
Meanwhile Buffy keeps pushing Willow about Faith. The other girl seems so rude, and Buffy cannot see why Willow would be friends with her. Soon, Buffy gets the idea that maybe it's a mutual attraction thing between them. While Willow keeps denying that, Buffy doesn't seem to convinced. And it's clear that the weight of the Slayer secret is heavy on Willow's mind. She uses her powers in public, against Giles' wishes, and she gets visibly frustrated with Buffy's constant questioning. It's a heavy burden to bear.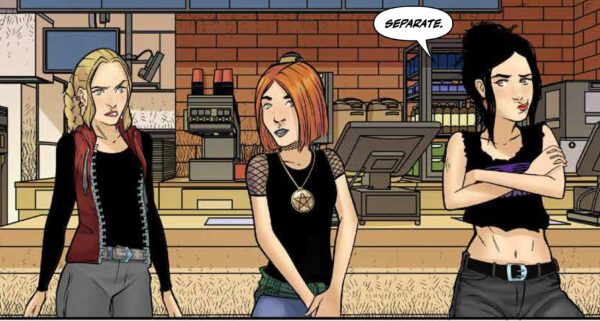 But the Slayer truth soon takes a backseat as a situation arises at the restaurant. Someone keeps banging on the bathroom door, so Faith goes out to tell them off for their rudeness. But it's not just a regular human. Instead, there is a shadowed creature. Making a scene and calling Willow for back-up, the trio face off with what appears to be a demonic version of Papa Delle. Fun times ahead!
Will the Slayer remember who she is? And will she forgive her friends for the deception when she does? Something's going to break soon. I just hope it doesn't fracture Willow and Buffy's friendship in the process.
Rating: 4 / 5 Stars