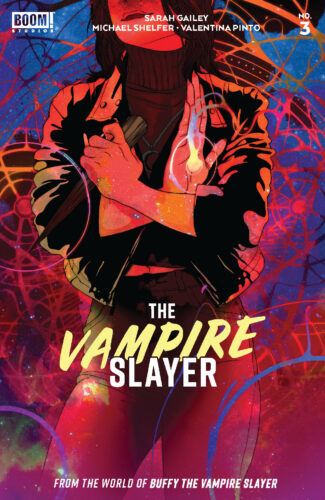 In this changed world, we get a Xander-focused issue. Multiple details about Xander's mindset, his feelings, and his desire to just be appreciated are revealed. Quite a lovely journey with teases of things to come.
Note: This recap may contain spoilers!
We start off the issue with Willow, Giles, and Xander trying to figure out a spell to reverse what has happened. Willow wants to return their roles to the rightful people. All routes thus far seem to be too deadly, though Willow's stuck on the potential of the inversion route. She's very focused on trying to find the right spell, the right combination, to make everything okay again.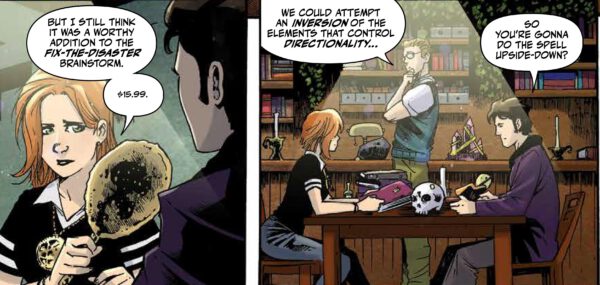 Xander is not really helping much, other than contributing jokes. But once he pauses his joking, he does offer an option. Xander thinks that this would go a lot smoother if they involved Buffy. Even if she freaked out over the fact Willow basically stole her life, which is a possibility, Xander's sure Buffy would be willing to help out.
But Willow's too focused on her own path to listen to Xander or acknowledge that he might have good ideas. She quickly snaps at him, thinking he is continuing to act like everything's a joke, and that's Xander's limit. He steps away for the night, leaving Willow and Giles to their research. And this is just one more situation in a long line of disappointments in Xander's life. His boyfriend Tony is obviously treating him badly, blowing him off frequently. And Xander knows he needs to break up with him, but he still lets Tony walk all over him. Being the punching bag seems to be Xander's role in life, even if he doesn't want it to be that way.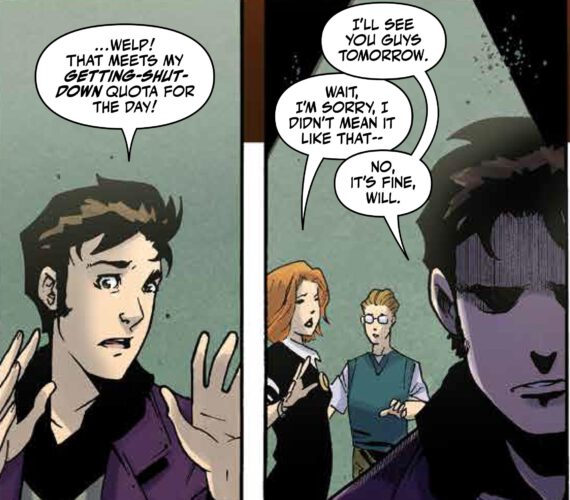 That despair and lack of self-worth proves to be a deadly combination. As Xander's walking through the graveyard, the ground starts rumbling and a monster with large teeth emerges. It is a Hallyx Wyrn, and the creature keeps flirting with Xander as he tries to run away. Very odd situation all around, made even more so when Spike shows up to take care of the monster with his usual level of snark and action.
After Spike kills the Hallyx Wyrm, he and Xander have a chat about why it was targeting Xander in the first place. The monster feeds on insecurity, which Xander has in spades. He has a seemingly good life, but there are definite downsides. He's a phlebotomist at the hospital, a job he likes, but his boss doesn't treat him well. And he enjoys his friends, even if they don't respect him. Willow and the rest still see him as the clown, a role he played quite well in high school.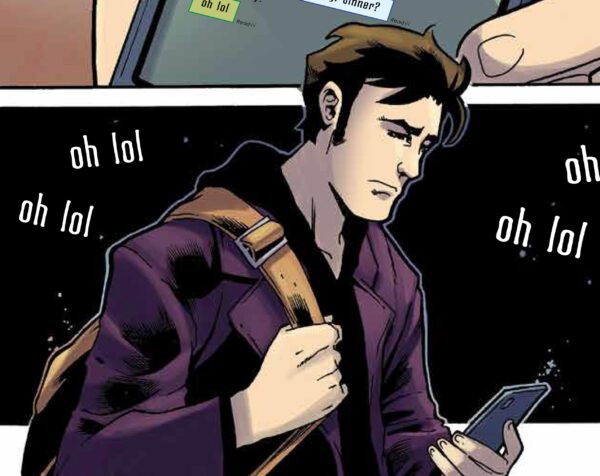 The conversation takes a turn for the more interesting when Xander mentions his friend Buffy. This admission peaks Spike's interest, thinking she's still the Vampire Slayer. He convinces Xander that he knows and is friends with Buffy, so Xander's more open to the offer Spike's providing. The vampire will give Xander Slayer lessons in exchange for Xander getting extra blood from the hospital during his blood draws. A win-win for both.
Finally, someone appreciates him and what he has to offer. Thus, a partnership is born that may lead to quite interesting outcomes in the future issues. Every story is made better when Spike shows up. I can't wait to see where this all leads!
Rating: 4 / 5 Stars