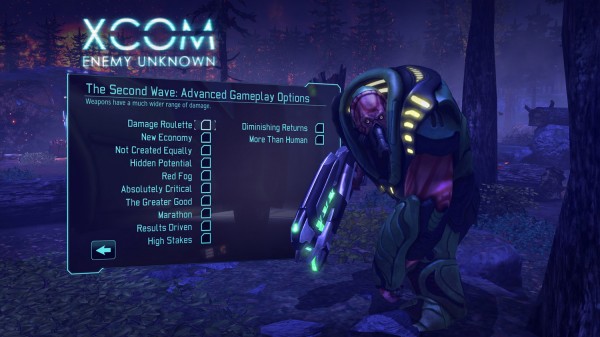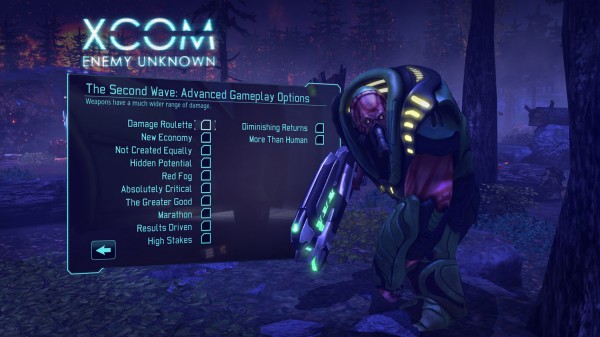 XCOM: Enemy Unknown was my favorite game of 2012, so it should be no surprise that I'm excited about the newest update to what already is a fantastic game. The first piece of downloadable content was the Slingshot Content Pack, which went on sale last month for $6.99 with several new missions to insert into your alien-stomping campaign. This week's new addition is the Second Wave content pack, which arrives via a downloadable title update at no charge. From the official press release, here's the full rundown of new features Second Wave adds into the game:
The XCOM: Enemy Unknown Second Wave content offers a series of advanced gameplay options that unlock a new level of depth, challenge and replayability. The Second Wave content includes:

Damage Roulette: Weapons have a wider range of damage.
New Economy: Randomized council member funding.
Not Created Equally: Rookies will have random starting stats.
Hidden Potential: As a soldier is promoted, stats increase randomly.
Red Fog: Combat wounds will degrade the soldier's mission stats.
Absolutely Critical: A flanking shot guarantees a critical hit.
The Greater Good: Psionics can only be learned from interrogating a psionic alien.
Marathon: The game takes considerably longer to complete.
Results Driven: A country offers less funding as its panic level increases.
High Stakes: Random rewards for stopping alien abductions.
Diminishing Returns: Increased cost of satellite construction.
More Than Human: The psionic gift is extremely rare.
All of the features added by Second Wave are optional and can be toggled off or on via a new menu listing. Time to start blasting aliens and researching tech for that Classic Iron Man playthrough I've been wanting to do!