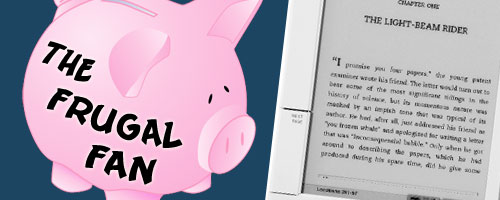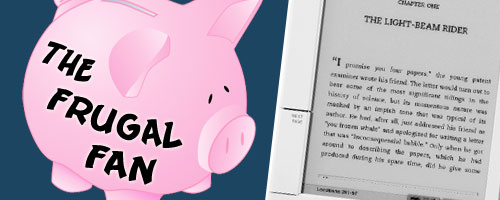 This week's Frugal Fan takes a look at how book fans can save some money, space, and trees by going digital.
I'm an avid reader, and I've amassed a huge collection of books of all types. The shelves of books turned into stacks, which turned into piles and eventually boxes and then boxes with piles next to them. It finally reached critical mass when I moved into my new house last February, and I knew something had to be done to cut down on my clutter. Little did I know that the solution would also be a money saver in the form of the Amazon Kindle.
Money Saved
First things first: The Kindle will save you money if you are an avid reader and enjoy buying books. It won't save you money if you aren't big on reading (and why would you want one in that case, anyway?). Here are the monetary details:
The initial buy-in is kind of steep, clocking in at $359. Let's assume you usually buy new hardcovers from Amazon and that they average around $17 each and have free shipping (if you order $25 worth or more). New books on the Kindle tend to be $9.99 each. Doing the math, you'd need to buy 52 books for the Kindle to pay for itself. That's a lot of reading, but think about how many books you actually buy. If you pick up an average of one a week, the Kindle pays for itself in a year. Obviously it would take longer if you buy only paperbacks or if you don't get that many books. The numbers become more attractive, though, when you realize that you don't actually have to buy all your books from Amazon.
Despite what you might have heard, you can read a variety of file formats on the Kindle after some easy conversion (which I'll go into in just a bit). It's very easy to find loads of free books online in various formats, and I don't just mean books by Obscure 19th Century Author Smith. There's a load of stuff available from popular contemporary writers for literally nothing. Do a little digging, and you can find all sorts of freebies, commonly in .lit format.
There's the argument that you can resell physical books, while digital books have no resale value. That's true, but have you seen how much used books are selling for on the Amazon Marketplace these days? You practically have to take a loss on most resales just to compete with people selling their books for less than a dollar a piece.
Space Saved
Frugality isn't just about saving money; it's about saving space, too. Books take up a heck of a lot of space, as I learned the hard way. It's a no brainer that you can cut down on your literary clutter by going digital with your reading. You won't be bringing more books in to add to the mess, but you'll still be enjoying your reading. As an added bonus, it'll be a good time to gift away, donate, or sell (if you can get anything decent for them) any of your old physical books that you're not going to read again. Sure, there will be some books you're attached to and want to keep for display or sentimental value. I kept my Stephen King hardcovers and a few others. For the most part, though, once you go with the Kindle, you will be free to clear out the piles of dead trees that have been slowly decomposing on your shelves (or floor).
One more bonus is that reading digitally is more environmentally sound that reading physical books. Lots and lots of pages mean lots and lots of wood, while e-books usually just mean a few kilobytes of storage space.
Convenience
With the Kindle's networking capabilities, you'll be able to buy new books from Amazon and have them downloaded immediately anywhere you have cell phone reception. This potentially could save you gas stopping by Barnes and Noble or Borders, and it also will save you the wait time to get your new stuff (always with no shipping or tax added). Not to mention that you can carry around your whole library in one flat little gadget.
Motivation to Read More
I've found that I've been motivated to read a lot more since I got my Kindle than I was before I had it. A lot of that is the innate geeky desire to break in a new gadget, but there's also that huge convenience factor. I love being able to read on the go without having to carry a huge book along (I'm a big fantasy reader, and those books have a tendency toward enormity).
Selection
With the Kindle, you'll have a great portion of Amazon's product list at your disposal. As I said above, though, you really will have a much larger selection than that, and much of it will be free if you can find it. There are a lot of enterprising people out there who believe in sharing free media. Some of it is legit and legal, while others are bootleggers who torrent copywritten material. You can find pretty much anything online, and you just need to use your own discretion when deciding what's cool to download.
The Kindle natively reads its own proprietary format, as well as standard text files. There are a couple of programs I use that are indispensable for converting from other formats, though. The first is ConvertLit, which will convert .lit files into an open format. The second is Mobipocket Creator, which will take a number of formats (including .pdf, .html, and the format outputted by ConvertLit) and change it into .prc format, which the Kindle will read easily.
You can get ConvertLit here: www.ConvertLit.com
You can find Mobipocket Creator here: Mobipocket Creator
Conclusion
If you buy all your Kindle books through Amazon, you'll eventually have the Kindle paying for itself, and you'll be saving money on every book you read from now on (or until something happens to your Kindle, in which case, you might be able to get a replacement from Amazon, depending on their specific policies). If you play your cards right, though, and find cheaper ways to get your reading material, you can reap the financial benefits of going digital within 20 books or so.
E-reading isn't for everyone, and there undoubtedly will be a lot of people who hate the idea of not having that tactile book experience when they read. For my part, however, I've learned to enjoy Kindle reading a lot more than I ever enjoyed "real" reading, and I've already more than made up the initial investment.
Buy the Kindle here: Amazon.com