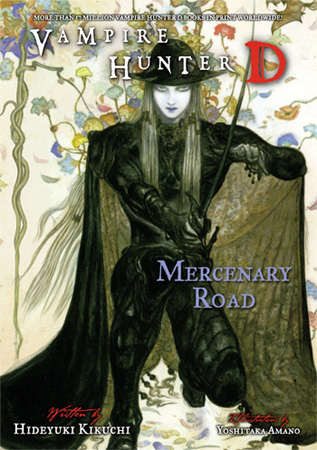 If you don't know, Vampire Hunter D is about D, a dhampir — half-vampire and half-human — and is basically the best person to hunt vampires. The story is set in 12,090 AD after a nuclear war. Vampires had ruled over the world for a long time, but control is slowly returning to humans. D is feared by everything supernatural that he hunts, as he is very strong and a capable fighter. He is able to use magic, but prefers not to. D also has a sentient symbiote, Left Hand, and a cybernetic horse. Not much is known about D, and he prefers to keep it that way. Dracula also plays a large, if mysterious role in the series. Vampire Hunter D started out as a series of novels, but soon was adapted into an anime and manga series, plus much more. There have been twenty-five novels since 1983, one of them being this volume, Vampire Hunter D Vol. 19: Mercenary Road. I had thought it was going to be a manga, and was pleasantly surprised to find out it was a novel.
Note: This recap may contain spoilers!
In this volume a small town is being encroached upon by evil from a nearby castle that used to house a family of vampires. The family vanished, but not before devastating an army that came to attack them. The castle and the road leading up to the castle has been haunted ever since. D is accompanied, unwillingly, by two mercenaries, Strider and Stanza, as he makes his way to the castle. Later they pick up a young woman, Irene, who is more than she seems.
At one point the group is split up into three groups. Strider and Stanza are resting, as they've been hurt. D and another character, Beatrice, who is a huge giant of a man, are working their way towards the castle. Irene and Zenon, a bank robber, had been captured by Baronet Drago Dorleac, but they manage to escape from him.
Drago and his father, Grand Duke Dorleac, used to live in the castle five thousand years ago, when they suddenly vanished. They've been brought back for reasons unknown to them; however, they both seem to have gone a little insane as time has passed. Eventually D meets up with Drago and Grand Duke Dorleac. D's first battle with the Grand Duke is a draw, since the Grand Duke is so old and powerful. Soon all three separate groups meet up in some way and manage to stop the Grand Duke and his son.
This novel was really very good. It has an engaging and intriguing story. D is a great character as there is always something unknown about him, both to the readers and to other characters in the book. I like how everyone, men and women alike, are transfixed by D's beauty, even his enemies, and then they are overwhelmed by his power. A great running gag is that whenever Left Hand speaks, everyone thinks it's D and D never bothers to tell them. It leads to some hilarious moments later in the book. If you like vampires, post-apocalyptic settings, or main characters with an air of mystery, you should check this novel out.