Sticking with the teen spirit and diving more into the geeksphere, we're looking at Buffy the Vampire Slayer this week. I know there are people who absolutely love this show. Like to the point that it's almost cultlike but — yeah, we'll get to what I thought after spending less than an hour with this beloved sci-fi drama that made the jump from The WB to UPN all those years ago.
Name of Episode: "Chosen"
Premiere Date: March 10, 1997
Finale Date: May 20, 2003
Site: Buffy the Vampire Slayer
Impact on Pop Culture
Things in this realm were not new to television. Doctor Who had been on the air before and there was of course The Twilight Zone, but this was the first time a female had taken the lead and she was kicking ass and taking names. In the grand scheme of things, this show was a feminist dream. Buffy was the alpha and while there were moments when she let her heart shine, she was a pure badass in this realm.
Facts & Stats
We almost lost Sarah Michelle Gellar as the title character as she was up for the lead in Sabrina, the Teenage Witch at the time.
Nicholas Brendon, aka Xander, did ads to bring awareness to stuttering in the '90s and '00s because he suffered from it.
Britney Spears almost guest starred as a robot. Yup, that almost happened.
Joss Whedon based Buffy on Kitty Pryde.
Seth Green is the only actor to appear in both the movie and the TV version of Buffy the Vampire Slayer.
What I Knew Before Watching the End
If BuzzFeed had a Buffy quiz, I would either fail or get a D. That's the truth. Unless this show was 100% like the movie (which is my love), I know nothing at all about it other than some of the actors that were on it, the ships that sailed there, and that it is the grandmother of The Vampire Diaries. Come on, without that show — would we have the current string of Julie Plec shows on The CW today?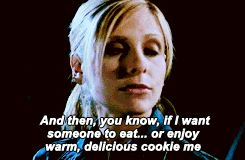 Final(e) Thoughts
It's hard to believe technology looked like the dawn of the caveman days in 2003, but watching this episode, it's loud and clear. It's easy to forgive the fashion and the language of a show from yesterday, but the special effects — oh my lawd. It was hard to get into this show with Nathan Fillion (right?) looking like a demented religious figure at the beginning. Plus, the whole idea of boy Bones, David Boreanaz, being there felt not so much rushed but kind of like, well he's Angel and has to be included in the finale so whoop! There he is. It also felt ironic that Buffy called out the drama of Dawson's Creek but then had her own final love triangle thing go down before the action got underway in a plot to save the world from what appeared to be the ancestors of the Abbies from Wayward Pines.
So yeah, Buffy and her crew have to stop these demonic beings from taking out the world and with that came the death of Spike and the demise of their town. Before that, though, there was this touching speech about there not just being one slayer in this world, and that in fact all girls have it inside of them — or something like that. It was hard to pay attention because again, those special effects that screamed, "HELP ME!" without even realizing it. That's what a first time watcher like me walked away with when the credits started to roll.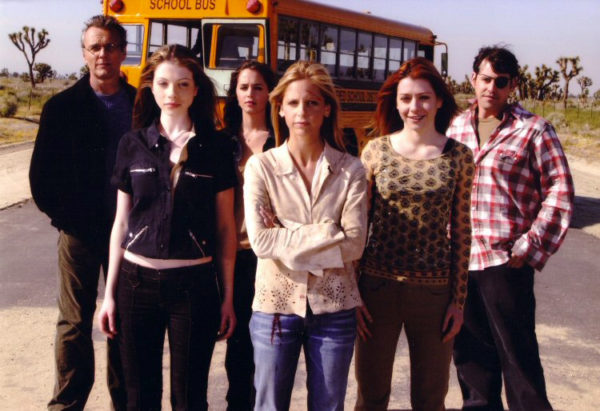 Was it a good finale though? It's hard to compare a show like this to something more realistic like Boy Meets World or The Wonder Years. In a show like this where there are ghouls and goblins, anything can happen and it'd somehow make sense. But then again, it's a television show and based off of that — it was just so-so. Watching the episode as a stand alone piece, you'd understand the love that once was between Buffy and Angel, as well as Buffy and Spike. Then after that whole Girl Power speech about not only the slayers, but the idea that she was cookie dough and not ready to be a finished cookie in love — you'd soon realize the female empowerment this show stood on.
For that, much respect but as far as the plot — no. It was like, okay there's some trouble, and in a quick battle it's all over and the characters are presented with a new adventure. Like that show that forever left you wondering what went down after the black screen, this show left you thinking of what Buffy was going to say before the credits came in and interrupted.
Staying true to the girl power that seemed to drive this show, and for leaving a little to the imagination, I'd rank this in the top 20 finales — so far. Which if you're paying attention, we haven't even hit 30 with this series quite yet. So while this isn't the best finale in the bunch, it's a step or two above the worst.