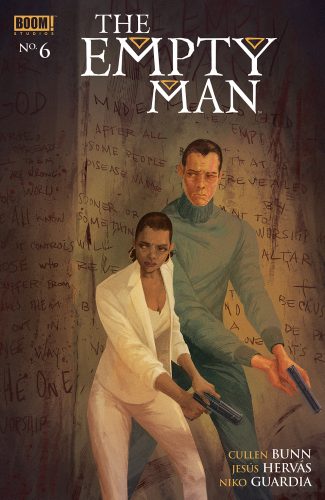 More mysteries, but not a tremendous amount of answers coming yet. The Empty Man virus is running rampant and society has been thrown into chaos. It's getting worse and the hope of reprieve seems quite distant.
Note: This recap may contain spoilers!
I think the comatose man is the embodiment of the Empty Man himself? Not clear on that, but his power and actions lead me to believe that's true. After flat-lining, he starts releasing a green mist of spores that surrounds one of the medical staff's hazmat suits. While it shouldn't be able to breach the protection, the mind-control power of the spores does. This does not bode well for the world at large. The Empty Man's power is all-encompassing and, with Karl doing his bidding, it will grow even more.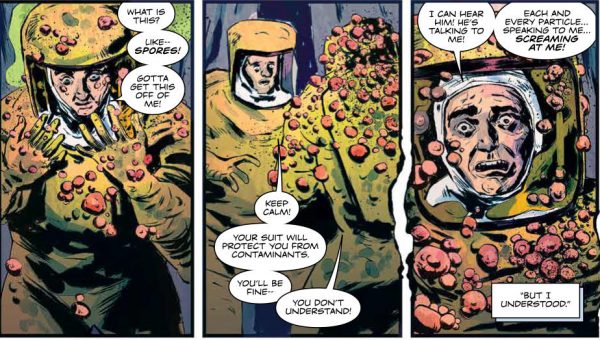 The power of the leaked media images are doing a lot of damage. Seeing those creatures, the truth behind the Empty Man, has sent people into a spiral. Violence, unending traffic, people seeking out safety for themselves and their loved ones. And those that cannot handle it have resorted to suicide, as Owen witnesses outside his hospital window. It doesn't help that the creepy children are all over the news warning people to beware of false prophets. No one knows who they can trust or what is real anymore. Quite a dangerous situation emerging.
Meanwhile, the group is trying to escape to safety, but they're having a difficult time of it. Melissa's being her usual mentally-unstable self, Andrew and Vicki are frightened, and Monica's taken her last dose of medicine. This cannot end well. Stuck in traffic, Monica knows they're already too late. The effects of the Empty Man have taken over society and it's chaos. And then one of the creatures appears in the midst of the bumper to bumper traffic, targeting their car.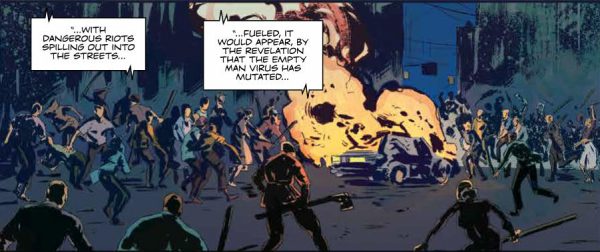 What ensues is a chase that leads to more questions than answers. Thanks to Andrew's creative driving the group manage to break free of the other cars. However, the creature is not far behind and soon overtakes them. Andrew is injured, the family is at the mercy of the creature, and it's up to Monica to try and save the day. Only, she doesn't quite achieve it on her own. Before the creature can attack her, which seemed like a certainty, Langford shows up and blasts its head off. He's not quite the man she remembers, though. He looks half-dead and possessed, with his entrails forming separate entities. Is he going to be the key in overtaking the Empty Man or is he going to be part of the problem as well? Lots of questions that have yet to be answered.
Rating: 3 / 5 Stars