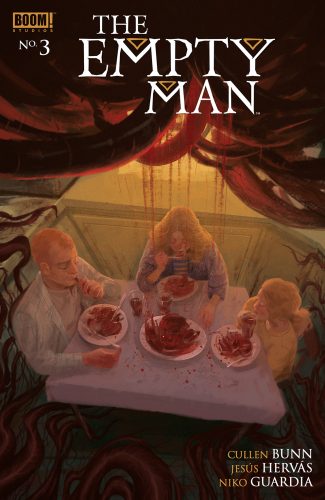 Danger runs rampant in neighborhoods that were previously deemed safe and unlikely allies must join together if they have any hope of living. The effect of the virus is spreading, as is the destruction of the Empty Man.
Note: This recap may contain spoilers!
We start off with what seems like a new recruit in the Whisper Oracles. Renee has not yet killed in the Empty Man's name, but she's more than willing to do it and have her eyes opened to his mission. And we're treated to graphic scenes of murder and torture, revealing the lengths the cult will go in order to make the world listen to them. Their next focus is Melissa. While they claim they must kidnap her in the name of saving her, it's clear that she will be in danger no matter where she ventures. If only her family can withstand the attack long enough to keep her safe.

Meanwhile, Monica Jensen and Owen Marsh show up at the Kerry family's door that evening. While Melissa's husband is reluctant to let them enter, Vicki knows they need help. And when Monica regales them with the story of the Whisper Oracles and the destruction they may bring, it's even more evident that they need someone on their side. What's interesting, though, is how much they might have in common with one of the agents, without knowing it.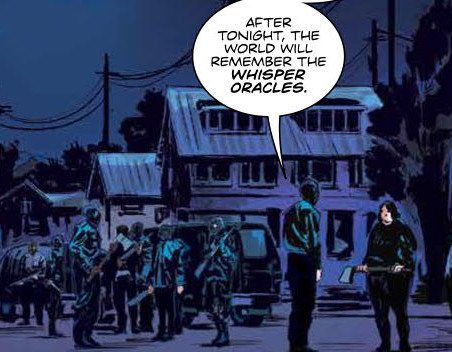 I'm fascinated by Monica, and even more so when Melissa greets her. She sees through Monica's secrets, she knows the agent is infected just like Melissa is. They are connected by the Empty Man, even if Monica tries to hide her affliction. I want to know what might happen to Monica should she miss a dose of her medication, or if treating Melissa might reverse the effects of the disease on her body and mind. Perhaps we'll get to see one of these come into play, since the family and agents are teaming up to escape the Whisper Oracles. And there's the added danger of the cult members realizing Monica's secret themselves, as Renee immediately did. It's going to be a dangerous journey they're taking.

The cult itself is very morally corrupt. They've abandoned the rules of society and have reverted to base level violence. They must beat and terrorize and kill anyone that gets in their way. I fear what might happen if they do get their hands on Melissa, or even Monica. They cannot be allowed to do so, but it's already evident that they will stop at nothing in the name of the Empty Man. How many more will be killed? How quick must the family be in order to stay one step ahead of them? The issue leaves us with many questions and many possibilities. I'm looking forward to seeing how it all plays out and how both Melissa and Monica contend with the lure of the Empty Man.
Rating: 4 / 5 Stars