Being a girl at a con is usually a blast.  Sometimes, though, it can feel like a minefield, where the field is a crowded hotel and the mines are awkwardness. Jessi Reid and Perry Frost, with over a decade of con experience between them, will help you disarm them.  This and other extended metaphors await you below:
1. The Fanboy
There are endless subsets of this kind of character; however, we will discuss three:
Panel Guy:
He knows his shows, and what I mean is, he knows what brand of socks the crew of Deep Space Nine wore for the series. He WILL be seated uncomfortably close to you and whisper tidbits like that to you the entirety of the panel, referring to the actors/actresses by their first names. If you couldn't tell by his portfolio, he has several pictures that he is willing and able to shell out the Big Bucks to get his favorite characters to sign. Most likely, he will recount his previous con experiences with said thespians. Wait, you mean you actually came here to learn things from the mouths attached to the creative minds behind the concept? Too bad, not unless you can tape this guy's mouth shut.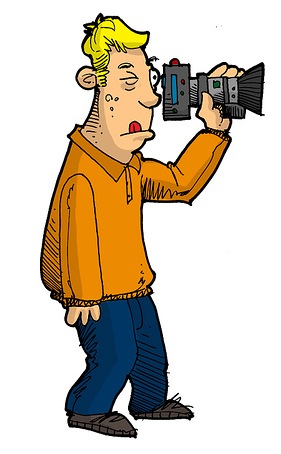 Angry Guy:
When you strike up a conversation with this guy while looking at action figures, you have no idea what you're getting into.  He has opinions about every fandom you love.  Loud ones.  Also, he takes every statement as a challenge. If you liked Revenge of the Sith, he will zealously defend the OLD Star Wars movies as if you just spat in Darth Vader's masked face.  If you offhandedly remark about a DC hero, he will make a claim that the current writer has no idea what he's doing, AND that a Marvel character is far superior. No matter how calmly and thoroughly you counter his opinion, you're a girl! He has already won. He's still angry, though.
Costume Enthusiast:
So you came to the con dressed to the nines as one of your favorite characters. You're posing and people are taking your picture, all of a sudden you get a tap on the shoulder from an overly excited guy, telling you how much your costume means to him and the history he has with the comic/TV show/movie. You need to avoid this man. Yes, pictures are fine as long as he knows his boundaries, and buying you a drink ain't one of 'em. If he starts to talk to you as if you're the character ("Hey Wonder Woman, wanna use your lasso on me?") you need to RUN.
2. The Mobile Boozer
This guy just got kicked out of a room party, but as far as he's concerned his night's not over yet. He has plenty of Black Velvet in his flask and chasers are a vending machine away. He always has a drink in hand and, being the amateur bartender he fancies himself, he will insist that you sample from his cup. Ironically, these guys are always among the most socially capable of the con. However, they are more suited to a frat-house than the lobby of a Marriott.
3. Mr. Grab-Hands
This guy thinks that personal boundaries are left at the con's door. He'll do anything to put his hand below the level of decency and this level usually ranges mid-back to thigh. He is of the opinion that any exposed skin is fair game. And that female friend of yours you use for The Buddy System? He'll casually suggest that you kiss her for the picture.
4. The "I Have A Booth" Guy
Yes, we understand. You have a webcomic. This doesn't mean you're an automatic celebrity and that the con-goers need to give you preferential treatment. It doesn't matter that his booth is underneath the escalator, in his mind he is up there with the ranks of Gabe and Tycho. Also notable for giving out free sketches with his phone number written on them. Is that a pocket full of business cards or are you just happy to see me?

5. The Tag-Along
You're hanging out with your group of friends and suddenly you see a guy who you've never met before in your circle. You ask everyone who this fellow is but they all plead the fifth. He just follows you around, pretending to be in the know, eavesdropping but simultaneously keeping his distance. You don't know a polite way to tell this guy to get lost so usually he ends up hanging around until he gets bored and dissolves back into the crowd. This is the Tag-Along.  Never fear: he is mostly benign and checking his backpack (He always has a backpack).

6. The Name-Dropper
This guy's version of conversation consists of mentioning celebrities' names and following up with some sort of long-winded story about his "good buddies." However convincing he is,
this man, in fact, does not actually know these people and mistakes their politeness for acceptance. Think of this guy as the Tag-Along to Con Guests. He often associates himself with "I Have A Booth" Guy, as they have similar MOs.  Together they may create a singularity of misplaced self-worth — keep your distance!
7. The Tumble Weed
When the con has closed shop for the evening, this guy is still wandering around the deserted lobby. We don't know if he's an insomniac or an evolved form of The Mobile Boozer (malfunctioning alcoholic), but we know it's best to avoid him. Not much is known about him, but don't let curiosity get the better of you — nothing good can come out of an empty panel room at three in the morning.
8. William Shatner
Seriously, you have to pay eighty dollars to get a picture with him? What the hell is the problem here? Priceline not gettin' you your paychecks in time, sir?  Go and make love to your mountain. Your mountain of MONEY.