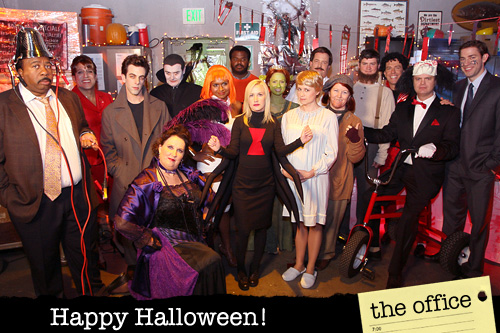 Everyone loves Halloween! I do and if you're reading this article, you're at the very least curious about what it takes to love this holiday. To prove that even the average Joe is a huge Halloween fan, I have selected seven episodes of non sci-fi/horror television shows that have taken time to celebrate the greatest of all holidays. Here they are, in no particular order:
Newsradio: "Halloween" (Season 3, Episode 5)
Possibly my favorite sitcom of all time, Newsradio made the list for one reason: Dave Foley in a dress. It was the only time in five seasons of Newsradio that the former Kids in the Hall cast member donned a dress as he so often did in his sketch comedy days. The plot revolves around Billionaire Jimmy James's (Stephen Root) decision to not invite the staff of WNYX to his annual Halloween party for "being too cool for school," a.k.a. not wearing costumes. In an effort to get everyone back into the party, Lisa Miller (Maura Tierney) convinces the gang that Dave would wear the most outrageous costume ever, thus out-cooling everyone else. The group responds by costuming up in effort to not let "King Dork" out-cool them. Also included is the always perfect Phil Hartmann as Bill McNeil coming to terms with his mortality after a psychic predicts his death. Here is a clip of the cast of Newsradio in all their costumed glory:
Freaks and Geeks: "Tricks and Treats" (Season 1, Episode 3)
Freaks and Geeks is a who's who of future stars and familiar faces like James Franco, Seth Rogen, and Jason Segal, and its Halloween episode is filled, like the rest of the series, with awkward moments for siblings Lindsay (Linda Cardellini) and Sam (John Francis Daley). Yet another episode about holding on to your childhood or grasping for adulthood, "Tricks and Treats" has some absolutely heartbreaking moments in it, but they're overshadowed by the Halloween costumes of Sam and his friends. Sam is Gort from The Day the Earth Stood Still, but even more amusing is Bill Haverchuck (Martin Starr) dressed as everyone's favorite bionic TV hero. Just take a look:
Boston Legal: "Witches of Mass Destruction" (Season 2, Episode 6)
There's something about a lawyer show doing a Halloween episode that involves a lawsuit involving a Christian family and a Wiccan family. Wait for it, they aren't suing each other — they're suing their children's school to get rid of its annual Halloween pageant. The Christians are unhappy with the Satanic imagery and the Wiccans feel that school portrays witches in a negative light. There is also the more serious case concerning the Iraq war that causes a schism between best friends, Alan Shore (James Spader) and Denny Crane (William Shatner). This is a problem considering their costume plans for the Firm's Halloween party. As you can see below, they resolve their issues by the end of the episode.
Roseanne: "BOO!" (Season 2, Episode 7)
Believe it or not, Roseanne was severed heads and shoulders above the average show when it came to Halloween. The show had multiple Halloween episodes, but it never got any better than the first of these episodes. It's easy to forget that Roseanne was cutting edge when it first came out: it featured a lower-class family that actually worried about money. It even had *GASP* overweight and unattractive leads (no balancing out Kevin James with Leah Remini). More importantly, the early seasons of Roseanne had a fantastic writing staff including one Joss Whedon (who did not write this episode, but no doubt contributed). The plot revolves around Dan (John Goodman) and Roseanne trying to one-up each other in scares while setting up a haunted house in their home. The final ten minutes of the episode give you the idea and more than a few laughs. Take a look:
The Office: "Halloween" (Season 2, Episode 5)
Leave it to Michael Scott (Steve Carell) to make Halloween even scarier by making it the day that he has to fire someone. It's because he has to lay someone off in the office by the end of October and he puts it off until the last moment. There are some great costumes such as Three Hole Punch Jim, Dwight's Sith Lord (who gets into an argument with Michael's papier-mâché head), and every female member of the staff dressing as a cat. Once Michael finally comes to a decision to fire Creed (Creed Bratton), Creed talks Michael into firing Devon instead. There are several Halloween episodes or sequences including Season Five's "Employee Transfer" and the cold open to Season Six's "Koi Pond," which you can see below:
Community: "Introduction to Statistics" (Season 1, Episode 7)
Perhaps my favorite sitcom on the air, Community loves pop culture as much as I do and their first Halloween episode has everything (keep an eye out for the new Halloween episode premiering Thursday on NBC. It's been getting a lot of buzz). It has Abed (Danny Pudi) as Christian Bale Batman, Troy (Donald Glover) as Eddie Murphy from Raw, and most importantly, Pierce (Chevy Chase) "tripping balls" as the Beastmaster. The study group attends Annie's (Alison Brie) Mexican Halloween (not named for the sexual act) party when Pierce has a bad trip after taking some non-prescription drugs and needs Jeff (Joel McHale) to save him… but who will save Jeff? Find out below:
The Simpsons: "Treehouse of Horror" (Every season, except for the first)
The annual "Treehouse of Horror" episode of The Simpsons is as much a part of Halloween as pumpkins, candy corn, and those crappy plastic vampire teeth that won't fit an adult mouth or a kid's mouth! It's like they're made for one oddly shaped person that never existed! Oops, sorry folks, went off on a tangent there, but since 1990, the "Treehouse of Horror" has been there to parody our favorites in science fiction and horror. Even though Fox often delays the episode till after Halloween because of the baseball playoffs (Go Bears!), it's still a tradition for most. There have been some incredible segments such as "The Shinning," "Dial 'Z' For Zombies," and "The HΩmega Man." The best segment for me will always be James Earl Jones reading Edgar Allen Poe's immortal poem, "The Raven," with Homer and Bart playing along. Watch a short clip below and keep an eye out for what Kang and Kodus will be doing this year:
There are a lot I've probably missed, but these were the seven episodes that came to mind. Please feel free to add to the list in the comments below and keep your eyes open for other non-genre shows that have Halloween episodes. There's sure to be more. Now that you have a vague idea of what it takes to love Halloween, lets move onto the next step: It involves a sexy costume, spirit gum, some fake cobwebs, and lube…
HAPPY HALLOWEEN EVERYONE!