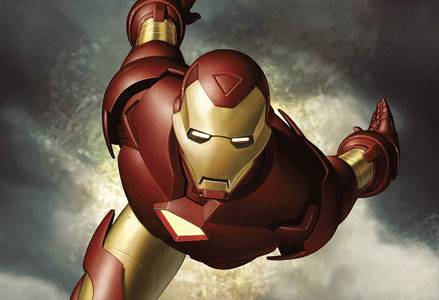 In honor of the upcoming release of the superhero flick Kick-Ass this Friday, I'm counting down the greatest self-made heroes that human ingenuity and imagination has to offer. Why the focus on self-made heroes rather than superheroes in general? The comic book series by Mark Millar upon which Matthew Vaughn's film is based rests on the idea that superheroes don't need superhuman powers or abilities in order to fight crime and serve justice, so I'm focusing on the best heroes and "superheroes" that rely on technology in conjunction with their own intelligence and strength in order to do battle with the forces of evil. Without further ado, here's today's greatest self-made hero: Iron Man.
Iron Man, also known as Tony Stark, is something of an anomaly among the five greatest self-made heroes discussed this week, mainly based on his ability to negotiate both of his lives — first as billionaire playboy Tony Stark and second as justice-minded do-gooder Iron Man — without necessitating mutual exclusivity or a high degree of secrecy. Of course this idea is most recently represented by Robert Downey, Jr.'s portrayal of the iron-clad hero, but Iron Man first appeared in the comics in a March 1963 issue of Tales of Suspense, as a way for writer/editor Stan Lee — accompanied by scripter Larry Lieber, and artists Don Heck and Jack Kirby — to examine the role of American technology and business in the fight against communism, among other Cold War themes.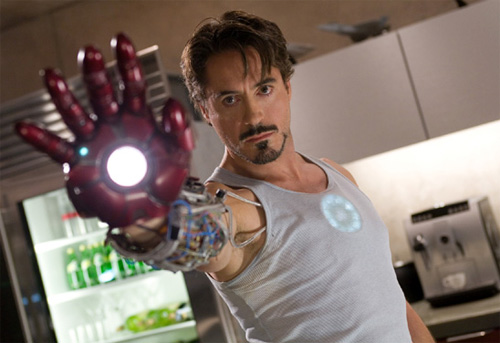 Continuing to examine the type of flawed nature that makes self-made heroes like the Comedian, and now Iron Man, accessible to readers, we find the "Demon in a Bottle" storyline that began when artist Bob Layton and comic writer David Michelinie joined forced to work on the Iron Man series in 1978. While the Iron Man character previously held readers' attention based on the novelty and excitement inherent in a story about a man that builds himself a flying suit and attempts to protect humanity, Stark's battle with alcoholism during the Layton-Michelinie era made Iron Man and his alter ego someone that many readers could relate to and broadened the audience for the comic series.
Iron Man earns his place at #2 among the greatest self-made heroes discussed this week not only because of the massive power that he wields or based on the fact that he built himself a suit that allows him to fly, but also because he displays the strength of character to face and overcome everyday human obstacles to which readers can relate. This, of course, is not only in reference to Stark's battle with alcoholism, but also to the chest injury he sustains during his captivity, the ingenuity he displays in creating an artificial means for keeping himself alive, and later in the heart transplant that he undergoes and his ability not only to recover from such a taxing surgery but to return to his exploits as Iron Man afterwards.
And if that's not reason enough, I'd wager that Iron Man could probably kick the Comedian's ass with one hand tied behind his back. Just saying…