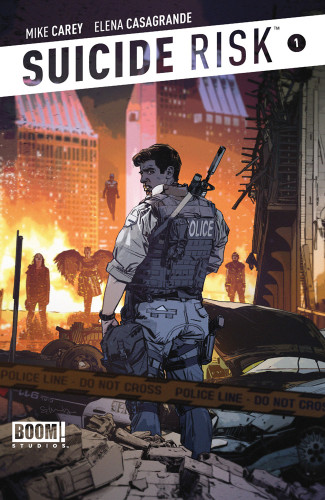 In a world where superheroes are bought, not made, and most heroes succumb to the glamour of supervillainy rather than keeping to the straight and narrow of crime fighting, being a true hero is akin to being suicidal.
Note: This recap may contain spoilers!
Suicide Risk is a new ongoing series from Eisner Award-nominated creator Mike Carey (The Unwritten, X-Men: Legacy) and artist Elena Casagrande (Hulk, Hack/Slash). The series's regular covers are done by Tommy Lee Edwards (Marvel's 1984), with variant and special edition covers created by Stephanie Hans (Journey into Mystery). Personally, I was drawn to this series for two reasons: first is Elena Casagrande's artwork — I'm a fan of her work on Tim Seeley's Hack/Slash — and second, because I love it when comics tackle interesting new takes on the superhero genre.
As such, I've read a lot of superhero comic books in my day — and not just the traditional Marvel and DC titles, either. I'm talking about Garth Ennis's The Boys, Mark Millar's Wanted, and Keith Giffen's Hero Squared. I was very pleasantly surprised, then, to discover that Suicide Risk isn't just another superhero comic book series. I have to give credit where credit is due, because Mike Carey has succeeded in putting a new spin on an arguably oversaturated genre. In Suicide Risk, superpowers aren't the product of a genetically altered spider bite; rather, they're the result of dark deals contracted in even darker alleys by some questionable characters with impressive technology.
It's not just the premise that makes this series a must-read, however. The story is a compelling one that taps into the characters' most primal instincts, leading the reader to hang on the edge of his or her seat at the end of each issue. Of course, even the best superhero stories are nothing without their heroes — and villains. For that reason, here is a short primer on the superheroes and supervillains we've been introduced to thus far, including information about their superpowers, when they first appeared or were mentioned in the series, and whether they're alive or deceased. Rather than spoiling surprises, this mini-dictionary is intended to bring future fans of the series up to speed quickly so they can hop on board while the series is still in its infancy. In alphabetical order:
The Alchemist (Joel Focarilo) – The Alchemist's superpower allows him to bestow the equivalent of any prescription drug — and then some — by inducing emotions in anyone he touches… for a price, of course. We're first introduced to The Alchemist in Suicide Risk #3 when Leo travels to Los Angeles in search of Grudge War and Memento Mori, two supervillains with heavy prescription drug habits.
Diva – Diva's superpower allows her to create "bubbles" in which she can transport herself and anyone else she chooses. Readers are first introduced to Diva in Suicide Risk #1, when she helps Grudge War and Memento Mori escape the police after a particularly bloody bank heist.
With her blond hair and white costume, Diva looks more like a superhero than a villain, and we find out later on that, indeed, was once the case; Diva is one of the many superheroes who "joined the dark side" after a brief stint fighting crime. Based on her interactions with Dr. Maybe in issue #1, it seems that Diva made the transition somewhat grudgingly, but nevertheless she now stands squarely on the side of villains.
Dr. Maybe (Mortimer Griffin) – Dr. Maybe refers to his superpower as a "brain-slap," and it appears to consist of a mix of mind reading and mind manipulation, with a side of telepathy. Readers first meet Dr. Maybe in Suicide Risk #1 when he helps Grudge War and Memento Mori take out the superhero Extended Remix.
Extended Remix [D] – His superpower is a "replicator effect" of some sort that allows him to be anywhere he wants to be, whenever he wants to be there. Readers are first introduced to Extended Remix in Suicide Risk #1, when he is killed in an attempt to stop Grudge War and Memento Mori from escaping after a heist that leaves 17 police officers dead and another 12 injured.
Grudge War (Stuart Griswold) – Grudge's superpower hasn't been explained yet, but based on our introduction to the villain in issue #1, it looks like super-strength is at least part of the package. For whatever reason, Grudge and Memento Mori are an inseparable team, perhaps due to their similarly unstable psychological states.
Lady Vengeance (Caroline) – Formerly known as Lady Justice, Lady Vengeance is another superhero gone bad. She is first mentioned in Suicide Risk #3 as one of The Alchemist's former clients. Little is known about her thus far, except that she has killed at least five people since switching sides.
Requiem (Leo Winters) – Our protagonist. Leo's superpower allows him to control almost any aspect of the world, including raw energy and gravity. When readers are first introduced to Leo in Suicide Risk #1 he's a beat cop in San Diego, trying to balance his day job fighting supervillains and watching his colleagues die with his family life as a husband and father of two. When Leo's partner, John, loses an arm to Grudge War, Leo snaps and decides to avenge his fellow officers himself by tracking down the individuals responsible for selling superhuman powers to psychopaths.
Memento Mori (Ginette Lorraine Kidson) – Memento's superpower allows her to turn the people she touches to dust, seemingly by extracting life from the victims. Readers are first introduced to Memento in Suicide Risk #1, when she and Grudge War come face-to-face with Leo after taking out the resident superhero, Extended Remix, with the help of Dr. Maybe. In issue #3, we discover that Memento's powers are supplemented by a psychosis that led her to slaughter her family before she escaped from prison and teamed up with Grudge War.
Voiceover (Ernie Lang) [D] – His superpower involves an ability to produce and manipulate sound waves. We're first introduced to Voiceover in Suicide Risk #2. Because he is a known associate of both Memento Mori and Grudge War, Leo tracks him down in the hope of getting more information about his super-villain targets. Unfortunately, Leo's unpredictable powers have a deadly effect before he can get any useful information.
Even if I wasn't scheduled to review Suicide Risk on an ongoing basis, it's one that has made my own personal must-read list, and I'm really looking forward to seeing what happens in the next few issues.