After Return of the Jedi released in 1983 Star Wars fans went for a long time without any new stories to keep them busy. Timothy Zahn changed that in 1991 when he wrote Heir to the Empire, the first book in his Star Wars sequel trilogy that follows Luke, Leia, and the others on new, post-ROTJ adventures. The Zahn trilogy knocked a hole in the dam, and since then Star Wars fiction has been pouring out at an unbelievable pace. Books, comics, and video games have filled in nearly every timeline and corner of the Star Wars universe.
While many of the officially published stories have been excellent, one thing they haven't been is canonical. George Lucas maintained that the events depicted in the six Star Wars movies are the only events canonical to the core of the Star Wars universe. Everything else, while authorized and frequently published by Lucasfilm, fits into a separate universe of quasi-canon called the Star Wars Expanded Universe. Curators at Lucasfilm have monitored, reviewed, and maintained the continuity and integrity of this ever-expanding Expanded Universe, but it always has sat in a separate arena from the events in Episodes 1 through 6.
After Disney's purchase of Lucasfilm and the announcement of a new trilogy of Star Wars movies to be set after Return of the Jedi, fans have wondered and debated about what this could mean for the fate of the Expanded Universe. Would Disney merge the EU characters and events into the proper canon? Would they roll up in a Mickey Mouse shaped Death Star and blow it all away? Nobody knew. Enter Leland Chee of the Lucasfilm Story Group, an assembly of Lucasfilm employees tasked with making sense of Star Wars continuity in the Disney era.
Today Chee (@HolocronKeeper) dropped some innocuous tweets that set Star Wars fandom on its ear. Here's how the exchange went down between Chee and some fans: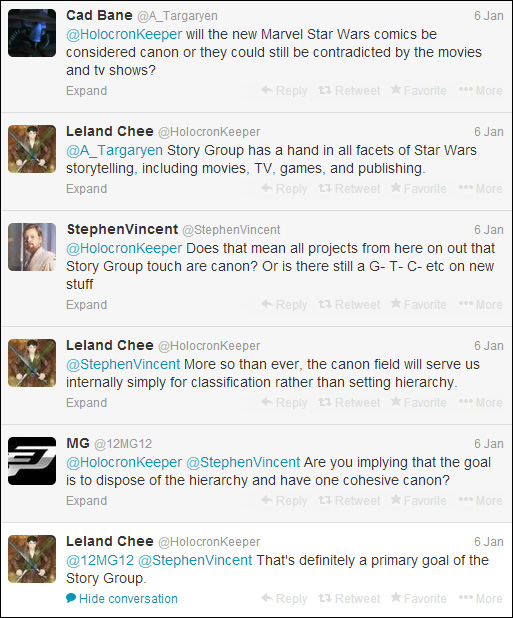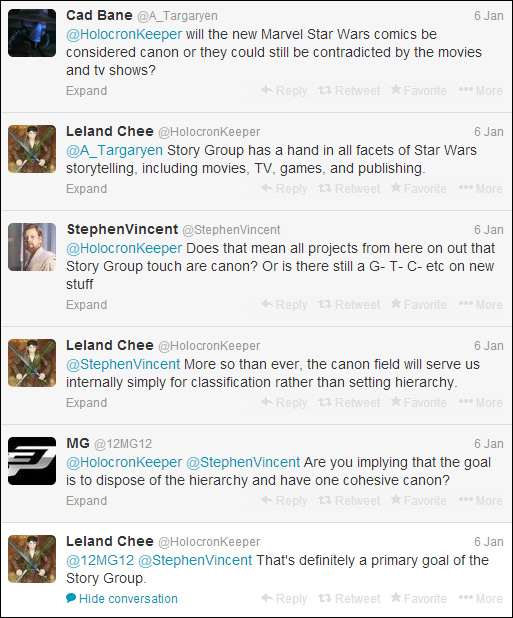 I read those tweets to mean that the Lucasfilm Story Group is trying to dispense with all the nonsense of having separate versions of canon for Star Wars and that they want to find a way to merge everything down into one definitive canon that will serve the upcoming movies, books, comics, TV shows, video games, and anything else released under the brand.
Other fans have taken this to mean that Disney is obliterating the entire Expanded Universe, from Grand Admiral Thrawn down to the Jawas who sold Greedo his faulty blaster. Still others are reporting that Chee announced that the entire Expanded Universe is being made canonical so that Mara Jade can show up alongside Luke and his buddies in the upcoming movies. None of that has been announced, and it's likely that Lucasfilm hasn't even figured all of this out for themselves. There's been quite a bit of fan rage, complemented by conclusion jumping at reputable geekdom websites, all fueling a big and unnecessary round of speculation, hype, and anger in the fandom sector.
While it's possible that Lucasfilm could burn or authenticate the Expanded Universe in one big swathe, it seems far more likely that Leland Chee and the rest of the team are hard at work picking and choosing elements of the EU to carry forward into the official canon. I like to imagine them in a writer's room with a long oval table and with timelines and character sheets stuck all over the walls. They're piecing together more than two decades of frequently nonsensical fiction into something that will be coherent, cohesive, and sustainable.
Don't get angry about having your favorite Star Wars characters rendered inert unless you have a reason to do so. Nothing has been announced other than that the Lucasfilm Story Team wants to turn a bunch of divergent canons into one comprehensive canon. Until you hear something specific from Chee or other folks in the know, make like Han Solo on Bespin and chill.