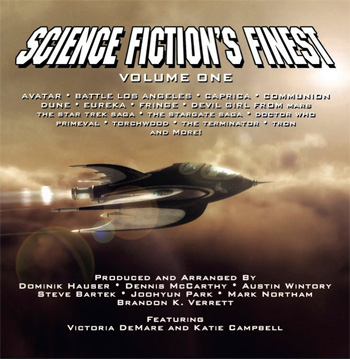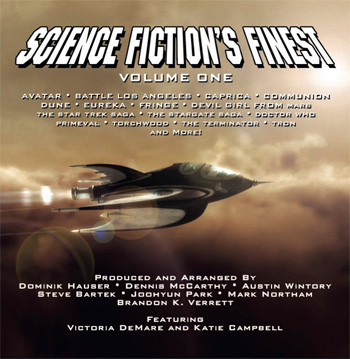 Album: Sci-Fi's Finest – Volume One
Composer: Various
Label: Silva Screen Records
Release Date: September 13, 2011
Ever wonder what a dude from Comic-Con would play to set the mood for his lady? Well, if he was lucky enough to take home the Cheetara from day two? Look no further than then Sci-Fi's Finest – Volume One; three dozen songs and themes from the best that the offbeat side of entertainment has to offer. For someone who has about 60 theme songs on her own iPod, this is a dream come true album.
Yes, these aren't the themes I usually gravitate towards, but I can't help but want to slide the Futurama and Knight Rider theme into my permanent collection. Why? Because if you're someone who considers yourself not just a fan but a super fan, the one with every fact and figure about your favorite TV show or movie, you're going to want to own the music as well. It doesn't matter which one you wish upon, whether it's Stargate, Star Wars, or Star Trek, they're all here to make your day a lot more nerdtacular. So if you want to be pretend you're in The Twilight Zone or The Rocky Horror Picture Show, this album's for you — go and get yourself a copy of Sci-Fi's Finest – Volume 1.
Track Listing:
THE ROCKY HORROR PICTURE SHOW Science Fiction Double Feature (Richard O'Brien)
BATTLE: LOS ANGELES Main Theme (Brian Tyler)
THE THING Main Theme (Ennio Morricone)
DEVIL GIRL FROM MARS Main Theme (Edwin Astley)
THE ILLUSTRATED MAN Theme (Jerry Goldsmith)
AVATAR I See You (James Horner)
Theme from THE ADVENTURES OF BUCKAROO BANZAI (Michael Boddicker)
THE TERMINATOR Main Theme (Brad Fiedel)
DUNE Main Title (Toto)
COMMUNION End Title (Eric Clapton)
TRON End Title (Wendy Carlos)
CAPRICA Theme for Solo Piano (Bear McCreary)
EUREKA Eureka On My Mind (Mark Mothersbaugh and John Enroth)
FRINGE 85 (J.J. Abrams)
FRINGE Main Theme (J.J. Abrams)
FUTURAMA Main Title (Christopher Tyng)
ROBOTECH Main Tiitle (Ulpio Minucci)
STAR WARS: THE CLONE WARS Main Theme from the TV Series  (John Williams)
STARGATE SG-1 Main Title (David Arnold)
STARGATE ATLANTIS Main Title (Joel Goldsmith)
STARGATE UNIVERSE End Title (Joel Goldsmith)
THE NEW OUTER LIMITS Main Theme (Mark Mancina and John Van Tongeren)
THE TWILIGHT ZONE End Title Season 2 (Marius Constant)
THE STARLOST Main Theme (Score Productions)
MAN FROM ATLANTIS Theme (Fred Karlin)
Theme from KNIGHT RIDER (Stu Phillips and Glen A. Larson)
THUNDERBIRDS Main Title March (Barry Gray)
UFO Main Theme (Barry Gray)
RED DWARF Fun, Fun Fun End Title Song (Howard Goodall)
DOCTOR WHO Season 5 Main Title (Ron Grainer, based on the fifth season arrangement by Murray Gold)
TORCHWOOD Main Theme (Ben Foster)
PRIMEVAL Main Theme (Dominik Scherrer)
STAR TREK: THE ANIMATED SERIES: Main Title (Yvette Blais and Norman Prescott)
STAR TREK GENERATIONS Nexus Theme
STAR TREK: DEEP SPACE NINE (Solo Piano Version) – After 3:00 A.M At Quarks
STAR TREK ENTERPRISE Where My Heart Will Take Me (Diane Warren)