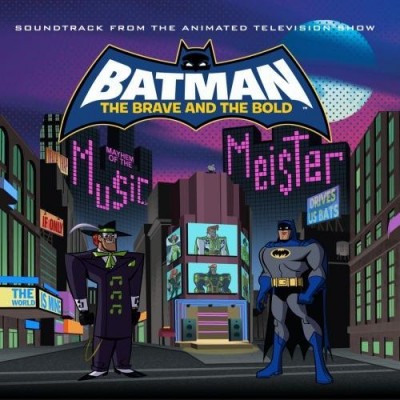 Soundtrack: Batman: The Brave and the Bold: Mayhem of the Music Meister!
Featuring: Neil Patrick Harris
Label: New Line Records
Release Date: October 24, 2009
Batman: The Brave and the Bold has been, so far, an overall goofy take on Batman and the entire DC Universe. The shows I've seen thus far are full of fun and excitement, as well as multiple laughs and smiles. Now, thanks to Neil Patrick Harris (Dr. Horrible's Sing-Along Blog), this show has gotten even more enjoyable with its musical episode, "Mayhem of the Music Meister!".
The soundtrack of this episode matches the style of Batman: The Brave and the Bold perfectly. It's so silly it's hard not to enjoy it all. Villains and heroes alike — such as Green Arrow, Aquaman, Gorilla Grodd, and Black Manta — sing along with the Music Meister and make a hilarious and very catchy sing-a-long musical together.
"I'm the Music Meister" is a song that introduces the Music Meister himself, and shows his back story to the audience. Following the introduction, the Music Meister and fellow villains perform songs dealing with the annoyances of having Batman around. "Drives Us Bats" describes how Batman seems to just rain on every villain's parade. Most of the tracks are upbeat and high with brass, aside from the track "If Only," a ballad beautifully sung by Black Canary about her love for Batman. Pretty much all of the tracks on this album will make you smile or giggle because of its overall silliness and somewhat corny characteristics.
Of course this is not for everyone out there. If you can't seem to get over the fact that these heroes and villians are doing a song and dance, then this probably isn't for you. To really appreciate this you would need to go in knowing the sole purpose of this series is to not be totally serious.
The soundtrack to Batman: The Brave and the Bold's "Mayhem of the Music Meister!" episode is an extremely fun listen. Mind you, this isn't an epic rock opera of any sort, but rather a very fun Broadway-type listen for you to smile and giggle all the way through. This is definitely a soundtrack to check out if you're a huge fan of Batman: The Brave and the Bold, or even just of Neil Patrick Harris and his musical work.
Rating: 4.5 / 5 Stars
Track Listing:
1. "Batman: The Brave And The Bold Theme" (0:32)
2. "I'm The Music Meister" (5:54)
3. "Drive Us Bats" (1:46)
4. "If Only" (2:35)
5. "Death Trap" (1:49)
6. "The World Is Mine" (3:34)
7. "If Only (Reprise)" (2:03)
8. "Drives Us Bats (Mayhem Of The Music Meister End Credits)" (0:31)