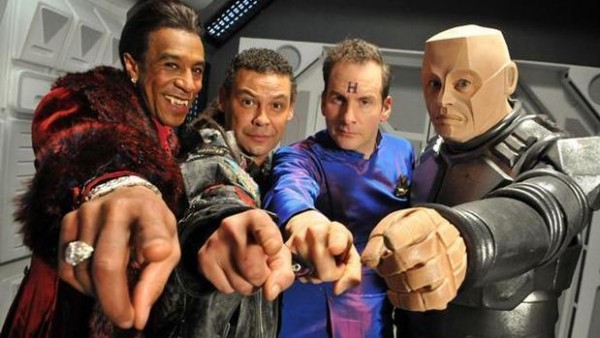 British sci-fi comedy Red Dwarf is back for "Series X" — and it's all thanks to Dave! No, not Dave Lister, but the UK television channel Dave, the self-proclaimed "home of witty banter". Following on from the success of the 2009 mini-series "Back to Earth" — which saw Lister, Rimmer, the Cat and Kryten try to wrap their tiny minds around the realisation that they might be fictional characters — Dave has commissioned a further six episodes of the cult classic, making Series X the first full series of Red Dwarf since 1999.
If you're not familiar with Red Dwarf, it's the tale of the last surviving member of the human race and self-confessed slob Dave Lister, who becomes stranded in space with no company but a hologram of his least favourite crewmate, a robot, and a flamboyant life-form that evolved from his pet cat. Though it took inspiration from The Hitchhikers Guide to the Galaxy, Red Dwarf soon became a classic in its own right and ran for eight surreal but hilarious series. February 15th will mark 24 years since the first episode of Red Dwarf aired and, while there's no denying that those early episodes look rough around the edges, there's plenty of laughter to be had for anyone who's willing to overlook the dated visuals and embrace the most dysfunctional bunch of sci-fi heroes you're ever likely to meet.
Having completed filming in front of a live studio audience at the end of January, the cast and crew of Red Dwarf are — in the words of Robert Llewellyn, the man behind the rubber mask of Kryten — on set for "one more weeks filming, finishing all the fiddly bits, the pick up shots, the close ups of dongles going into dooberries and all the other faffing that [they] need to do to polish off a damn fine comedy series." The series's creators are keeping all plot details sealed in suspended animation for now but with Red Dwarf co-creator Doug Naylor writing and directing each episode, we're almost certainly in for a treat. Series X is set to air in September/October 2012 in the UK on Dave, but will also be broadcast by PBS in the US and released on DVD, BluRay, iTunes, and Netflix too.
Existing episodes of the show have recently been mysteriously pulled from Netflix US, but you can still find Series 1-8 and the "Back to Earth" mini-series on iTunes. Readers with a Region 2 friendly DVD player can also pick up the complete series box-set from Amazon UK, currently for the bargain price of $35 plus shipping. If you fancy just a quick peek into the weird world of the Dwarf boys, BBC Worldwide has lots of classic clips available to watch for free on YouTube. Enjoy, smegheads!