Originally I had intended to get these reviews up before the end of the year, but things have conspired against me to make sure that just didn't happen. Both of these bands are new to me, although I did see a stripped down version of Nuclear Bubble Wrap at Orlando Nerd Fest (and I did mention a couple of their videos previously, but this is my first experience with a full album, so they're still new to me in that sense. Me, pedantic? No, never…).
As for the next few weeks, expect some lists of covers and other videos before I post my Best of 2014 list. There's been so much good stuff this year, I may even have to expand it out to a Top 20 list instead of a Top 15!
Smashy Claw – Former Spine (a couple of songs are NSFW)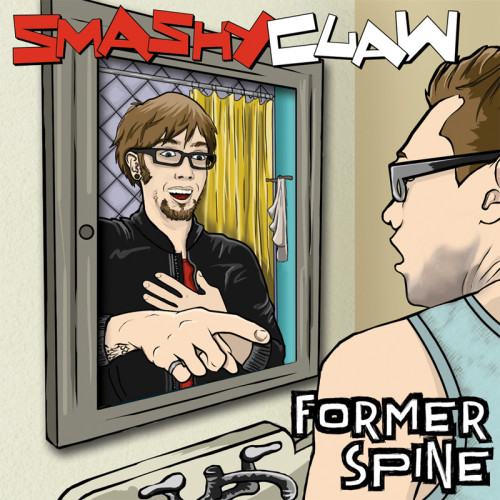 Smashy Claw first came to my attention when they sent Fandomania a copy of the album on the advice of Insane Ian. Technically it's not recent, having been released in 2013, but I'm really pleased to discover this band. They have clearly been influenced by They Might Be Giants, one of my favorite bands, so of course I'm going to like them.
One of the more obviously TMBG-influenced tracks is "Deadbeat Decimal." It's a song about the brother of pi, 3.14160, who's a bit of a schlub (hence the title of the song). It would fit perfectly on Here Come the 123s, although it might not be quite appropriate for littler kids. There's also "CHOMPCHOMPCHOMP," a song about an anthropomorphic guillotine. Gruesome, sure, but also quite fun — "It's good entertainment for all the kids."
As for geeky stuff, Smashy Claw has that, too. Take "Cardiac Probe," a song about falling in love with the alien that abducted the narrator. It's also a funny commentary on people who hate interracial couples. "My Almost Me" reminds me of the Star Trek episode "Mirror Mirror." Except in this case, the guy in the mirror is basically a douchey jock while the real guy is a nerd. And finally there's "Chasing Bats," which is a first-person retelling of the classic Batman story The Killing Joke, from the Joker's perspective.
I highly recommend that you pick up Smashy Claw's debut album, Former Spine, and I'm very much looking forward to hearing more from them in the future.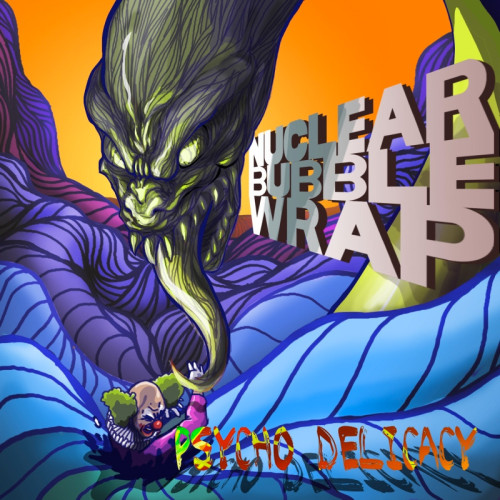 Speaking of bands that have been influenced by bands I like, Nuclear Bubble Wrap reminds me of Ween and The Flaming Lips. They have a more psychedelic sound than any other geeky band I've heard, which also means that it was inevitable that I'd love their newest album.
The album begins with a tale of two alien races — one reptilian, the other mammalian — who meet and find each other completely disgusting ("Lizards in the Sky"). Although the "cosmic ostrich of truth" attempts to negotiate peace, they inevitably blow each other up. Following this track is the title track. This one is a sinister, decidedly psychedelic retelling of Green Eggs and Ham. It's probably my favorite song on the album, probably because I like the idea of Sam I Am being some sort of creepy drug pusher, which is a pretty obvious interpretation of the story.
Both of these tracks set up some recurring themes in the album: conflict between two opposing viewpoints and eating. I suppose that's where the title comes from, actually. Another good example of these themes is "Sexy Silk," a love song from a male spider to his mate. Sure, he wants to mate, but there's also the aftermath: "I long to feel like intimate cannibals / I want to be alive when you gorge my heart." This song in particular reminds me of Ween and also The Residents, especially the whispered singing style.
There's also "The Agenda," another favorite. I used to have a weird obsession with cows in high school (I couldn't tell you why), so this holds a weird kind of nostalgia for me. Being forced to become a cow may be strange, but "Cows don't feel 'cause they're not humans." So there's that. And speaking of becoming an animal (another recurring theme, actually), there's "Night Mare." What would happen if a brony took his obsession just a little too far? This song dares to ask the question, although the answer isn't at all comforting (which is yet another recurring theme).
The more I listen to this album, the more I notice on it. I really love stuff like that. I'm so glad that I finally got around to listening to it. It will definitely be on heavy rotation on my iPod. Go check it out now!