Next Wednesday, June 4, is my thirtieth birthday, and it's also a big release day for comics. Here's a look ahead and a few of the issues you can expect to see hitting stands: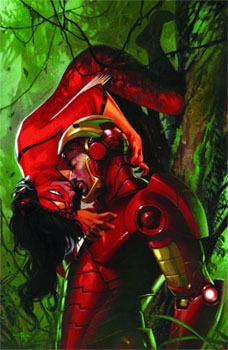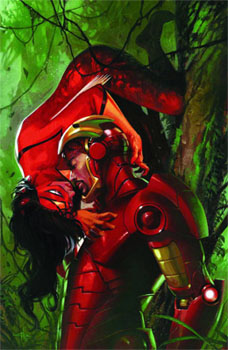 Secret Invasion #3 (Marvel)
Written by BRIAN MICHAEL BENDIS
Penciled by LEINIL FRANCIS YU
Cover by GABRIELE DELL'OTTO
Variant Cover by STEVE MCNIVEN
Sketch Variant Cover by STEVE MCNIVEN
THE BLOCKBUSTER EVENT continues. It's Avenger versus Avenger. Hero versus hero! Norman Osborn versus Captain Marvel?? The Initiative versus an army of Super-Skrulls? Is Tony Stark really a–? And who's that guy with an eye patch coming to save the day?? And, oh man, who did he bring with him?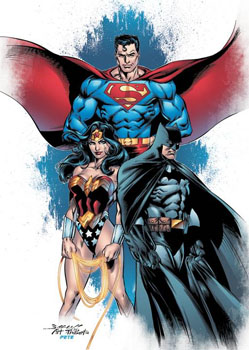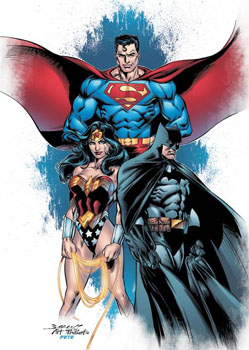 Trinity #1 (DC)
Written by Kurt Busiek and Fabian Nicieza
Art by Mark Bagley & Art Thibert, Scott McDaniel & Andy Owens, Tom Derenick & Wayne Faucher and Mike Norton & Jerry Ordway
Covers by Carlos Pacheco
DC's new weekly series TRINITY explodes in an extra-sized debut issue featuring art by fan-favorite Mark Bagley (Ultimate Spider-Man) & Art Thibert with lead stories and dialogue by Kurt Busiek (SUPERMAN, ASTRO CITY)!The lead feature explores the unusual bond – and importance – of DC's top three characters, Superman, Batman and Wonder Woman, as a mysterious dream links them together and may prophesy important changes in their trinity!
Plus, a co-feature in issue #1 explores the mysterious connection between several villains who are watching the Trinity -as well as the near future for these characters and their surrounding world! Co-features in issues #2-4 fill in back-story on some of the other important players in this major storyline. These stories are written by Busiek & Fabian Nicieza with art by Scott McDaniel & Andy Owens (NIGHTWING, GREEN ARROW), Tom Derenick & Wayne Faucher and Mike Norton & Jerry Ordway (ALL-NEW ATOM, INFINITE CRISIS).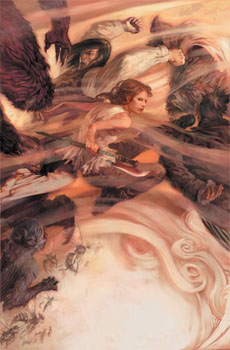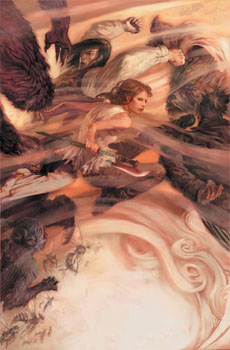 Buffy the Vampire Slayer #15 (Dark Horse)
Drew Goddard (W), Georges Jeanty (P/Cover), Andy Owens (I), Michelle Madsen (C), and Jon Foster (Cover)
Having traveled from her base in Scotland, Buffy ventures to the heart of Japan in order to reclaim her stolen scythe, in Drew Goddard's conclusion to Wolves at the Gate. Along the way, Buffy and the legion of Slayers join forces with the irresistible Dracula to defeat a tight-nit group of nefarious vampires, in which the Slayers suffer a massive hit.
The celebrated Buffy Season Eight continues with Joss Whedon as executive producer, with Georges Jeanty (The American Way) as series artist, and Jon Foster on covers.
Written by acclaimed television scribe Drew Goddard!