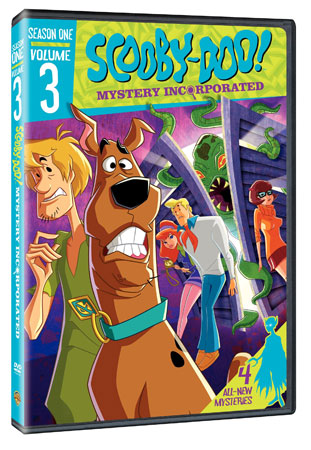 Scooby-Doo Mystery Incorporated is the latest revival of the classic Hanna-Barbera team of mystery solving teens. More realistic and serial than the previous series, Mystery Incorporated takes Scooby and the gang in a new direction, yielding some surprisingly enjoyable results both for kids and for longtime fans. The first season ran from April 2010 through July 2011, and Warner Bros has been releasing the twenty-six episodes a few at a time. This third volume collects four more episodes from the first season of the show, presenting episodes nine through twelve:
"Battle of the Humungonauts" – A pair of giant creatures terrorizes Crystal Cove, while Shaggy and Velma's developing relationship causes some friction with Scooby.
"Howl of the Fright Hound" – Scooby is thrown in jail when he's blamed for violent dog attacks in the town. It's up to Mystery Inc to sort through the case and get him freed.
"The Secret Serum" – Divided after a lot of internal strife, the Mystery Inc gang sets out separately to investigate thefts by an apparent vampire, and a little more about the identity of the mysterious Mr. E is revealed.
"The Shrieking Madness" – Delving into the Cthulhu mythos of H.P. Lovecraft, this episode takes the teens to Darrow College, where the tentacled Char Gar Gothakon has come to life from the cover of a science fiction novel and is wreaking havoc on campus.
Each of the episodes adds to the ongoing first season storyline, providing continuity that is fun to follow, even as the team takes on a brand new case every time. The look of the new series is both classic and fresh, putting the kids back into their original outfits from the first Scooby-Doo adventures with clean and retro art but making the overall feel and sensibility of the show more contemporary. The stories and humor are accessible and enjoyable for all ages, truly making Mystery Incorporated a new breed of Scooby TV.
There are no extras or bonus features included on the DVD, and it's a shame that only four episodes are trickling out at a time. Still, this release is sure to please parents who want to share the Scooby-Doo experience with their kids. Collectors might be able to look forward to a more comprehensive season set in the future, but for now this DVD is the primary way to add the series onto your shelves. Scooby-Doo Mystery Incorporated Season 1 Volume 3 arrives on DVD tomorrow, October 7, 2011.