Time to take another look back in this second installment of Scary Nostalgia. This time we are looking back at an iconic scary movie for kids: Hocus Pocus. This movie scared me really bad as a kid. It was years before I could watch it again — I must have been in my late teens. Even then, I still felt a little uncomfortable watching it. As an adult, I can view it without hiding under a blanket. So, let's take a look back and see why this movie was so darn bone chilling!
Hocus Pocus came out in theaters in 1993. It starred some big names in Hollywood: Bette Midler, Sarah Jessica Parker, and Kathy Najimy. These ladies played horrible witches who literally sucked the life out of children. This was all so that they could stay young and beautiful. Plastic surgery would have been less diabolical. They only get one night for their makeover so they must drain as many kids dry as they can. Oh, and there was stuff about a boy trying to save his sister since reviving the witches was his fault. The movie was totally about the witches and Thackery Binx, a boy they turned into a cat in 1693.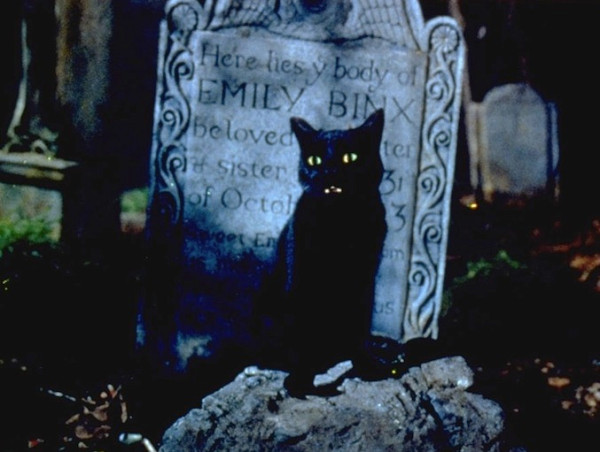 This movie became a Halloween staple for kids and adults. That is, if the movie didn't scare you like it did me. I couldn't watch it again for years. I was really scared the witches were going to get me after watching this movie the first time. I would have been eight when this movie came out so it was really terrifying for me. Kids are afraid of being separated from their parents and this movie plays on that fear. Even the comedic moments were not enough to alleviate the chills I got from it. I was looking over my shoulder that Halloween for witches.
But the movie's visuals were not what really scared me. The creepiest thing about it is this song:
Some people, my fiancé included, think this song is pretty. I don't. The movie may not creep me out anymore but the song still does. I really can't listen to it today. I can watch the movie but when the song comes on I have to mute it. Another reason the movie scared me was how sad it is. The story of Binx and his sister just tore me up inside. I was completely bummed out at the end of the movie, too. I wanted Binx and his sister to come back to life. Kids don't understand death very well at that age so Binx and his sister passing over chilled me to the bone. I even cried at the end. Nothing made this movie less petrifying for me when I was a kid.
Now, I can watch Hocus Pocus and laugh at the funny parts. I may have to mute the song but the movie no longer holds any terror for me. Growing up can be a great thing.