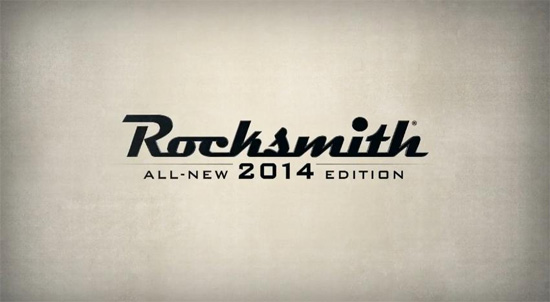 Ubisoft released Rocksmith in 2011 as a hybrid game / tutorial to help gamify the process of learning to play an actual guitar. They're following up with the Rocksmith 2014 Edition, which hits stores next week, on October 22. Today they unveiled the full track list that will ship with the game, and they also announced that owners of the original Rocksmith can import their songs from that game for an additional charge. All the imported songs will be upgraded to support all the new features of the new game. Additionally, all DLC players have bought for the first game will work automagically with the 2014 version for no additional charge. Here's a rundown of the full on-disc song list for Rocksmith 2014 Edition:

Aerosmith – Walk This Way
Alice Cooper – No More Mr. Nice Guy
Alice In Chains – Stone
Arctic Monkeys – R U Mine?
Avenged Sevenfold – Bat Country
Bob Dylan – Knockin' On Heaven's Door
Boston – Peace Of Mind
Bush – Machinehead
B'z – ultra soul
Def Leppard – Pour Some Sugar On Me (2012)
Deftones – My Own Summer (Shove It)
EarlyRise – Wasteland
Fang Island – Chompers
Foo Fighters – Everlong
Gold Motel – Brand New Kind Of Blue
Green Day – X-Kid
Iron Maiden – The Trooper
Jack White – Sixteen Saltines
JAWS – Stay In
Joe Satriani – Satch Boogie
Kiss – Rock And Roll All Nite
La Sera – Love That's Gone
Magic Wands – Black Magic
Mastodon – Blood and Thunder
Minus The Bear – Cold Company
Monster Truck – Sweet Mountain River
Muse – Knights Of Cydonia
Nirvana – Heart Shaped Box
Oasis – Don't Look Back In Anger
Pantera – Cemetery Gates
Paramore – Now
PAWS – Sore Tummy
Queen – We Are The Champions
Radiohead – Paranoid Android
Ramones – Blitzkrieg Bop
Ratt – Round And Round
Red Fang – Wires
R.E.M. – Losing My Religion
Rise Against – Savior
Rush – The Spirit Of Radio
Screaming Females – Rotten Apple
Slayer – War Ensemble
Splashh – All I Wanna Do
System Of A Down – Hypnotize
Tak Matsumoto – GO FURTHER
The Dear Hunter – Stuck On A Wire Out On A Fence
The Kinks – You Really Got Me
The Police – Every Breath You Take
The Rolling Stones – Paint It, Black
The Shins – For A Fool
The Smashing Pumpkins – The Chimera
The Who – My Generation
Tom Petty And The Heartbreakers – Mary Jane's Last Dance
Weezer – Say It Ain't So
White Zombie – Thunder Kiss '65
Rocksmith 2014 Edition is coming to Xbox 360, PlayStation 3, PC, and Mac this month.