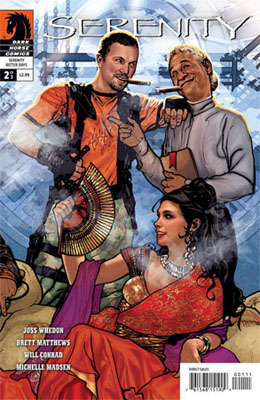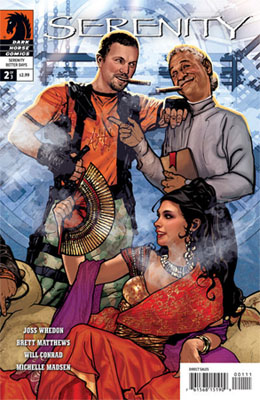 The second issue of Joss Whedon's new Serenity prequel series hit this week, and it continues an unsettlingly upbeat tale of the Firefly class ship and her crew. I say it's unsettling because this series actually see them in the midst of some good luck, while I'm used to seeing them bloody, foiled, and occasionally dead. But, as the title suggests, this series is all about seeing the crew in better days, and it's been an enjoyable first two issues. The second issue is worth checking out even if only on the merit of one panel regarding Book. Read on for the review (with spoilers).
Writer: Joss Whedon and Brett Matthews
Artist: Will Conrad
Covers: Adam Hughes
The first issue of this prequel series saw Mal and his band of rogues actually succeeding in a heist for once. They made off with a load of money but destroyed a prototype hunter-killer-type machine and got on the wrong side of a vengeful Alliance contractor in the process. This issue picks up with them celebrating the spoils of their victory with a little shore leave. Throughout the issue they fantasize about what they each want to do with all the money they've looted from this most recent job. Their fantasies range from the practical and respectable (Wash owns a luxury cruiser where he lives with Zoe and their baby) to the predictably ludicrous (Jayne is a decorated and feared starship captain who flies around the 'Verse looting, pillaging, and apparently having showers with Kaylee). Book's fantasy rivals River's for the most… illuminating. Take a look.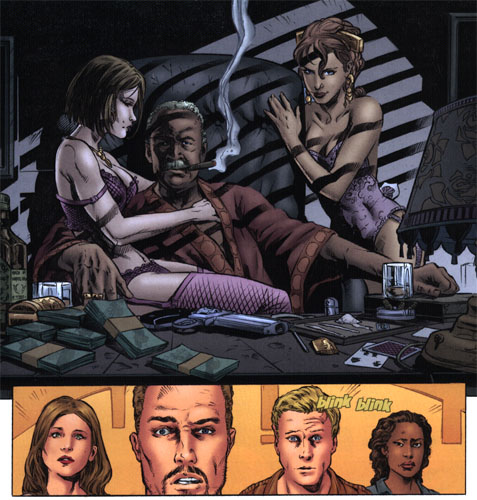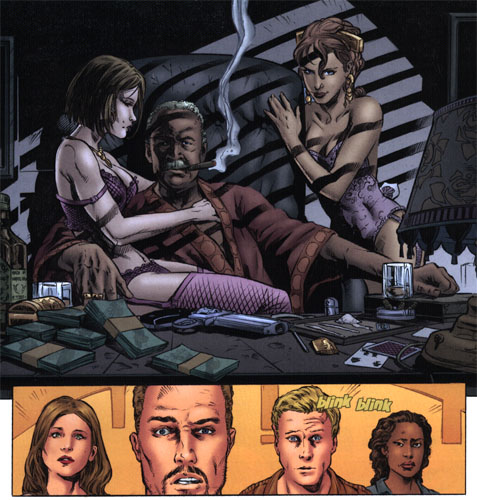 Most of the issue is just about the crew getting some well deserved relaxation, but towards the end there are some hints of ominous things to come. We see the contractor in pursuit of Serenity torturing a man for information and then successfully tracking the Firefly and her crew to the planet where they're vacationing. In the meantime, Inara has gotten mixed up in a subplot involving "Dust Devils," fringe terrorists that are being hunted by the Alliance. A crew of Alliance troops has been dispatched to the planet, presumably to destroy these Dust Devils and bring peace and order to the 'Verse. The issue ends with Mal going to check out the situation after seeing an Alliance ship landing. He spots Simon coming out of Inara's shuttle just before someone cracks Mal over the head with a rifle. To be continued!
There's only one issue left in this series, and since Joss Whedon's characters never can stay happy (it's a universal law of fandom, honest), I'm guessing there will be a lot of doom coming to Serenity. The previously released prequel comic, Serenity: Those Left Behind
, takes place between this series and the Serenity movie, so the wrapup for Better Days will have to bridge the gap leading into Those Left Behind. Overall I'm enjoying the series and look forward to the final piece, coming in May.
You can buy at Serenity: Those Left Behind
Amazon.