This week sees the release of the Pulp Tales comic from Boom! Studios, a benefit comic created to support artist Josh Medors, recently diagnosed with cancer. An assortment of talents have come together to create this new anthology book, and it's like and unlike anything I've read before.
As with Boom! Studios' other "Tales" comics, this one is a collection of short stories, but the stories contained here are shorter than anything in Cthulhu Tales or Zombie Tales. Most of these stories run only four pages long, and the way they are presented harkens back to the days of early serial fiction. What we are left with are fragments of stories we catch in medias res, without a real introduction and without knowing what comes after.
The first story, "Bluejacket," is written by B. Clay Moore and Seth Peck, and it has art by Chris Samnee. It finds our intrepid and odd team of heroes in the midst of a jungle, battling a werewolf (or werejaguar, as the team's young tech guy asserts). This one has the feel of the old adventure pulps that inspired the likes of Indiana Jones and manages to create a team with motivation and mystery in the span of just four pages.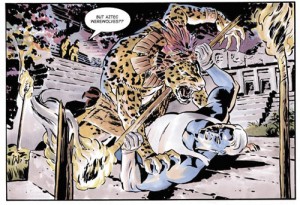 "Newt Lawman and the Secrets of the Valley – Chapter XV: Apache Rising," written by Josh Fialkov and drawn by Andy B, is an entirely different piece altogether. Opening in the midst of a shootout between a very un-P.C. cowboy, his "Injun" friend, and an attacking tribe of Apache, this is another four page story that drops us into the middle of an obviously continuing plot. We have no sense of who these people really are, what the deal is with the lecherous robber baron Hayes Rutherford, or why Running Bear hangs out with his blatantly racist cowpoke friend Newt Lawman. We're sure to find out at least a few of these things in the promised next installment, "Part XVI: The Gold Rush!"

Kody Chamberlain provides both the story and the art for "The Crescent Flame!" The art in this one is very interesting, eschewing a full color palette for monochrome blues in some panels and reds in others. The short story told here follows a down on his luck photographer in 1952 New Orleans, just after he's nabbed shots for the newspaper that just might bring in the money he needs to pay his rent. Things get complicated when he goes about developing those photos.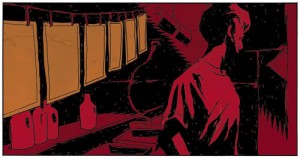 The final sequential art story in this issue is "Crash Winters: Palooka P.I. – Chapter 8: Fallen Angels" and is written and drawn by Tony Fleecs. It introduces us to Crash Winters, the typical private eye you'd think of when you hear the words "pulp tales." The action begins with him arriving on a rainy roof, having just seen the dizzy dame of the story plummet to her death. The story takes a decidedly odd turn, ending on a bizarre cliffhanger. I really enjoyed the cartoony-yet-noirish art in this one. I'm a fan of simple but detailed art, at that's what Fleecs delivers.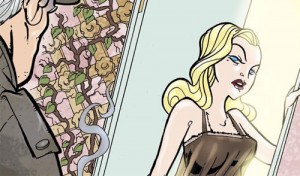 Steve Niles and Sarah Wilkinson provide the last story in this collection, and it's an illustrated prose piece called "Limbo's Assassin." Carl Henderson is a mob enforcer who really enjoys his job, and occasionally he takes his jobs a little too personally. After de-jawing a man who used to hit on Carl's sister when they were younger, Carl settles into his career with the Gianni family. One day at the pizzeria, a young woman approaches Carl and his boss and changes his entire life and worldview. Both Niles and Wilkinson are extremely talented in the comics field, and it's cool to see them using their talents in a nontraditional format for this issue. Their entry in the book feels a lot like the old dime novels that no doubt inspired this haunting mob story.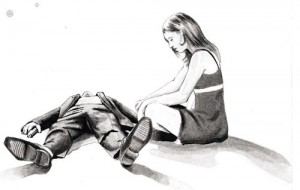 All the stories in this book are clever snippets of larger fake stories, and any one of them would be at home in the heyday of the pulps. I like the decision to create this book as an anthology of story fragments, as it creates big ongoing stories (that probably never will be told) in the space of just a few pages. And when this kind of neat stuff goes on in a benefit book, you know you can't go wrong by picking it up.