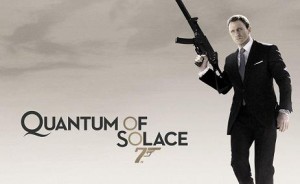 Bond is back with his biggest box office opening ever, and John is reviewing the superspy's latest adventure, Quantum of Solace, with spoilers.
Quantum of Solace
Starring: Daniel Craig, Mathieu Amalric, Olga Kurylenko, Gemma Arterton, Jeffrey Wright, Giancarlo Giannini, and Judi Dench
Written by: Paul Haggis, Neal Purvis, and Robert Wade
Directed by: Marc Forster
SYNOPSIS: Picking up immediately after the events in Casino Royale, 007 discovers that the conspirators behind Vesper Lynd's betrayal and suicide are deeply rooted in every government around the world. Bond is now torn between his duty to Her Majesty and his quest for revenge as he follows the trail of a mysterious organization. Bond's pursuits lead him to cross paths with the sinister Dominic Greene, a member of the organization who resolves to control the world's most precious natural resource.
ANALYSIS: The reason that I labeled Casino Royale as one of the best Bond films of all time and Daniel Craig as one of the best Bonds is simple. Instead of adhering to the conventions of the franchise, the people involved went out of their way to force you into altering the way you perceive Bond. Now Bond is tougher, grittier, and can be extremely unglamorous compared to his predecessors. It's an incredible accomplishment of everyone concerned that they were willing to cast a Bond that defied even Ian Fleming's initial description. It's even more impressive that the creative team was willing to cast off many of the traditions in order to give the series a much needed overhaul. With the latest entry, the effectively titled Quantum of Solace, it's even more impressive that even with a complete change of filmmakers, the groundwork laid down by Casino Royale is now being built upon. I also applaud how this film really does feel like a legitimate sequel and how it fearlessly jumps right back into the fray just a few hours after the events in Casino Royale. Though I've always loved how each Bond film was self-contained, periodically it was a bit frustrating that there was never a constant thread to keep Bond evolving.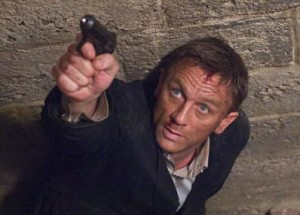 The thing that works so well about the new direction is that Bond finally is showing off his mileage. There isn't a single action sequence where Bond comes out looking like the sophisticated agent that he did going into the fight. Now he looks like a sophisticated agent who got the crud kicked out of him in the previous scene. It takes an actor of exceptional skill to convey that trademark 007 coolness regardless of the fact that his face is covered in cuts and bruises, and Craig is just the man. There is this incredibly unconventional edge to Daniel Craig. He has a coldness to him. You look at Craig's Bond, and you see that this is a man who can and will kill without remorse because he has come to terms with the ugliness of the job. In Quantum of Solace we see a different side to that concept. Now we see that cold, steely killer, who takes his job to a personal level. Craig shows us that his 007 is still developing. In this film we're seeing how Bond must push back his pain for the sake of duty. Now he is forced to take into consideration the grander scale of the problems ahead.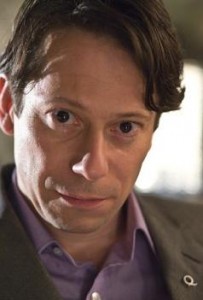 The menace of this film is indeed quite grand. It turns out there is an organization who has infiltrated every major government throughout the world, and they have been under the radar until now. In Solace it is revealed to us that Le Chiffre was really a low level grunt compared to the scale of what this organization is capable of. They can plant a mole decades back and not have him serve his purpose until now. Even then, it may be a simple retrieval job which could mean that mole's demise. The organization has the means to control the natural resources of the world and throw it into chaos. These are problems that go way beyond Bond's personal vendetta. The main antagonist of this particular film is Dominic Greene (Amalric). The interesting thing about Greene is that, unlike every other Bond villain, he doesn't have a gimmick. He doesn't cry blood, he doesn't have metal hands, he doesn't even have a lust for gold. He is, by and large, just a ruthless businessman. Mathieu Amalric accomplishes being a genuine, one of a kind villain, simply because he is so ordinary compared to the Bond villains we've seen before. When we see Greene in his world, he is cool, confident, and lethal. Alternately, in the end when he is confronted by Bond in a final life or death struggle, he doesn't have poison tipped shoes or a steel-rimmed top-hat. All he has to fight Bond is his limited fighting skill. He lashes out like an angry schoolyard bully who grabs at anything he can get to use as a weapon. The final fight between Bond and Greene is unique for that reason. Bond is so used to fighting men with skills that equate his own that he knows how to anticipate moves before the opponent begins them. When it comes to fighting Greene, he isn't used to fighting a man who lashes out like a wild animal.
The resolution to Bond's battle with Greene is another thing that makes Quantum of Solace unique as a Bond film. Instead of a spectacular demise like most Bond villains get, we are reminded that Greene is still not the big boss of the organization. He is just the next rung of a very tall ladder. So after Greene is caught, Bond sweats him for information and then throws him to the dogs, figuratively speaking. Bond leaves him out in the desert, knowing that Greene's employers will be less merciful, as they later confirm. This all goes back to my previous statement about how the producers and screenwriters are willing to stray from tradition to the point where, as with Casino Royale, the big baddie in the film isn't even the REAL big baddie. Like Le Chiffre, Greene meets his end by alternate means, because that's what he deserves. Greene is a little man playing in the big man's castle. Inevitably the big man is going to grow weary of the little man and will want that little man disposed of.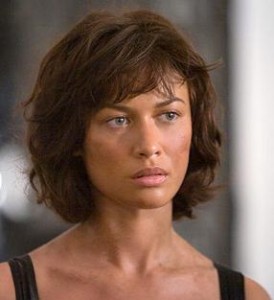 Speaking of straying from traditions, another noteworthy stray is the relationship between Bond and the Bond Girl. The girl in question is Camille, played by Olga Kurylenko (Max Payne). Camille is an undercover agent whose personal mission becomes intertwined with Bond's. What is infinitely different about Camille's relationship with Bond is that there is no romp in the bed for either of them. Their relationship is more about sharing their personal pain. They both have lost someone they care about, and fate just happened to cross their paths. Their targets are different, but the rage that both Bond and Camille contain are so great that it just wouldn't seem right if they were to hop in bed with each other. I think what we're seeing now in this new, overhauled Bond franchise is that the role of Bond girl will be more dynamic. Bond will meet women who have no intention of jumping into bed with him. Let's not forget that Vesper Lynd didn't want to sleep with Bond until she fell for him. With Camille, the satisfaction of her vengeance was more important to her. Jumping into bed with a ruggedly handsome British agent is far from her mind. Even in the end, as the two of them share a goodbye snog, the final kiss is more of a sign of mutual gratitude on both sides. Their relationship frankly would be cheapened by a roll in the hay. So I once again commend the screenwriters for willing to stray from certain traditions for the sake of the story. Don't worry, Bond purists. Bond does get some at least once, and the best part is that we get an awesome Goldfinger reference out of it. I will also add performance-wise that I do wish newcomer Kurylenko the best of luck in her future endeavors. Though her role in Max Payne was brief, it was indeed memorable, and comparing that to her work in this film, I am seeing some great potential in her range. I just recommend that she lays off the video game based movies from here on in. She can live off her 007 paycheck while she continues to work with other more reputable directors.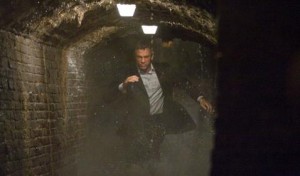 One of the things that I've enjoyed about the Bond franchise, primarily from the start of the Brosnan era, is the constant change of directors. This time around we get Marc Forster, (Finding Neverland, Stranger Than Fiction) a stellar independent film director who is finally getting to stretch his range out into the action genre. In that, Forster is on the whole successful. The action is exquisitely staged and just as spectacular as one would demand from a Bond film. Forster also pays adequate attention to the actors. He retains his devotion to the actors and the attention needed by each of them to mold their performances. The one thing I did notice about this one was that it does seem like there was more attention given to the action and less to the plot. It got to the point where there literally were only five minutes between action beats. It almost felt like Forster was geeking out over the prospect of doing an action film and wanted to put action in as many places as possible. Granted, all the action was sensitive to the context of the scenes, but it was not towards the story evolution. In its defense, I will say is that by no means does the story ever become incomprehensible. It just causes the story to appear thinner than it actually is.
On a side note, the editing is extremely sharp and cut with extreme precision, even if it still feels a bit hasty. On the other hand, if I'm not mistaken, the filming of said sequences bears a strong resemblence to The Bourne Supremacy and The Bourne Ultimatum, where the fight sequences are clearly filmed with a handheld. I will admit that it does emphasize the realism, but it doesn't lend a lot to the comprehension. It wasn't problematic for every fight scene, but there are times when Bond and his opponent are dressed the same and have similar shades of hair. In the end that's all it takes for technique leave us not knowing what's going on.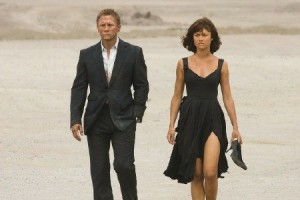 On the whole, the sophomore effort of the new, improved 007 franchise is quite successful, and it continues to stick to its guns in giving us a new Bond for a new age. It dares to stray from the traditions while simultaneously reveling in them. Daniel Craig proceeds to do the same in the legendary role.
ESSENTIALLY: An extremely strong, if narratively uneven followup to Casino Royale with Craig continuing to own the part to the point where we're almost asking, "Sean who?" What? I said "almost."
FINAL GRADE: A-