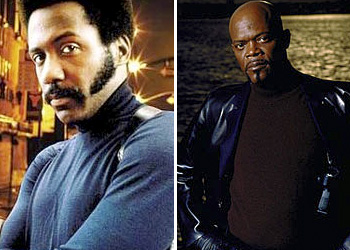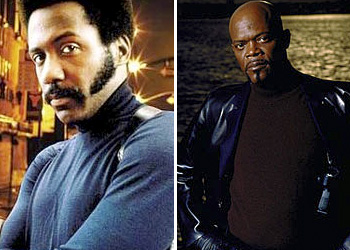 We ask whether Shaft (2000) was a redo, remake, or reboot of the original 1971 version, and whether it was a successful one.
Definitions:
Redo: An attempt to start over as if the original had never been made.
Remake: An attempt to imitate the original as closely as possible, with due recognition of how society has changed since the original was released.
Reboot: An attempt to keep the essence of the original, including characters, significant plot points, and the fictional universe that has been created, but to create in the audience an expectation of taking the original fictional universe in a completely different direction, with new adventures for the characters.
Synopsis of Shaft (1971)
With classic lines like "I got to feeling like a machine, and that's no way to feel," "Whatcha got? I got laid," and "Don't let your mouth get your a#* in trouble," Shaft set the standard for testosterone fueled tough guys in quotable movies. Even the trailer is quotable: "Shaft is rated R, so if you wanna see Shaft, ask yo' mamma."
Famous also for its Grammy-winning theme song, this Blaxploitation classic takes place in New York City — mostly Harlem. Shaft (Richard Roundtree) is a rough, tough, African-American private investigator who does things his way.  And his way involves guns, fists, and broken bones.  Shaft is hired by Bumpy Jonas (Moses Gunn), a drug dealer who controls most of Harlem, to find his kidnapped daughter. Despite being leaned on by the local police captain, Shaft discovers that the mafia has kidnapped the drug dealer's daughter. Further, they are trying to use her as leverage to move in on Bumpy's territory. It's up to Shaft to locate her and bust her out before an all-out war breaks open on the streets of Harlem.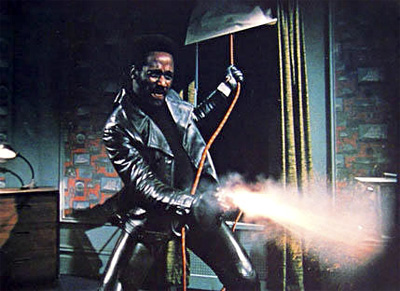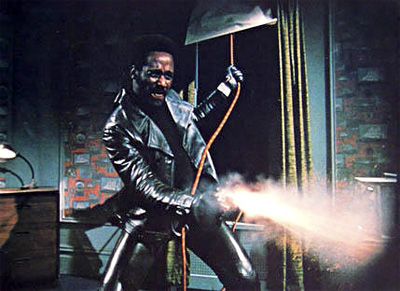 Synopsis of Shaft (2000)
John Shaft (Samuel L. Jackson), nephew of the original, is a New York police detective. Like his uncle, he has an "I will mess you up" attitude and a penchant for great one-liners.  Also, being Samuel L. Jackson, he likes to raise his voice in a particularly intimidating yet entertaining manner (unfortunately, to answer the question that is probably formulating in the back of your head, there are no scenes of him running around on a rooftop yelling into a walkie-talkie).
The movie opens with Shaft arriving on the crime scene: a young club-goer has been brutally murdered in a racially motivated attack.  Everyone at the club knows it was the racist rich kid who's still arrogantly hanging out in the corner of the bar, but since his father is SO powerful and SO rich, nobody wants to come out and actually say it.  Actually, the murdered guy's girlfriend does. But she hadn't actually witnessed anything, so she's no good to Shaft.
There is an eye-witness, but she is too scared to testify (we learn later that the rich kid took her driver's license so he could pay her off and scare her off).  So what does Shaft do?  He's Shaft.  He starts kicking a*!.
Let's see if I can summarize the entire second and third acts in one sentence: the rich kid gets involved with a Latino drug runner (whose meeting Shaft had inadvertently set up by arresting both of them just to prove he's Shaft), Shaft tracks down the witness, the drug runner's brother gets killed and he blames Shaft, Shaft gets laid and quits the force so he can play by his own rules, epic gun battles and car chases ensue, Shaft kills the drug dealer, and the rich kid gets assassinated on the way to the courthouse by the murder victim's mother.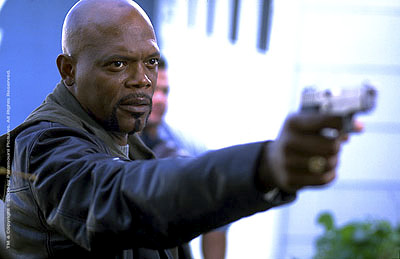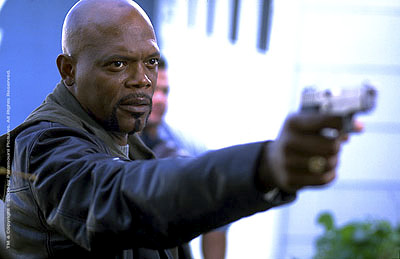 Was it a redo, a remake, or a reboot?
This is a tough one, because it most closely resembles a spinoff.  Richard Roundtree reprises his role as the original Shaft and repeatedly tries to convince his nephew to join his private investigation company (the ending hints that he does, in what would have been a beautiful setup for the sequel).  So, it's kind of like when Laverne and Shirley showed up on Happy Days and then subsequently got their own T.V. show. A spinoff.
But that isn't one of our choices. Thus, I have to go with reboot, because they kept the essence of the original, which was 1) a tough talking detective 2) who beats, kills, or maims anyone who gets in his way 3) and gets laid 4) on a quest to set things right in a hornet's nest of racial tension.  Of course, our hero in this reboot is a completely new character, which goes slightly outside the reboot rules, but he is not entirely new.  He's still one bad Mother f-(shut yo mouth) – I'm just talking about Shaft – (we can dig it).
Was it a successful reboot?
When I re-watched Shaft 2000 for this review, I had vague memories of an average cop movie.  I remembered from when I originally saw it in the theater that John Shaft was a police detective instead of a private investigator, that Christian Bale had a big role, and that they made Samuel L. Jackson's character Shaft's nephew, instead of making him a new version of the original Shaft.  In other words, if I were going by me memory, I would have said this movie was a disaster.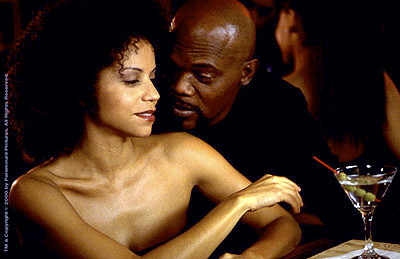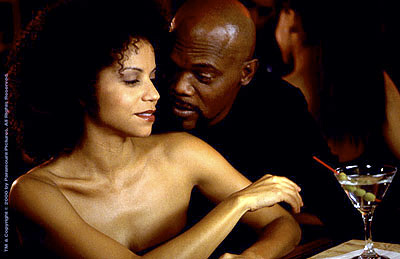 Luckily, I refreshed my memory before I wrote this.  In a surprise turn of events, Christian Bale actually does some good acting. He plays the rich racist white kid brilliantly.  He makes you want to want to beat the smug "I'm so great" smile off his face every time he's on the screen. That is a perfect setup for Samuel L. Jackson, who specializes in doing just that.
Also, this reboot version respects the source material.  The filmmakers went below the surface — a tough-guy detective movie — and looked to the essence of what makes Shaft Shaft.  And they applied it to a year 2000 setting. Therefore, it was largely successful. The only problem is that the third act gets a bit jumbled, the result of setting up two bad guys who hate Shaft for two different reasons.
For the most part, though, it was a successful reboot.  It's a shame the studio didn't have the guts to continue with a sequel or two (I still want to see Jackson's Shaft running around on a rooftop screaming into a radio.  Guess I'll just have to rent The Negotiator again). Still, I recommend you put it on your movie queue. Just remember to ask yo mamma, cuz Shaft is rated R.