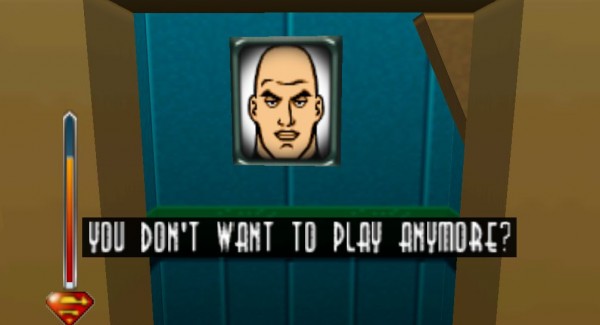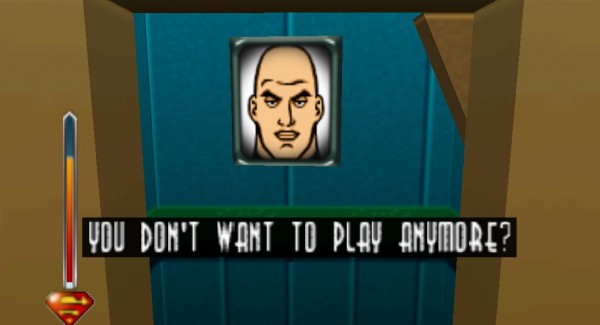 Superman 64 is no stat ranger to mockery. A quick googling or youtubing of the game and you'll find many a review singing a sorrowful/sardonic song about what is often regarded as the worst game ever made. There are arguments posed if it is in fact worse than E.T. for the Atari 2600, a game which was so bad that millions of copies were buried in a desert in New Mexico. To add to that never-ending pile of vitriol I have this: millions of copies of Superman 64 should've been buried on the Moon. Or Marianna's Trench. Or any place that comes to mind when you think about the extremes of altitude or depth.
Now, I know you may be asking yourself, "Roo, why pick a game that's been covered so much? Why follow the path of many a nerd before you? Good job being creative!" and, honestly, those are all completely valid points. This game has been covered extensively and in an angry fashion. I'll give you three reasons why I ignored these sound observations:
A) I really wanted to play Superman 64 to see what all the fuss was about.
B) It's Christmas and this is my masochistic gift to myself.
C) I commonly make terrible decisions.
Much like Shakespeare's Macbeth this is a tale told by an idiot, full of sound and fury, signifying nothing. Unlike Macbeth it's more of a comedy of errors than it is a tragedy. As the first of what are hopefully multiple installments of Rage Quit, I went into the game with a specific mission: play as long as I can until I become so infuriated that I have to stop for my own sanity. Oddly enough, Superman 64 completely destroyed whatever structure I hoped to maintain for this column. Quitting as soon as I wanted to chuck my controller across the room would've resulted in a tiny article and an uninteresting read (assuming that THIS is an interesting read). I also would've played no more than 10 or so minutes of this pile. Struck with a sick and demented idea, I decided that instead of following the usual Rage Quit formula of playing until I no longer could, I would attempt to actually beat Superman 64 and wear this ill Blue and Red badge of courage. What a bad and failed idea. Let me explain.
Even with renewed vigor, burning spirit and large amounts of whiskey and coke I couldn't complete Superman 64. At a point where I thought that I surely must be nearing the end of the game, a quick look at a walkthrough showed me that I was barely halfway through this monstrosity. In fact, at the exact moment that I had spent roughly nine minutes trying to activate an elevator at LexCorp, Lex Luthor himself got meta as hell. His bald, ethnically ambiguous (in the DC Animated Universe at least) face popped up and posed a question I had been afraid to answer for the last two hours. "You don't want to play anymore?" flashed on the screen under his smug face. No, no I don't Lex. If this game was created to overcome the indomitable spirit of Superman and myself, bravo.
By now it's abundantly clear that Superman 64 has some severe issues. Rather than focus on the game breaking bugs, the horrendous controls, the inexcusable graphics and frame rate, and the general lack of fun, I'd like to focus on the things that excited my constantly lowered expectations.
First, I'll address the missions where you solve Lex's maze to save your friends. That is direct wording from the game, and wording that is in need of translation. Solving a maze in Superman 64 means flying through increasingly larger slaloms of rings. This soon became my second favorite part of the game. It's true that these slalom missions comprise 75% of the the experience but despite the repetitive dullness, it's the one part of the game where the controls and mechanics work. Free from the creatively damning constraints of a combat system or proper collision detection, flying through ring after ring under a time limit becomes a simple joy. Every one of these missions feels like a pre-installed Windows ME game, an updated version of SkiFree lacking the exhilarating rush of an abominable snow man giving chase. And somehow this is a good thing.
Lest I confuse you with my lauding of Superman 64, I will admit that this is where my enjoyment ended gameplay wise. Any button or stick on the N64 controller that served a purpose other than making Superman fly was a dark trigger. Pressing one of these "other" buttons would would crank the slow gears of grief, rattling the chains and engaging the pulleys of some draconian torture device to life in the name of making Superman jump, throw a punch or at its most depraved, use a severely gimped super power. Yes, a game with a Superman who uses super powers to save the day in a super fashion did a super job of limiting your use of these powers. How? By instituting a system where powers can only be used for a limited time after collecting the proper power token. While this proved annoying and caused me to question if Superman 64 was attempting to teach me a morality lesson, a sort of Spider-Man inspired "With great power comes great responsibility… so don't you use your powers unless we say you can with this rotating token" it also led to my most exciting moment. Two and a half hours into the adventure I finally came across the most video game friendly and applicable of Superman's non-flying powers: Heat Vision. And then I did something totally unexpected and awesome.
I set a f@#%ing ficus on fire. WITH MY EYES. MY SUPERMAN EYES.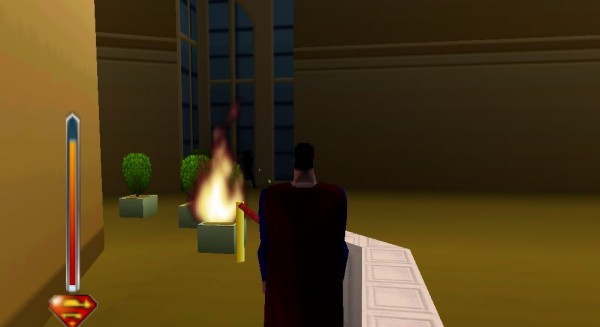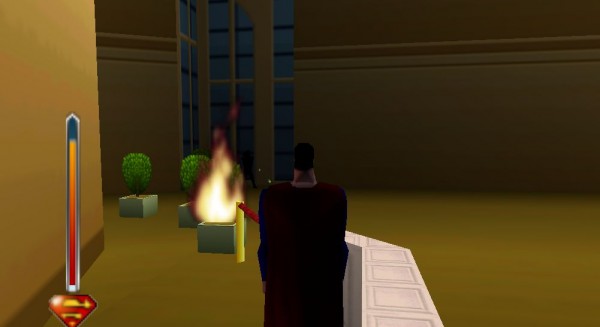 In a game that has issues keeping me from falling halfway through the floor and running straight through walls into unrendered blue-sky oblivion, Titus Software took time to guarantee one awesome detail. When Heat Vision comes into contact with foliage that shit's gonna light up, and I hate to admit it but this provided me with a solid eight minutes of entertainment. Forget Lex Luthor. Forget Jimmy Olsen. Forget Lois Lane. For eight minutes I was a destroyer of all potted greenery, of all indoor sprucing and it felt god-like. Then I drained all of the Heat Vision power I had accumulated from the Heat Vision "token" I collected and suddenly remembered what a heap I was playing. This brings me to my last and most pathetic praise of Superman 64: shiny, reflective floors. In multiple areas of the LexCorp building there are floors, some wood and some metal, that reflect their surroundings and this impressed me to no end. Once again seemingly flying the face of logic Superman 64, a game with such graphical prowess that Superman's one facial expression is constipated/overly pregnant, resources were thrown into making an entire room's floor reflective in realtime.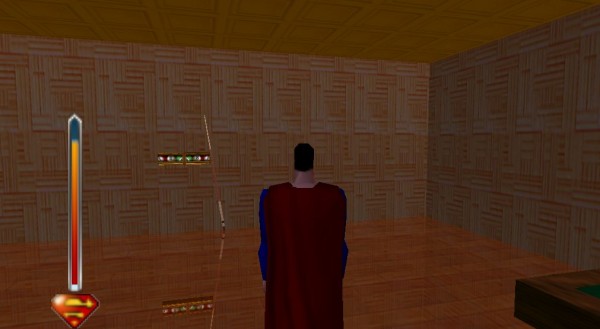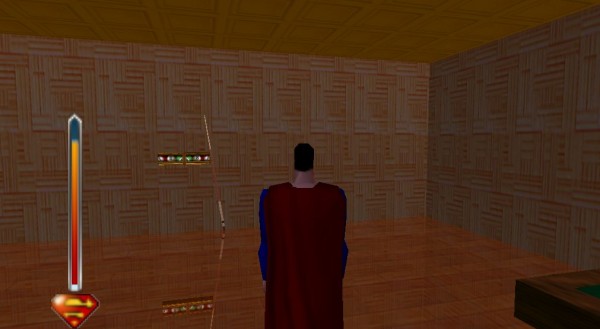 And that's it. Roughly three hours into Superman 64 the game had caused enough brain damage to render me simple. So simple that I had the inexplicable urge to open a rabbit farm, I was enjoying Dane Cook's standup, and a combination of laser eyes and over-waxed floors proved to be too much stimulation for my addled brain.
Knowing that my time with Superman 64 needed to end quickly lest I become completely lizard-brained, attempting to eat and/or hump all objects in sight, I spent my last few moments doing the one thing in the game that truly brought me joy: lighting more plants on fire. As I stood there watching a ficus burn, I was reminded of the good book. Much like Moses I too was confronted with a burning bush that was on fire and yet was not being consumed. I had firsthand witnessed the misery of many and, like those before me, I was being called into service. Not to release the Israelites from Egyptian slavery as Moses had down centuries prior, but to spread a cautionary tale.
Superman 64 is a game that was untimely ripped from the developers' womb in a long tradition of rushed licensed video game titles. Unlike Macbeth, there is no Macduff to behead it and put it out of its misery, no Titus Software to gather up the copies and bury them in some remote desert. Sadly, Superman 64 is doomed to eternally inhabit the plain of the living as a grotesque scar; a warning and, hopefully, a lesson.