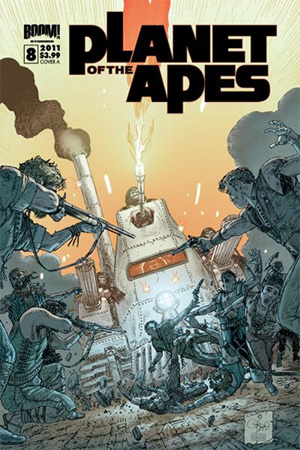 Issue: Planet of the Apes #8
Release Date: November 16, 2011
Writer: Daryl Gregory
Artist: Carlos Magno
Colors: Nolan Woodard
Letters: Travis Lanham
Cover A: Carlos Magno with Nolan Woodard
Cover B: Damian Couceiro with Nolan Woodard
Cover C: Scott Keating
Publisher: BOOM! Studios
The chimps are showing their true colors. Cold blooded, hatred filled, bigoted killers. That's what you get when you combine intelligence with apes. You get cold-blooded killers. You also get an army that can look intimidating, even wearing goofy hats. But mostly you get cold-blooded killers.
That's not to say the humans are saints. Humans are into violence. We're just not as good as those bloodthirsty apes. At least, that is what this issue is saying. As I said in my last review, this is one of the good things about POTA. The intelligent apes make great metaphors (actually I didn't say it, I just subtly hinted at it).
You get to examine the juxtaposition between humanity's (or America's or NATO's or whatever flavor of the month you've got on your mind) commitment to peace and tendency towards violence. But the added bonus is that, since the protagonists are apes, you get to indulge in all kinds of judgmentally induced feelings of superiority.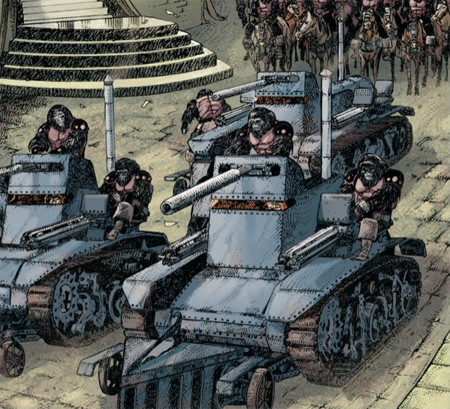 But enough of the 12th grade AP class analysis of the human condition via escapist fiction. Moving onto the actual issue, here's what we've got:
Alaya, the voice, has decided to enslave all the humans. She no longer believes that humans and apes can live together. Chaika's attempt to assassinate her a few issues ago might have something to do with that, along with the Lawgiver's totally ambiguous pronouncements that are starting to be taken for gospel. But whatever the cause, the Voice launches an attack under the command of General Nix. And he's got tanks.
Of course, Sullivan arranged for anyone who can't fight to flee into the swamps. The chimp "lancers" try to track them down, but a surprise awaits them. More of that, apparently, in the next issue.
Rating: 3.5 / 5 Stars