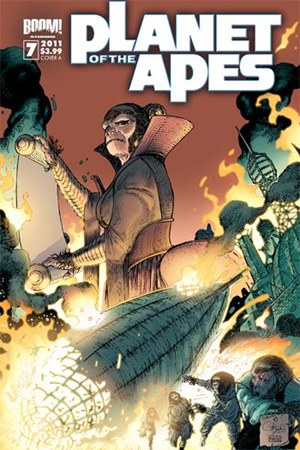 Issue: Planet of the Apes #7
Release Date: October 26, 2011
Writer: Daryl Gregory
Artist: Carlos Magno
Colors: Nolan Woodard
Letters: Travis Lanham
Cover A: Carlos Magno
Cover B: Damian Couceiro
Cover C: Andrew Huerta
Publisher: BOOM! Studios
I was excited to get another chance to review POTA, since, in my opinion, the comic book format is great for the POTA universe. On the other hand I felt a bit of trepidation; it's been a long time since I've been really harsh on any of the reviews I've done.
What if I totally loved it? What if, yet again, I gushed poetic about a comic book? And what if I couldn't stop myself and I did the same for the next soundtrack or whatever? You can't call yourself a critic if you never actually criticize. Otherwise they'd call it some other frakking name like praisick or something. And there aren't many gigs for praisicks in the blogsphere.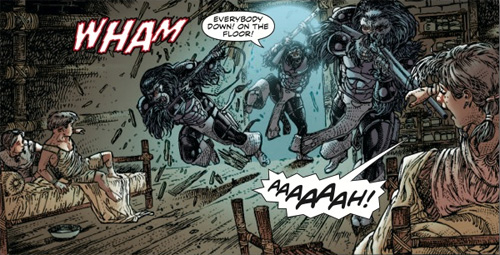 But of course I totally dug on this issue. For example, it opens with this great part where the apes storm the house looking for Casimir, clearing rooms and demanding to see hands. It's like a scene out of CSI: Miami, except with apes instead of David Caruso, which would be an awesome idea for a Halloween episode, now that I think about it.
But I've digressed.
You've got to be on the lookout for some great quotes when it comes to POTA. Charlton Heston set the bar too high, of course, so there's no way to measure up to that standard. But adjusting for Heston's Godlike acting (yes, there's a pun in there somewhere), this installment has a great one: "Don't touch my monkey." And it's especially good because he's actually talking about a monkey. There's no double entendre whatsoever. Hilarious.
But I found one part to criticize. Check it out:
One of the rules for taking on an established SF franchise with a complex well explored fictional universe is that long scenes in which characters debate the internal politics of the fictional world kill momentum. Sure, exposition is necessary to keep part time readers up to speed. And yes, there are deadlines to meet. But you either have to keep your exposition short, or keep it interesting (the SciFi/Syfy classic Eureka, by the way, is the Mace Windu of the make-exposition-interesting technique). Otherwise, you get that scene from Star Trek VI where a bunch of geezers sit around a conference table debating intergalactic politics. (Of course, if you're a real geek, you totally loved that scene.)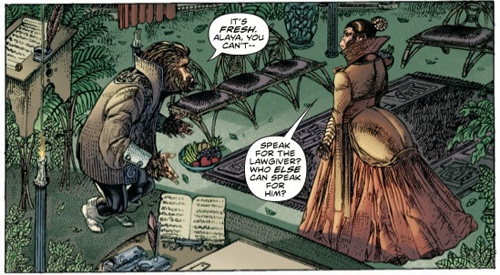 The point of my diatribe is that the part where Mayor tries to buy more weapons but ends up in a long debate in which they summarize "the story so far" is a little too long.
Of course, the scene where Alaya the Voice prepares for her speech is pretty good (they should be more careful about giving a talking ape such a nice butt. I'm starting to worry about myself). The speech itself is a good scene too.
So, overall, this issue is darn good.
Rating: 3.5 / 5 Stars