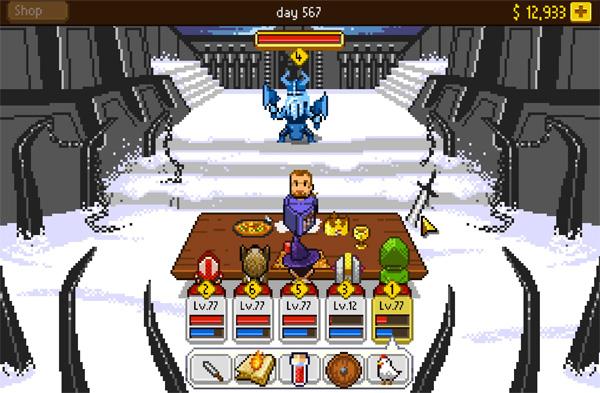 Paradox Interactive, the publisher behind such epic historical games as Europa Universalis and Crusader Kings, today announced that preorders are open for their newest release, a decidedly cuter and more meta game. Knights of Pen & Paper is a retro-styled RPG that started its life as a mobile game and is coming to PC and Mac on June 18 as Knights of Pen & Paper +1 Edition. The game has you in charge of a group of ordinary gamers, as well as of the tabletop RPG they play together. As the press release describes it:
Knights of Pen & Paper is an RPG where players take on the role of players who are playing an RPG. Assemble a group of mundane in-game friends and transform them into classic RPG fantasy classes, while the Game Master narrates the adventure within their imaginations. Control both the players and the Game Master – design encounters for your party, and then slay the monsters for all the XP and loot your character sheets can hold.

Leveling up the original mobile title, there's a hoard of new features, including new character options, a lengthier campaign, raid-friendly dungeons, and much more. The Digital Deluxe Edition will also include a strangely familiar wizard character in a yellow robe, an extra in-game map where experience farming meets crop farming, and special sci-fi nerd treasures for the GM's room.
The regular edition preorder is $9.99, while a digital deluxe version that includes additional loot is $14.99. Preorders are open now on the game's official website: knightsofpenandpaper.com.