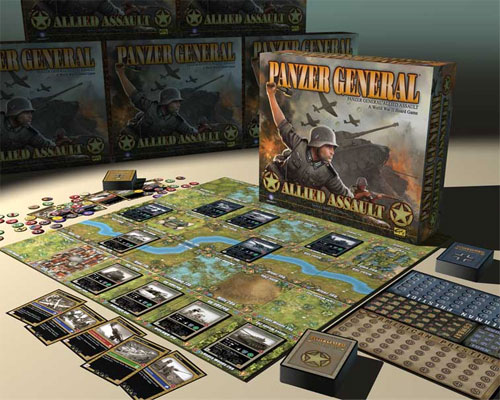 Last year the Panzer General line of board games inspired a new Panzer General: Allied Assault game on the Xbox Live Arcade. Now the process is going in reverse, as the new gameplay and rules from Allied Assault are being adapted from the video game back into a new board game.
The new board game, Panzer General: Allied Assault, is being produced by Petroglyph Games, based on Ubisoft's digital version. The official board game website is now live, featuring art, pricing, and specs for the upcoming game. The official word direct from Petroglyph describes the board game with:
Based on the XBLA title released by UBISOFT.
Uses the same rules as the XBLA title with modifications that better suit face-to-face game-play.
A quick playing card game of tactical and operational WWII combat that combines elements from card and board games.
Cards act as units deployed to move around a tiled map grid.
Action cards boost unit capacities in movement, combat and in other ways.
The game depicts scenarios from D-Day to the invasion of Germany in 1945.
The game is scheduled for release later this month with a suggested retail price of $60.