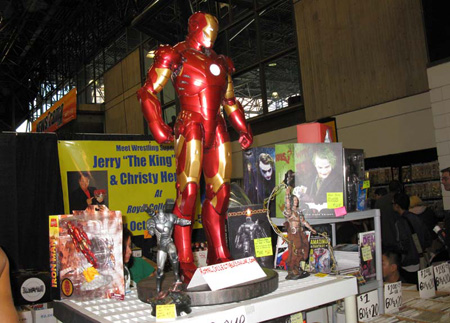 Comfortable shoes: Check.
A sturdy backpack: Check.
Plenty of drinks and pre-bought food supplies: Check.
A fully charged mobile phone: Check.
A map: Check.
Email confirmations and ticket numbers: Check.
A trusty companion: Check.
Appropriate clothing: Check.
PLENTY of cold, hard cash: Check.
In more than a couple of ways, going to a comic convention is a lot like mounting an expedition to scale a mountain or complete some personal test of endurance. Preparation is key, you never truly know what's going to face you when you get there, it'll take a lot out of you, and afterwards you'll be guaranteed to have a few strange things to brag to your friends about.
This was my first year of attendance at New York Comic Con. I've been to Wizard World LA before and I've been to MegaCon in Florida three years straight, but up until now, going to NYCC was never possible for me. This year, however, the stars aligned and a perfect mixture of good friends, good guests at the con, and the ability to take seven consecutive days off work that late in the year meant that I could actually make it this time.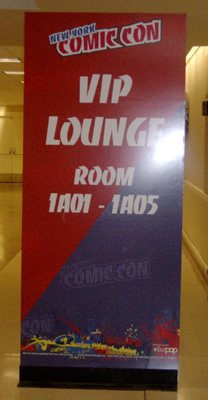 One of the best things to do when you're planning a trip — any kind of trip — is to try to get advice from those who have gone before you. You can try to avoid any mistakes that they've made and you can try to improve on their successes. It's not always the easiest thing in to the world to ask folk for help and advice but, generally, it does pay off. In this case, one of the people who I went to for advice was a friend from Monaghan in Ireland who had been at NYCC in previous years. We'll call him Eddie, because, well… that's his name. It turned out that Eddie was planning to go to the convention too, so schemes very quickly began to be schemed and during the months running up to the convention while we were all still scheming, when Eddie suggested that we get the VIP tickets instead of the regular weekend passes, I agreed that it sounded like a good idea and we both bought the VIP tickets. The sales pitch for the VIP tickets on the NYCC website promised shorter queues and an earlier entrance into the convention, priority seating at panels, a special VIP Lounge area where VIPs could go to relax — generally, the VIP tickets seemed to offer a better life in the same way that every advert for a car that you've ever seen seems to offer clear roads and great weather. Part of you knows that it's a lie and it can never live up to the promise, but you want it anyway.
Traveling to the convention on the first day was a pretty easy affair. The apartment that myself and Eddie were staying in was only eight blocks away from Penn Station where we had breakfast in a local Irish Bar. The convention centre then was only another eight or so blocks away from Penn Station. Eddie had walked these very streets before so I knew that I had a reliable guide, though there came a certain point on the walk to the convention centre when neither directions or any pre-existing knowledge were needed. There came a certain point when all we had to do was start following the crowds of people who were wearing comic book t-shirts, who were dressed as Stormtroopers, who were carrying obviously-empty bags and rucksacks and, most of all, who were radiating so much genuine excitement and enthusiasm about what the day might hold that it could power a city if there were only a way to harness it.
Due to some construction work that was going on in the area, the walk down to the convention centre took a little bit longer than I think it should have, but it did have the benefit of making sure that the first time you caught a glimpse of Jacob Javits Center, where the convention was being held, it was from a quarter of a mile away, at the bottom of the hill, giving the convention centre a very imposing presence.
We were both pleased with the fact that there wasn't a huge line already forming outside the building. We figured that the fact that it was Friday and the fact that we had VIP tickets ordered would mean that we'd have an easy time of it. And that we'd be able to skip a lot of queues. But before we started jumping any queues, we had to deal with the little matter of actually picking up the tickets that were waiting for us; nothing worthwhile happens at a convention unless you actually have the power to get in. Standing in the foyer of the convention centre watching the anime kids getting overly loud while wearing ridiculously bulky costumes gets really old really fast.
One of the most highly advertised features of the VIP ticket is that when you're actually queuing for your tickets, you get to queue in a much shorter line. These particular tickets are only limited to three hundred and fifty, so even if each and every VIP ticket holder decided to show up and queue for their pass all at the same time, the line would still be only a fraction of the length of the line for regular ticket holders.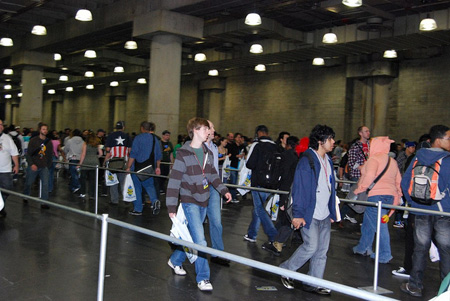 A few months earlier, Eddie had been kind enough to book tickets for the two of us. I was delighted at the time, both because it meant that it was one less expense on my over burdened credit card, and most of all it meant that when it came time to go to the convention and queue for the physical VIP passes, the bookings would be in his name, so he'd be the one who actually has to do the waiting in line while I see what this particular convention centre has to offer. Conventions in America tend to be similar in a lot of respects, but what can make a huge difference to how much you enjoy it is the amenities, so while Eddie is in the tiny queue, I'm mutely happy to see that there's loads of places around the foyer and downstairs near the main staging area where you can buy a snack or buy a drink without too much hassle. This is an important thing to know, because being diabetic and being Irish… I tend to drink a lot.
The VIP process wasn't quite as easy as we hoped it would be and a lot of queuing, a lot of walking and a lot of patience were all needed on Eddie's behalf before both myself and Eddie had the golden Wonka-esque "Special Passes" that we were promised. In the intervening period, I had to pick up tickets for a pre-bought autograph opportunity with Bruce Campbell. Unlike the hassle Eddie had with the VIP tickets, I got the Campbell tickets with no difficulty at all. Maybe it's because of my boyish smile, maybe it's because VIP really stands for Very Incompetent Process, who knows. Though I'd really like to believe that it was easier for me because of my boyish smile.
After tickets were sorted and tempers were calmed, we decided to do a bit more reconnaissance on the place and see exactly what was happening, and where it was happening. There was the VIP Lounge to assess, there was the VIP entrance to find and most importantly, there was an agenda to be sorted and finalised.
Comic conventions are just like real life; everybody has an agenda.
There was an awful lot that I wanted to see on the first day of the convention, but the top of my list was meeting Terry Moore, the creator, writer and artist of Strangers in Paradise. He's been atop my "wish to meet" list since I first read Strangers in Paradise in 2007 and I wanted to make damn sure that his booth, Abstract Studios, was the first booth that I hit after getting on to the convention floor. Apart from actually meeting the man, I had some legitimate business to conduct with Terry, as I had pre-booked a sketch by email a few weeks prior and I was eager to collect. Eddie of course had his own agenda too which involved getting a lot more artwork than I had planned to, but due to my over-excitement and incredible lack of subtlety he was well aware of my desire to locate the Abstract Studios booth so he was more than happy to indulge my rising panic and help me fight crowds and fight my nerves.
That alone has to be one of the text book definitions of what a friend is.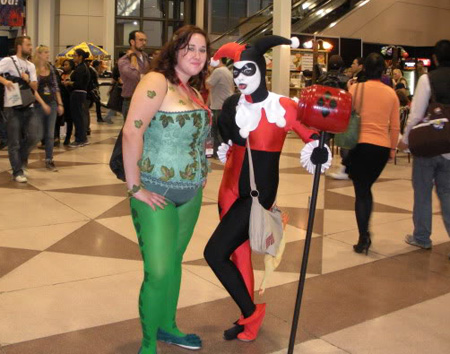 So armed with a map, some drinks, a plan that Rommel would be proud of, and a VIP pass, we got entrance to the convention floor a few minutes before the regular attendees. This was genuinely only one of two times that the VIP pass actually proved to be at all beneficial.
I'd love to be able to say that when we hit the convention floor that we stuck to our plan rigidly, that we have been to enough of these things that we could move gracefully through the chaos and that we weren't more than a little awestruck. But I believe in telling the truth, and none of that would be true.
Coming from Ireland, my experience of attending comic conventions in Dublin tends to be ever so slightly, hugely, massively different than my experiences in America, and I think that when I attend a Con in America, it's always the Dubliner in me that gets to react first. The biggest convention that I have ever attended in Ireland started in a typically Irish fashion; with a pub quiz on the night before the actual convention was about to start. Due to modesty, a certain legal contract that I was encouraged to sign and the fact that I don't remember quite everything about that night, I won't say too much about it. One of the things I will say, however, is that my team didn't win the pub quiz; the team that had two well-known comic professionals as members won by a country mile. The other thing that I will say is that my cousin, who came to the pub quiz under duress and because he owed me a favour, was absolutely amazed at how much nerds can party.
Going in to the convention the next morning wasn't the easiest thing in the world, partly because I was still more than a little bit drunk and partly because it was just bloody hard to find. My usual American convention tactic of follow-the-nerds just didn't work, primarily because nerds don't advertise as openly in Ireland as they do in America. But after finding the venue and gaining access to the convention (my ticket for the day was a hand-stamp) I walked in and was immediately struck by the fact that not a full year prior to the convention, I had attended a disco at the very same venue in which the convention was being held. I had very vivid memories of being rejected by many women in the small lane-way from the dance floor to the bar that was now re-labeled as "Artist's Alley," which in fairness shouldn't really earn it a lasting place in my memory, but it did. The dance floor was now the convention floor and the bar was where the more popular artists were selling off original art. So, walking on to the enormous convention floor at NYCC there's more than a little of me that was expecting a repeat performance of the Dublin experience and was expecting to see Terry Moore sitting on a plastic stool beside Stan Lee, selling art out of a suitcase.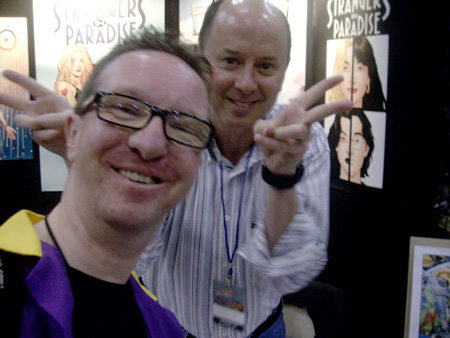 But of course I was wrong, and the magnitude of the convention floor almost knocked me off my feet, as it always does. In the first eyeful alone, there were vendors with stalls built twenty foot high, banners advertising the newest comics and video games and movies, props in glass cases, statues of comic characters, and my favourite part of any American convention: myriad amounts of people dressed up as any and every character you can imagine who could walk around the floor proudly, and sexily. It was kind of like Times Square if Times Square were miniaturised, condensed and made exclusively for nerds.
After the initial shock of the magnitude of the convention floor, we made our way to the Abstract Studios booth where we conducted our business with a semblance of grace and dignity. It wasn't until we were a safe distance away from the booth that I started to gush wildly about how cool Terry Moore and his wife Robyn were, and how nice it is when someone whose work you admire so very much is so approachable and so receptive to his fans. This is a lot of the reason that I could never be a soccer fan.
After coming to see Terry Moore with me and then helping me regain my already-low standard level of composure, myself and Eddie went our separate ways for a while. His agenda would take him to Artist Alley; mine would take me all around the main convention floor, seeing if bargains were to be had, seeing if I could buy any Blu-rays before they were on sale in Ireland and marveling at the ever-increasing quality of cosplayers at the convention.
But cosplayers are like karaoke singers: quality really isn't that important. If you show up and make an effort, you'll be shown some love. Purely for the fact that I went to the convention wearing a Mooby shirt and was walking with a House cane (which I have to use every day) I was stopped and complimented by seven people in the space of the first hour that I was at the Con.
If only all of life could be like this.