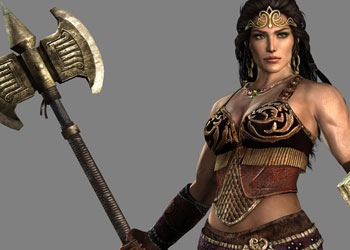 Koei, the folks behind Dynasty Warriors, have their sights set on the Trojan War next month with the release of Warriors: Legends of Troy. This week they unveiled some new screenshots, and here's a look at the bloody and mythic action.
Warriors: Legends of Troy allows players to fight for either the Trojans or the Greeks, with an array of playable characters on both sides. As the Trojans you'll be able to take up arms as Hektor, Paris, and other legendary heroes, while Achilles and Odysseus are two of the heroes of the Greek side. The game draws inspiration from Homer's The Iliad but promises to delve into more magical and mythological aspects of the cultures and their religions as the battles rage.
The new screencaps show Achilles fighting for the Greeks and the Amazonian queen Penthesilea fighting for the Trojans.
Warriors: Legends of Troy releases on the Xbox 360 and PlayStation 3 on March 8, 2011.