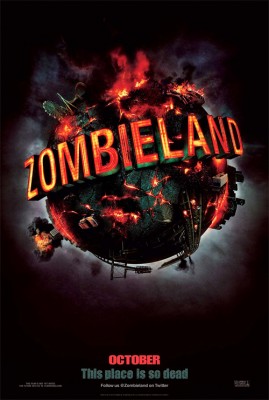 Starring: Jesse Eisenberg, Woody Harrelson, Emma Stone, Abigail Breslin
Director: Ruben Fleischer
Written By: Rhett Reese & Paul Wernick
In the Zombieland universe, mad cow disease brings about the zombie apocalypse, bathrooms are one of the most dangerous places you can be, and even geeky shut-ins who have issues with germs can survive hordes of the undead if they follow a handful of helpful rules. Zombieland stormed box offices this past weekend, grossing approximately $25 million dollars during its first three days in theaters.
The film revolves around "Columbus" (Jesse Eisenberg of Adventureland, The Education of Charlie Banks, and The Village), an awkward, slightly neurotic antisocial college student trying to find his way back to Columbus, Ohio in an effort to find out whether his parents survived the zombie epidemic brought about by mad cow disease. He develops a set of rules for survival in "Zombieland," including gems like "Rule #1: Cardio" and "Rule #17: Don't Be a Hero."
While working his way towards Ohio, Columbus meets a few very interesting characters: "Tallahassee" (Woody Harrelson), "Wichita" (Emma Stone), and Wichita's 12-year-old sister, "Little Rock" (a disturbingly mature-looking Abigail Breslin). Long story short, Columbus bums a ride with Tallahassee, who is making his way around the country killing zombies and trying to find Twinkies before they pass their expiration date (yeah, weird, we know). I was highly impressed by Eisenberg, Harrelson, Stone, and Breslin, each of whom delivered excellent performances. Of course, we all knew that Woody Harrelson was going to be the most phenomenal hard-core zombie killing weirdo to grace the silver screen since… well, I'm not even sure who, but for those of us who haven't seen any of Jesse Eisenberg's movies or have only seen Emma Stone as the red-headed goofball sorority sister in The Housebunny, it wasn't easy to predict whether or not they would be able to pull off this kind of role. In honor of their stellar performances, however, and in honor of the tribute that Zombieland pays to the Ghostbusters movies (which was freaking awesome, by the way), I have come up with a few survival rules of my own. Thus, without further ado, here are three rules for zombie movie fanatics:
Rule #2: Protagonist, protagonist, protagonist!
As we learned by watching great movies like Shaun of the Dead, every quality zombie movie needs at least one great protagonist, and zombie comedies are no exception. Zombieland provides viewers with not one, not two, but three awesome protagonists (Little Rock is only twelve, so I'm not considering her as a main protagonist) to choose from. For those of us who like our Twinkies fresh, our guns loaded, and our zombies with pulverized skulls, we have Tallahassee to provide fantastic ass-kickery, brutal honesty, and some hilarious one-liners. But even Tallahassee is outdone by Columbus. This antisocial introvert has somehow managed to survive the zombie apocalypse long enough to come up with a set of very specific, well thought-out rules for surviving in what he calls "Zombieland" or "Z-land." Even Tallahassee's one-liners are nothing when compared to the verbal genius of Columbus. "You are like a giant c%$#-blocking robot created in a government f%$#ing lab," Columbus tells Tallahassee after he interrupts a romantic moment with Wichita. And speaking of Wichita, Zombieland has even provided the ladies with their own protagonist: a moto-jacket-wearing, zombie-ass-kicking brunette who somehow manages to look amazing even after kicking zombie ass and not showering for weeks.
Rule #15: Don't be a girl
True to horror movie tradition, the girls of Zombieland aren't always the brightest bulbs. Yes, they may be pretty to look at and yes, they may have the wherewithal to con the likes of Columbus and Tallahassee, but for some strange reason Wichita and Little Rock also seem to lack even the slightest hint of common sense when it comes to survival tactics — highly amusing given the fact that the two have managed to survive being eaten as they travel across country to find a California theme park called Pacific Playground that is rumored to be zombie-free. As anyone who has ever been exposed to any kind of zombie movie, book, or comic book knows, loud noises and bright lights are a great way to attract every zombie in the vicinity and zombie-free zones are generally very hard to come by during a zombie apocalypse. But what is the first thing that Wichita and her little sister do upon reaching Pacific Playground and finding it to be virtually zombie-free? They turn on all of the lights and rides in the park, attracting every zombie in the area, of course. And when they finally realize that they are surrounded completely and outnumbered by munching zombies, what do the girls do? Rather than fleeing the park and looking for safer shelter, they run their Hummer (where all the weapons, ammo and supplies they've amassed are stored) off a pier and then strand themselves on some stupid ride where they get stuck fifty feet up in the air with limited ammo and no hope of escape. Fortunately for Columbus and Tallahassee, the girls' stupidity affords them the perfect opportunity for some superb and highly heroic zombie massacring.
Rule #10: Never underestimate your audience
Chances are that the majority of the people filling who went to see Zombieland did so because they wanted to witness some of the finest zombie killing of our generation. So, skimping on gore and cutting back to a PG-13 rating for profit purposes would not be acceptable. Thankfully, Zombieland piles on the gore, giving viewers an up-close look at the kind of skull smashing, ankle-cracking, intestine-revealing zombie massacring that would make both George Romero and Eli Roth giggle like schoolgirls. The camera is not shy about getting some awesome close-up shots of zombies as they spew bile, snap off an appendage, or gnaw on some poor bastard that failed to keep up with his cardio routine (Rule #1), but at the same time the gore is tasteful and won't make you barf up your popcorn halfway through the movie.
Overall, Zombieland is an awesome movie that will keep you laughing from beginning to end while still delivering the type of bloody zombie mayhem that we have come to expect of modern zombie films. Jesse Eisenberg, Woody Harrelson, and Emma Stone have great chemistry and make a hilarious combination. The camerawork is superb, the writing is fresh, and as a result I would rank Zombieland among my top five favorite zombie movies of all time (alongside Shaun of the Dead, Dawn of the Dead (2004), Dance of the Dead, and Dawn of the Dead (1978)). I look forward to Ruben Fleischer's next project, Psycho Funky Chimp (a movie about a very rare PEZ dispenser and the guy who buys it), which is set for release sometime next year.