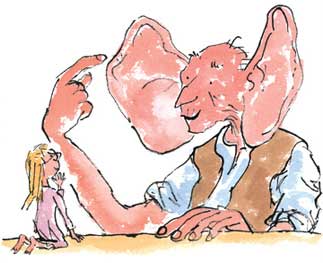 Before Harry Potter took control of the book world, kids knew Seuss, Silverstein, and Stein. But wait — we're forgetting one of the most imaginative authors of our time, Roald Dahl. You might not know his works off the top of your head because you may not know they were books before they were movies; Matilda, James and the Giant Peach, and Charlie and the Chocolate Factory. All are timeless tales about kids who live against the norm, teaching us life lessons like individuality, bravery and hope. However, there is one Dahl book I've forever yearned to be turned into a live-action movie: The BFG.
The BFG, short for "The Big Friendly Giant," tells the story of Sophie and a giant, The BFG. She's a spirited young girl and he's a giant who collects good dreams and, instead of burping… well, it comes out the other end and is hilarious. Their friendship takes them on an adventure to the Queen to stop a gang of people eating giants. That's just the basics of what lays in the pages that deserve a chance to hit the big screen. And while The BFG was made into an animated movie, it deserves to join the other Dahl works because it's an unlikely friendship in a world we will never know.
Dahl's BFG could only be constructed and done justice if it were made in the Where The Wild Things Are style: dark but with a lot of heart. It would also take away any cheese factors. There are numerous giants and making them three-dimensional might come off as too comical, and you don't want it to end up just another random Redbox movie — you know, the ones that make you mad because they take a spot that could've been used for a Channing Tatum movie? No? Just me? Okay, moving on.
One could even take the style of Where The Wild Things Are and mix in the capricious ways of Burton. That would allow the movie to capture the journey of the book while maintaining the entertaining and laughable moments as well.
Books are made into movies every day, so why not take another beloved read and create a movie out of it? The Hunger Games and that vampire series are just a couple that have made an impact recently and, while those are great, we should take a page from a book that's proven to be a timeless favorite and not just a teen centerfold making machine, and let The BFG come to life.