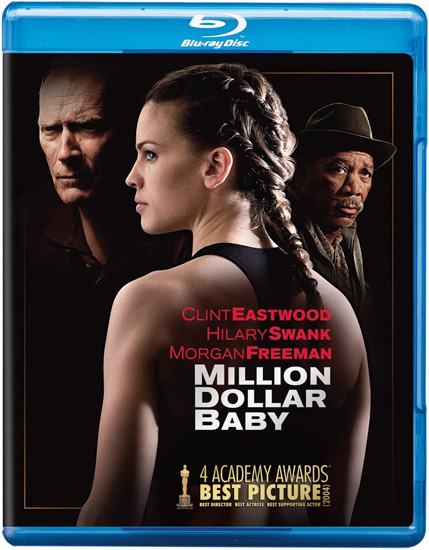 One of the perks of working with Fandomania is getting the opportunity to catch up on movies I've heard are excellent but that I somehow entirely missed seeing when they were in theaters or managed to dodge unintentionally for years. With all the major studios going into their vaults to release anniversary Blu-ray editions of their most beloved films, the chance to rectify missing great movies is becoming more and more common for me. The latest to land on my desk is Clint Eastwood's 2004 Oscar winner Million Dollar Baby, and I was able to check out the boxing drama I've heard about for a decade but never had gotten around to seeing.
Million Dollar Baby is based on a short story in the anthology Rope Burns by author F.X. Toole. Toole was a pen name for Jerry Boyd, a seasoned boxing cut man perhaps not all that removed from Frankie Dunn, the gruff trainer Eastwood plays in the film adaptation. After a storied career of his own, Boyd turned to writing noir tales inspired by his knowledge of the boxing life, and "Million $$$ Baby" became the best known of those tales thanks to the big screen adaptation.
The story seems a clichéd one at first glance. A grizzled and aging cut man and trainer is saddled with an eager young fighter who wants to become the best. Million Dollar Baby throws some early twists into that story by making the fighter a female, Maggie Fitzgerald (Hilary Swank). Maggie grew up as self proclaimed "trash" and is trying to escape a dead-end and poor life. She approaches boxing with an enthusiasm that makes her an easy pupil to like. Gym owner Frankie Dunn rebuffs Maggie's initial appeals for him to train her, but after a hard betrayal from one of his other boxing protégés, Dunn relents and shows Maggie a few moves. This is where the main thread of the narrative picks up, and we see Maggie pouring her heart into the punching bags and later into her fights in the ring. Lending her advice and acting as a voice of conscience for Dunn is the gym's caretaker and former boxer "Scrap-Iron" Dupris, played by Morgan Freeman.
Despite the initial changes to the familiar story, Million Dollar Baby still feels like a boxing plot you've seen a dozen times over until somewhere around the midway point. It is then that events take some unexpected turns, and the film turns into the movie that earned it the four Oscars it netted in 2004. The film won Best Motion Picture, Clint Eastwood took Best Director, Hilary Swank was named Best Actress, and Morgan Freeman got Best Supporting Actor, all well deserved wins. Clint Eastwood also received a nomination for Best Actor for the film but lost to Jamie Foxx in Ray.
Ten years after the movie's release, some of the supporting actors who perhaps were lesser known faces in 2004 are very recognizable presences in 2014 TV and movies. You'll see Jay Baruchel, Margo Martindale, Anthony Mackie, and even Garfunkel and Oates' Riki Lindhome making early appearances. You won't find any spoilers for the film here, and you'd be well served to avoid knowing anything else about Million Dollar Baby before seeing it for yourself. Just don't make any important plans for soon after watching.
Million Dollar Baby saw its first Blu-ray release in 2006, and the video presented on that disc is the same one included on this new anniversary release. All the bonus features from that earlier Blu-ray show up here as well, the only new additions being a half hour long restrospective documentary and a new commentary track from producer Albert Ruddy. The special features ported over from the previous release include a discussion between Eastwood, Swank, Freeman, and Inside the Actor's Studio's James Lipton that is well worth watching. Briefer and less original are a behind the scenes special called "Producers Round 15" and a twenty minute piece about the world of boxing called "Born to Fight."
If you're like me and missed seeing Million Dollar Baby in the ten years since it was released, this Blu-ray release will show you what you've been missing. It's a heavy movie that probably won't be one you'll want to watch every day, but it's an excellent piece of cinema with fantastic directing and acting turns from Eastwood and his cast. If you have already seen the movie and own the 2006 Blu-ray, the anniversary disc is essential only if you care about those two new features added into the roster. Otherwise it's the same version of the movie that you already own. Either way, if you care about good, hard hitting acting (no pun intended, mostly), Million Dollar Baby is a film you need to check out.