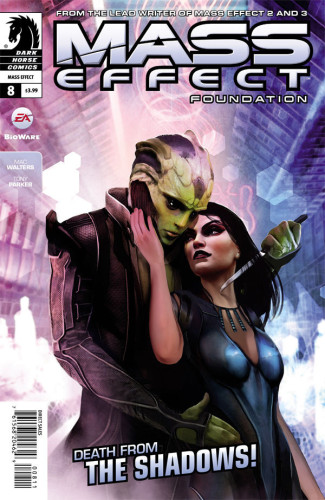 Mass Effect: Foundation #8 follows up right on the heels of the seventh issue. Leng and Rasa have left Jack behind and are on their way to the base. They have gotten a talking-to from the Illusive Man and Leng blames Rasa for it. She states that the Illusive Man would have found out the truth anyway, but Leng won't listen. Back at the base, Miranda separates them, with Leng going to see the Illusive Man and Rasa doing a job for Miranda.
Miranda shows Rasa the Lazarus Project, which as all Mass Effect players know is what brought Shepard back to life. However, it's in a prototype stage. Miranda explains that the Illusive Man wants more. He wants Shepard's records, especially the classified ones, from the Citadel. Rasa is given a way into the Citadel, but has to figure out how to get the data on her own.
On the Citadel, Rasa manages to bluff her way in, but gets found out by a Spectre. The Spectre offers Rasa a deal that she can't really say no to. Later, at a bar, Rasa is telling Miranda she got the information. She realizes her drink has been spiked and tries to make her way outside. Rasa is just thought to be drunk by a passing C-Sec officer; however, she is helped by a mysterious figure.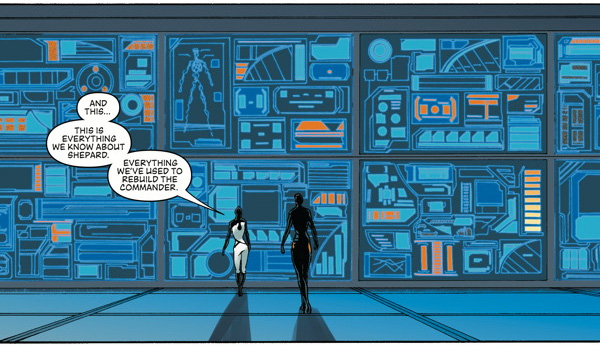 It turns out to be Thane Krios, who has been contracted to kill Rasa. Thane realizes that Rasa is not what he was told and helps her get back to Cerberus. Miranda takes the data, while Rasa tries to explain, but is wheeled away into medical before she can. The Illusive Man and Miranda know exactly what the Citadel was up to and are able to extract all the information on Shepard. The issue ends with the Illusive Man beginning to assemble Shepard's team.
The issue is, once again, very good. It manages to bring the whole universe together and not only show what the team did before meeting Shepard, but also what the Illusive Man was up to. It also gives readers a lot of information that might not have been mentioned in the games. While it does bring the Mass Effect Universe together, the comic still manages to keep some mystery, which will keep you wanting more.