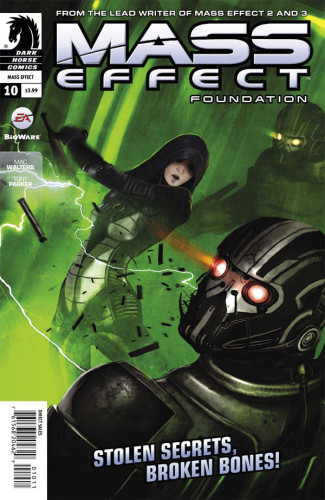 We're back with Mass Effect: Foundation #10, which, as the cover alludes to, is about our favorite thief, Kasumi Goto. There might be spoilers for the DLC mission involving Kasumi from ME2, so be warned!
Like the other issues, this is about one of your squadmates before Shepard pulls them all together. Some people might not have picked up Kasumi's DLC, so they don't know anything about her or her mission. Basically, Shepard and Kasumi infiltrate a party being held by Donovan Hock and conduct a heist right under his nose. Hock has something Kasumi wants and this issue is how it starts.
Kasumi works with Keiji Okuda, her lover and partner in crime. At the moment, the pair has been working for the Alliance and Keiji has just been acquitted of a crime. Kasumi is bored, so they head to Beckenstein, where Donovan Hock lives, to acquire some of his goods. They arrive on the planet in marvelous style and break in.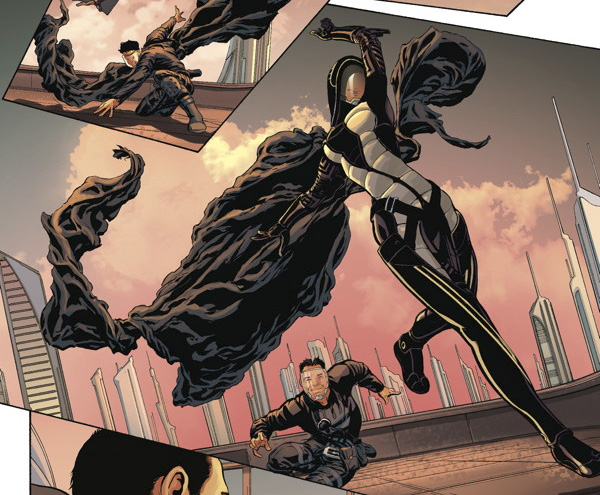 To their surprise there are six professional guards milling around. Kasumi and Keiji separate, and Kasumi uses a decoy program that Keiji stole for her. The program is also used in ME2 as one of Kasumi's powers. As they are talking, Keiji is interrupted and Kasumi races to him, only to find him dying.
Hock had stolen Keiji's memories, including everything he felt about Kasumi and something that could be disastrous for the Alliance if it was found out. Keiji begs Kasumi to get his memories back, but she doesn't want to leave him. He finally convinces her and she leaves, promising to retrieve his memories. Which is where we pick it up in ME2. At the end of the mission, Shepard can help Kasumi decided if she should keep the memories or destroy them.
I'm really liking these issues. It's so much fun to learn about the characters you spent who knows how many hours playing with. Fleshing out their backstories really helps you care about them more and helps the whole universe come together better. It's especially fun with characters like Kasumi, who purposefully keep their past hidden from everyone.