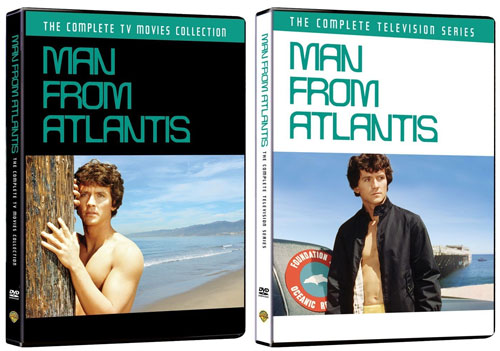 The Warner Archive has a knack for uncovering and remastering somewhat obscure TV shows from bygone eras and presenting them to all new audiences. The latest sci-fi classic to get this treatment is Man from Atlantis, a short lived series from the '70s starring Patrick Duffy, who later would gain greater fame from his roles on Dallas and Step by Step.
Man from Atlantis introduces viewers to the unusual and amnesiac Mark Harris, who is the sole survivor of the lost underwater land of Atlantis. In addition to hailing from a legendary continent, Mark also possesses some pretty amazing powers that are not unlike those of DC Comics' Aquaman. He is able to withstand the tremendous pressures of deep sea water, is an amazingly adept swimmer, and can summon super strength from the water. Almost literally a fish out of water, Mark works with his newfound friends at the Foundation for Oceanic Research to study and explore the seas.
New adventures and conflicts crop up in each of the made-for-TV movies, as well as in each of the 13 episodes of the TV show. Most of the stories are firmly rooted in the sci-fi and fantasy genres, with plots involving alien invasions and a supervillain threatening to melt the polar ice caps being the norm. Occasionally the show does swerve off onto silly tangents, as with an inexplicable Shakespearean time travel episode. For the most part, though, the series is a fun adventure that plays like a superhero story with James Bond villains.
The entirety of Man from Atlantis now is available on DVD, thanks to the Warner Archive's Make-on-Demand product line. The first of the two new DVD releases features all four of the TV movies that started the series, collected on two discs. The second set includes four discs and features the entire first (and only) season of the Man from Atlantis TV show. Both sets are available exclusively through the online WBShop.