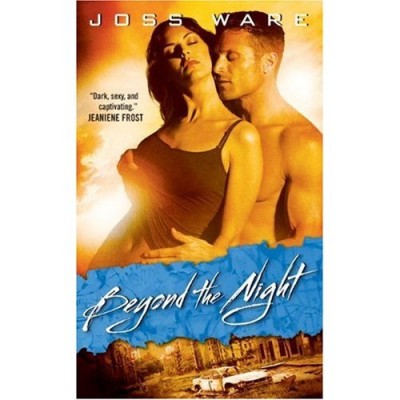 The first of several videos related to romance author Joss Ware's soon-to-be-released post-apocalyptic science fiction romance series (say that five times fast!) appeared on YouTube on Halloween, but thanks to our friends at HarperCollins Publishers you can see the 38 second clip right here. The first book in this new series, titled Beyond the Night, will be released in January 2010 (although you can pre-order it now on Joss's official web site). You can expect to see more videos like the one below as we move towards the official release date of Beyond the Night (January 12, 2009).
Beyond the Night is the first chapter in the story of Dr. Elliott Drake and a young woman named Jade. When Dr. Drake wakes from a mysterious fifty-year slumber, the world as he knew it is gone and civilization is controlled by deadly immortals. Even stranger is Dr. Elliott's new "gift" — he now has the power to heal, although it comes with fatal consequences. After a deadly brush with the immortals, Jade trusts no one and is hell-bent on revenge. When she meets Elliott, however, something changes. His piercing gaze and tempting touch shatter her defenses despite the reservations she has about the doctor's mysterious nature. If Jade and Elliott are going to survive this new work, the two must work together to fight the forces that takes them beyond danger, beyond desire… beyond the night.
Joss's series looks highly intriguing, and in addition to the other videos we will have an advance review of Beyond the Night, so keep checking back.