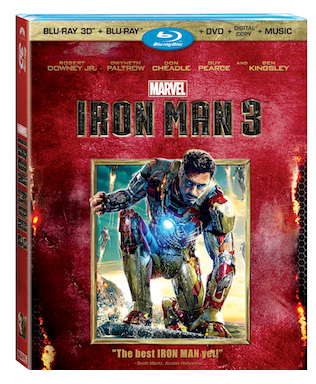 If you're longing to add some more Tony Stark into your Blu-ray collection, you should look forward to this fall, according to today's press release from Marvel Studios. Iron Man 3 will be hitting DVD and Blu-ray on September 24, preceded by an early HD digital release on September 3. The home video release will come in a couple of different bundle packs, one of which will include the standard 2D format of the movie on Blu-ray, DVD, and digital, and the other which combines the 3D Blu-ray version in with those others. Here's a rundown of just a few of the special features they're packing into both versions:
Deconstructing The Scene: Attack On Air Force One: Jump into action with the stunt-team skydivers in this close-up look at creating one of the movie's most memorable scenes.
Exclusive Behind-The-Scenes Look – Marvel's Thor: The Dark World—Experience the spectacular new worlds, unforgettable characters, and pulse-pounding thrills of the upcoming blockbuster movie.
Marvel's Iron Man 3 Unmasked—Join cast and crew for a crash course in epic movie-making, Marvel style.
Gag Reel
Deleted & Extended Scenes
Audio Commentary—With Drew Pearce & Shane Black
UPDATED: The original press release showed a September 23 release date, which we reported here. They soon corrected the release to say September 24, and we updated accordingly.