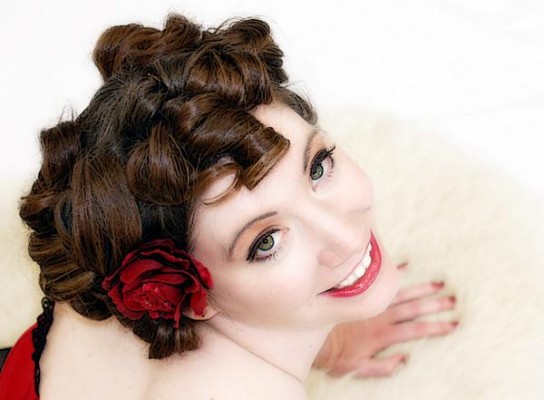 Last week we featured an interview with Brooke Lemke, one of the co-founders of the all-female production company Silent-But-Deadly Productions. I also had the opportunity to interview the company's other founder, actress and screenwriter Rachel Grubb. Both Rachel and Brooke worked on Silent-But-Deadly's latest release, a feature-length film titled Why Am I in a Box?, written by Rachel and starring both women.
The work that Rachel and Brooke do is not only very impressive, but also extremely important. As previously mentioned, Silent-But-Deadly (SBD) Productions is an all-female production company, a rather uncommon occurrence in the male-dominated film industry. In addition to working with predominantly female film production teams, SBD Productions also affords aspiring female screenwriters, actresses and directors the opportunities to bring feature-length and short films to life. The company also offers shadowing and internship opportunities to teenage girls interested in various aspects of the film industry. As if that wasn't enough, SBD Productions also employs award-winning female artists like Rachel Grubb.
Check out my interview with actress and screenwriter Rachel Grubb below, and enjoy!
Paige MacGregor: According to your bio, you have an English degree from the College of St. Catherine and shortly after you graduated you received the Best Breakthrough Screenplay award at the New York International Independent Film and Video Festival. Did you always plan to study English in order to write screenplays, or did you have other plans as well?
Rachel Grubb: I actually planned to be a novelist. That's what I wanted to do when I was a kid. I was a very avid reader. I read a book a day when I was in junior high, and it was then that I started writing book length stories. I studied writing when I went to college, and I always thought I was going to write novels. When I was in college, I started getting more interested in film. A few years later, I started taking acting classes, and when I decided I wanted to make my own movies, I already had that foundation because I had studied writing.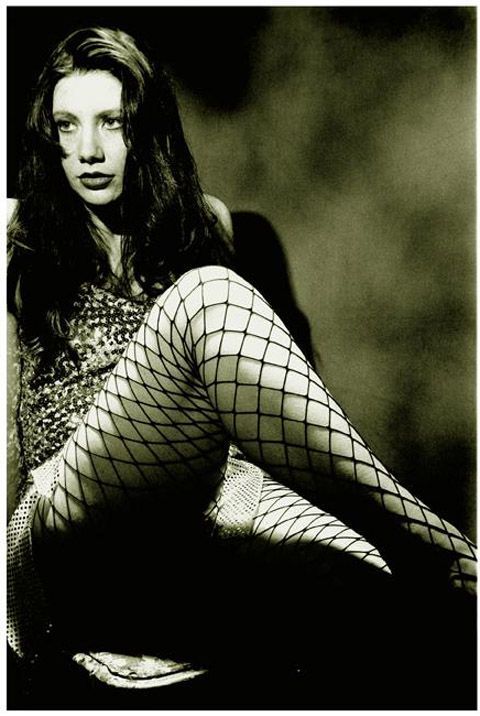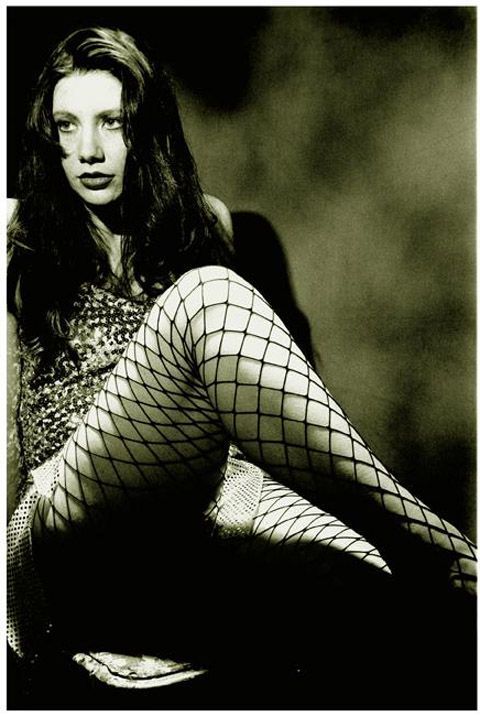 PM: Can you tell us a little bit about your experience writing that first feature-length screenplay, entering it into the NY International Independent Film and Video Festival, and what it was like to find out that you won Best Breakthrough Screenplay?
RG: My experience writing my first screenplay was a miserable one, to tell you the truth. I had just graduated from college, and I wasn't in a very good place emotionally. I was watching The Graduate nightly and meditating on how true to life it was. I felt a lot of pressure to know what to do with my future, but getting my degree didn't make me any less confused about that. I was on vacation in Florida, and instead of enjoying myself, I decided to start a screenplay. It was about someone younger than myself who had dreams, and she met someone much more accomplished than me who was feeling the way I felt at the time.
Winning an award was a similar feeling. When I graduated, everyone was congratulating me. But I didn't feel like I had accomplished anything. It just felt like completing another grade in school. The award was the same thing. When you look at the accomplishments of others, they seem impressive. But once you do it yourself, it's within your grasp, and it doesn't seem like it could be such a big deal. It wasn't until years later that I came to realize how significant my award was.
PM: In addition to writing screenplays, you've also appeared in various short film projects, music videos, and television programs. Can you tell our readers about your acting experience and how you began acting?
RG: I never really expected to get anywhere with it, but I still worked hard and took it seriously. I got a lot of encouragement from my teachers, and I decided to start auditioning for some local films. I did well with it, and I decided to keep at it.
PM: Silent-But-Deadly Productions is the independent production company under which you released your most recent film, Why Am I In a Box?. How did you first become involved with Silent-But-Deadly Productions?
RG: I met Brooke when we were extras on a local feature. I recommended her for a lead role in another feature called Tales Of The Dead. It was on that set where we decided we were having so much fun working together that we wanted to keep doing it. We got the idea to make our own feature film, and since I already had something I was working on, we started with that. And thus, Silent-But-Deadly Productions was born.
PM: It would appear that Silent-But-Deadly offers you a variety of ways to express your creativity and interest in film. For example, you not only wrote the screenplay for Why Am I In a Box?, but also directed, co-starred and co-produced alongside Silent-But-Deadly producer/director/actress Brooke Lemke. What was it like to be the one to bring a character that you created to life on camera?
RG: It was an interesting experience. I think I learned a lot about acting, about directing actors, and about writing dialog. I wrote that character with the intent to play it myself. So it was a new experience for me to be able to create the character as as I was rehearsing the role in my head.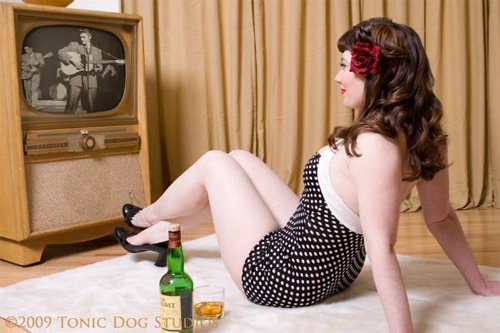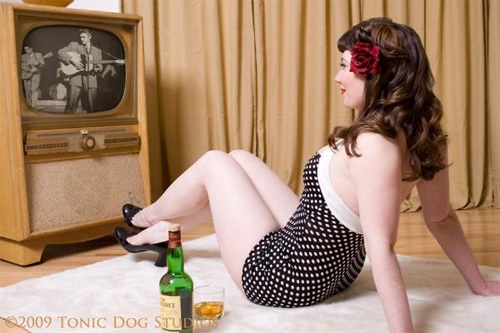 PM: If you had to choose, which aspect of filmmaking is the most fun or rewarding for you (acting, writing, directing, etc.)?
RG: The most fun for me is acting. I enjoy it, and it allows me to be creative without getting too stressed out. Actors are always pampered on set, too, and I like to just relax and hang out at the craft service table and chat with people. Having said that, I find writing and directing to be the most rewarding. It's wonderful to hear positive feedback on my acting performances, but it doesn't compare to the gratification that comes from sharing something that comes from you.
PM: What was the filming and production process like for Why Am I In a Box? How did you cast the film? How long did it take to make?
RG: We spent 13 days filming, only on weekends, and the whole experience was a blast. We started in October, and the filming ran through December, and it was snowing by the time it was finished. When we came out of the photo studio where we filmed the white room scenes, all our cars were covered in snow. The crew all ran around laughing and scraping each other's cars while the snow fell on us. We had such a great time working together, and it was almost bittersweet when it ended.
We held auditions for all the roles, other then the role of Ted, and the roles we wanted for ourselves. Brooke and I knew we wanted to play the two leads, so we cast ourselves. Heather Amos was involved with Silent-But-Deadly at the time, and she got the role of Malea. The only thing that bummed me out about auditions was that there were no substantial female roles left after we cast ourselves. We started Silent-But-Deadly because we wanted to create some strong female roles to play, but we wanted to create that for other women as well.
I had worked with Mike Rylander on several local projects, and I was always struck by his amazing improvisational skills. I knew I needed someone like that to play Ted, because he has so many scenes in which he's completely alone, and has no one to play off of. I knew Mike could handle it, so I offered it to him, and he really knocked it out of the park!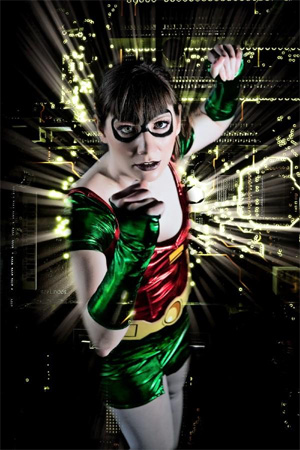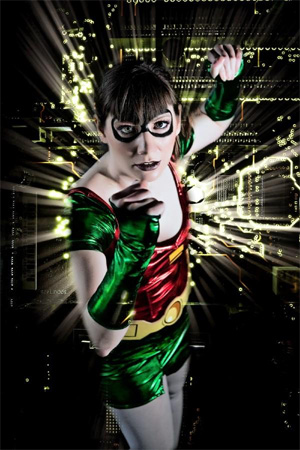 I was most concerned about casting Jeremy and Celia. Jeremy was neurotic and artsy, and not at all like most of the male actors that I knew. We had several strong candidates. I was really impressed with the talent that showed up. But Derek Dirlam had the presence that we needed for the role. Celia was supposed to be a slightly older Alice in Wonderland type. I was very nervous about casting her, because I wasn't sure how to deal with a child. I was hoping to get a younger looking 18-year-old. But Eleanor Cole was just too perfect. We were so lucky to have found her. She was very professional on set, and easier to work with than many adults! After we shot her scenes, her mom wrote to us to tell us that Eleanor had a great experience, and that everyone had been so friendly and welcoming to her.
From the project's first conception to completion, the entire process was about three years.
PM: In Why Am I In a Box?, you play aspiring writing Ellen Farnsby, a young woman taken prisoner by a failed, frustrated novelist named Paige. Given your English degree and background as a screenwriter, how much, if any, of Why Am I In a Box? is based on personal experience (or the experiences of those around you)?
RG: Ellen is a character a lot like me. She went to school to be a writer, but she never really did it. But Ellen was more like what I always feared my life would become. When I graduated from college, my mom said to me, "You need to get a full time job with benefits fast, because I think George W. Bush is going to win the election, and the economy is going to go downhill." Well, mom was right. He did, and it did. So I got a full time job, and I was scared to death that it would become my life and identity, and I wouldn't have time to do anything creative. That's when I started taking acting classes. I already had my cubicle job by the time I discovered what I really wanted to do. I started writing Why Am I in a Box? as a novel. Then, when I realized I wanted to do film, I turned it into a screenplay.
PM: Although the majority of the film's characters are creative, artsy individuals, Brooke's character, Paige, is particularly eccentric. Did you envision Paige as such a colorful character when you were writing the screenplay?
RG: Not at all. She was the character who changed the most from the first draft of the novel. I started with the idea, "What if someone were forcing you to write a novel?" But I had a hard time finding a reason why someone would do such a thing. Originally, Paige was this stylish, business-minded yuppie who went to college with Ellen. She owned her own publishing company, and she had an eye for making money. She was so good at making books successful that her authors were willing to forfeit royalties just for the prestige of being published by her. She was very charismatic and somewhat of a cult leader to her authors. She believed she had built this empire so that she could find the perfect unknown author who would write this brilliant, important book.
But she changed a lot. My first beta readers found her character to be so grating that they didn't enjoy reading her scenes. When I made the transition from novel to screenplay, she became a completely different character. I was really struggling with her motivation. I knew it had to be there, but I just couldn't see it. Then it hit me: she was sick of wannabes. She'd written so many novels and hadn't had a glimmer of success with any of them. She was tired of people who only talked about doing things, but pretended to be more talented and successful than she was, because she had tried and failed. She wanted to force Ellen to prove herself.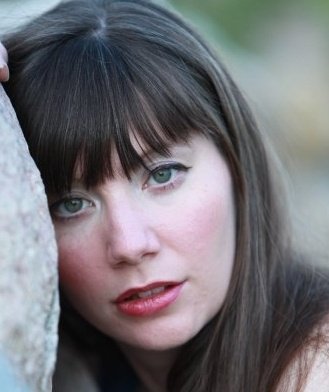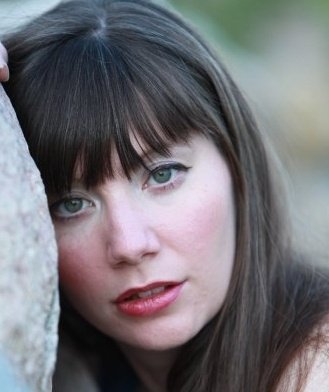 PM: What message or idea would you most like viewers to take from watching Why Am I In a Box??
RG: At the premiere, I was talking to someone who had come to see it, and he told me something interesting about what he had taken from it. He said that what the movie seemed to be saying to him was, "Stop making excuses! Get off your ass and do something!" But that came across in a very positive way, because that is what I had done when I made the movie. He was able to look at my movie and me and realize that I was just a person like him. Not with a huge budget, and not ridiculously connected in Hollywood, but I had an idea, and I decided to make a movie, and it turned out well. I would hope people would take that from it.
PM: How did you first feel when you saw your name on the Why Am I In a Box? DVD?
RG: It was amazing. I had seen my name on lots of DVDs for movies I had acted in, and that was cool. But to see "a film by Rachel Grubb" was just surreal. It was what Brooke and I had been planning and looking forward to from say one, and to see it finally happen was so gratifying. We made something we were proud of, and it was ours.
PM: What would you tell aspiring screenwriters, directors and actors/actresses? What can you tell our readers about any projects that you might be working on right now?
RG: Anyone who wants to do this? I would tell them to hustle. Work hard and never stop. I think some people expect a single project to be a success, and then they'll never have to worry about anything again, but it doesn't really work like that. In this business, you have to keep moving. When you've wrapped one project, find another. If something doesn't work out, move on. Stay busy. Don't invest all your hope into a single project, because you never know how things will go. And work as hard as you can on everything.
Right now, Brooke and I have a lot going on with Silent-But-Deadly. We are producing some sex ed videos, and we have another feature coming up that I am going to direct called Sky Is Falling. This one is horror, whereas Why Am I in a Box? was more of a comedy for horror fans. I'm also finishing up my work in Bad Girls Burn In Hell by Travis Miller and Joe Hollow. And next year, I am doing another feature film called Diabolical, which I am excited about. Brooke and I are really looking forward to it all.
---
For more information on Silent-But-Deadly Productions, Rachel Grubb, or to purchase a copy of the studio's first feature-length DVD,
Why Am I In a Box?
, visit the company's official
web site
. Also, keep your eyes peeled for our DVD review of
Why Am I In a Box?
.