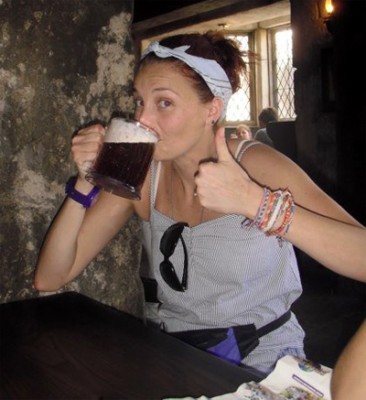 My fandom needs a Cheering Charm, stat.
It wasn't until Christmas morning that I realized my Potterverse fandom was in the gutter. First of all, I wasn't the first of my friends to emphatically wish another, "Happy Christmas, Harry!" But more definitively than that, I received the entire eight-movie set as a gift, from my husband. (Backstory: I married a rather sweet Muggle, who declared after I opened said gift, "Yanno, because I haven't seen any of them." I then called him a Muggle, to which he replied, "I do know what that means" without even refuting the claim).
I examined the pack of films in my hand, and admitted a crazy little piece of truth: I hadn't seen the last movie yet. I know, that's crazy. But, well, somewhere along the way, my devotion to the most amazing world I'd ever known had just fallen off.
I hated Book Seven, and that's where things all started to go downhill. At 12:01am I dove into my copy, clearly because I couldn't wait to get to the part where a time-turner was put into play and Dumbledore was saved, you know, because in my mind there was no way he was going to actually die. Meanwhile, I was bracing myself for the obvious, must-happen death of Harry (who I can take or leave, especially once he became so broody and moody, ick).
When neither major event happened, and instead I wasted chapter after chapter in the woods, not even chasing Horcruxes, but going on some ridiculous wild goose chase for deathly hallows, reading as we lost Dobby, a Weasley-twin, and innocent sweet Hedwig, I lost it. My faith in Potterdom, that is.
My faith was gone, but not my love. So I dove headfirst into fanfic. Potterverse fanfic was my first foray into the world of riffing and imagination, and I was in love. I went on a reading bender, and eventually penned my own. Being that I've spent my entire fandom as an adult, I got really into adult fanfics: not necessarily the naughty kind, but the Golden Trio as grownups kind (see, I call them "Golden Trio" all the time). Alternate Universe, Non-DH-binding, post-Hogwarts stories, and the occasional WIKTT.
I became so immersed in the huge fictional of fictional world that the fans had created, I began to forget which spells were really canon and which were the creations of brainy fanfic writers. I spent so much time in a Potterverse past Hogwarts, the dreadful details of Book Seven began to fade. The nauseating words of the post-book-section-that-shan't-be-named faded away, no Albus Severus Potter in my life.
And while it sustained me for a while, it wasn't lasting. Writing novel-lengthed fanfics under a handle (a fake, Internet nom de plume) became time consuming and too out of touch. I entered into Nursing School, and I just didn't have enough time for it anymore, so I drifted away from the world that had been my escape through so much. I mean, HP was there for me during my cancer year (2004, Stage III Hodgkin's Lymphoma). It was so sad for me to let go, but I tried to.
My uncomfortable sentiments were only sealed with the release of an awkward sixth movie. I remember whining to Celeste about how dreadful it was — it added too much made up stuff in and omitted too much of importance. Then, there was the even worse and more awkward opening of the Potter Park in Orlando, and I was officially done with the Potterverse, in all respects.
Okay, I did see the seventh movie. I went with my Mom, and we both cried when Hedwig and Dobby died. I liked the seventh movie, actually. A lot. We did muse though, that movie-only types would be so confused as to why we cared about the Dobby creature they haven't seen in half a decade died. It was bittersweet, and I hated having to wait for the shoe to drop.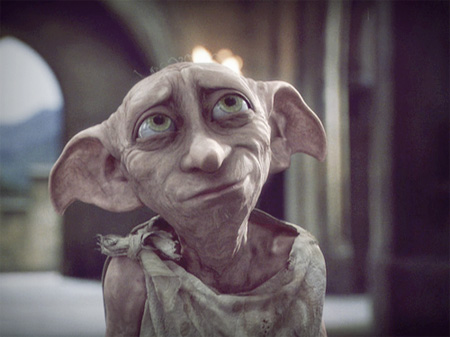 So I thought, I just wanted to be done with it.
Fast forward to 25 December, 2011. I'm holding the pack of Potter movies in my hot little hand, faking a smile to my husband. "There's more to the present than just the movies," he tells me. Oh? "Yeah, I'm going to watch them with you! All of them, marathon style." I hope I did an excellent job of hiding just how crestfallen I was.
I wasn't ready for that last movie.
And then it hit me: I wasn't ready for that last movie, because I wasn't really ready to say goodbye. Even now, typing about this feeling I feel emotional. I think real fans out there understand how I feel, coping with the end of a series is major. I didn't want to try and throw around my Potter street-cred, because I'm not super hardcore, I don't attend cons or anything (even though I could totes cosplay Hermione without doing my hair or getting a brain transplant. Oww! Arrogant!)… but I was a podcast-listening kinda fan, a "spend all day at my office job on the Lexicon" kinda fan. I loved musing with other fans about what would happen next, re-reading and obsessing every detail of every book. I was really into it.
When the last book didn't measure up for me, my process of closure was jilted. I invested into other sources of the fandom as an avoidance of saying goodbye. And now, I held in my hand the final brick, and tap it as I might I knew it wouldn't really give way to Diagon Alley, it really was the end.
Once I'd realized my own psychological issue, I was ready to move forward. It scared me, but I was ready for closure. I did like Movie Seven, Part I, and so I had high hopes for the last cinematic installment. And well, my Muggle husband was so happy to watch with me, I couldn't resist.
I don't think he has any idea how hard it was for me to embrace the end. I'm almost embarrassed to admit it here, but Fandomania is a safe place for such thinking.
As it turns out, all the creative license in the world didn't save that Weasley twin, or Dumbledore. And Harry didn't die, he was fine. All of my worst expectations came true. But I did see my husband have so much, entering the world of magic for his first time. Though I'm a book snob, I realize the world in general is intoxicating and exciting, he deserved to enjoy it without me snubbing him. So we watched, and enjoyed, and as the credits on the eight movie rolled, I braced myself for the heavy feeling of farewell.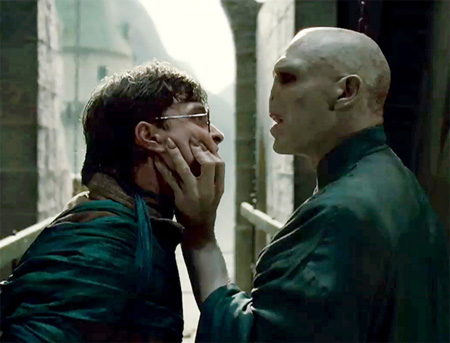 I did experience closure.
But closure is a funny thing. It was an okay feeling, not as scary as I'd worried and in it I was able to put my experience with the canon fandom to bed. But it also sparked something unexpected, a sort of re-ignition of my interest in fanfic. I'm actually curious to enter Pottermore once it opens up (I was so out of the loop I didn't even apply for beta access). I've recently been going back and editing some old fanfic, ramping up to write new chapters.
There's freedom in closure. While one writer's version of the story is finally able to end, I'm able to shake my plot-based resentment and find new love in the amazing universe she created (and selflessly allows us to revel in by not shutting down fanfic sites and giving us something new in Pottermore).
As I embark on this new leg of the journey, I'll keep you posted on where it takes me, and if the imagination of the fans is enough to keep the magic alive. Something tells me, it will more than meet my needs.